MacBook Pro (13-inch, Mid 2020)
The smaller MacBook Pro got a big update for 2020 but is a new keyboard enough?
£1,799 FROM Apple, apple.com/uk FEATURES 13.3in Retina display (2560x1600), True Tone, 2.0GHz quad-core 10th gen Intel Core i5; Intel Iris Plus graphics, 16GB memory, 512GB SSD, Magic Keyboard, Touch Bar, Touch ID, 802.11ac Wi-Fi, Bluetooth 5.0, 4x Thunderbolt 3 ports, 720p FaceTime camera
This is Apple's new 13in MacBook Pro. The higher-end version. As there are, in fact, two new 13in MacBook Pros. The low-end two-port model is pretty much the old 13in but with the new Magic Keyboard and double the storage; the new, high-end four-port model also has newer and optionally much bigger specs. Here, we're reviewing the higher-end 13-inch MacBook Pro which has four USB-C 3.1 Gen 2 speed Thunderbolt 3 ports, which we vastly prefer.
The speakers on both sides are good if not 16in MacBook great. The speakers have HDR (high dynamic range), spatial audio and Dolby Atmos. The sound stage is in front of you though, not all around like it is with the 16in MBP. There's still a 3.5mm headphone jack, and a three-mic array. It's not 'studio quality', but it's fine for most uses. Which is more than can be said for the 720p webcam. We get that better cameras require depth and the MacBook lids have none to offer but, given how good iPhone, even iPad selfie cameras are, these cameras just aren't keeping up.
Panel show
The panel is 13.3 inches diagonally and 500 nits. It's a Retina display with P3 wide gamut, which means reds look richer and greens deeper. And True Tone, which adjusts the colour temperature of the display.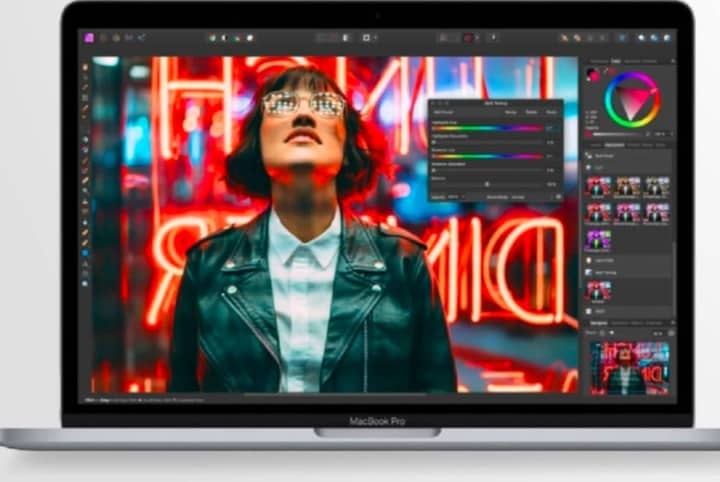 So… 13 inches, not 14 inches. Apple didn't continue its war on bezels here like they did on the 16in MacBook Pro – keeping almost the same chassis size but pushing the screen out further towards the edges.
It's also still not OLED, which we're fine with. OLED seems to work better on small phone-sized displays and big TV-sized displays than it does on tablet and laptop-sized displays, especially when it comes to things like consistent brightness levels. miniLED and microLED should offer the best of both worlds… at least eventually. Our guess is that that kind of redesign is still on the way, it's just either late thanks to everything that's happening in the world right now, or the next-generation externals are waiting on some next-gen internals to go with them. The display still looks great and is both 20% brighter and offers a wider colour gamut than the MacBook Air, which is something to consider if you do a lot of imaging work.
You can read up to 3 premium stories before you subscribe to Magzter GOLD
Log in, if you are already a subscriber
Get unlimited access to thousands of curated premium stories, newspapers and 5,000+ magazines
READ THE ENTIRE ISSUE
August 2020