Live stream from your Linux deskop
Linux Format
|
November 2020
Nick Peers reveals how to create a multi-screen live streaming video with the help of OBS Studio.
1 Preview window currently selected Scene is displayed here – click an individual Source to reposition and resize it.
2 ScenesSet up your Scenes here – each is effectively a design template. Right-click a Scene for more options.
3 sources currently selected Scene's configured Sources are shown here. Double-click one to edit its properties.
4 Audio MixerUse these slider controls to set the volume for your microphone and default audio playback device.
5 Scene TransitionsYou can configure the default transition effect when you move from one Scene to another here.
6 Stream control shortcuts to start or stop your stream and access Studio Mode can be accessed from this panel.
Live streaming is an increasingly popular medium, enabling you to produce content that's shared in real-time and – if your online provider supports it – available afterward for those who missed the live show. If you're looking to make your next online live stream something special, then take a look at OBS Studio (www.obsproject.com). Not only can you easily combine multiple video and audio sources into a single stream, but OBS Studio also provides you with a means of breaking down your stream into specific sections, making it easy to seamlessly switch between different sources and screen setups. Crucially, it works with all the major online streaming providers.
Ensure you're running the latest version of OBS Studio by installing it through its own repo – a simple three-command trick:
$ sudo apt install ffmpeg
$ sudo add-apt-repository ppa:obsproject/obs-studio
$ sudo apt install obs-studio
Visit https://obsproject.com/wiki/install instructions#linux for detailed instructions covering most other popular distros.
Open the program via the Launcher and choose Yes to run the auto-configuration wizard, selecting 'Optimize for streaming, the recording is secondary' for streaming and screen-sharing purposes.
When prompted for a base (canvas) resolution, opt for 1,280x720 to limit the stream to 720p HD to avoid overwhelming your own internet connection, never mind anyone else's. Leave the default FPS setting as it is and click Next again.
Next, you'll be prompted to select your streaming platform. Five popular options (Twitch, YouTube, Facebook Live, Restream.io, and Periscope/Twitter) are shown by default, or click Show All… to view dozens more, including Steam and Mixcloud.
Each streaming service has its own steps to follow – the box (facing page) reveals how to link OBS Studio to your YouTube account, but typically you'll need to get hold of a stream key, plus configure related preferences. Click Next and the program may perform a series of tests to confirm your settings should work. Click Back if your settings prove too ambitious for your connection, or Apply Settings to move on.
Scenes and Sources
A quick explanation of how
OBS Studio
works: each individual stream represented as a Stream Collection (see the Top Tip,
opposite
) and can be broken into component parts using Scenes. Think of each Scene as a template, each capable of supporting multiple Sources at once. No fewer than 13 Source types are supported, including video capture devices (such as your webcam), audio input device (microphone), screen capture (entire desktop), window capture (specified application window), text, image, and image slide show.
Scenes can consist of a single Source for simplicity, allowing you to switch between say a webcam and a game screen, or you can overlay multiple Sources together within a single Scene – for example, text captions over a video feed, or a screen share of a program window accompanied by your webcam in a picture-in-picture style window. The only limits are your hardware capabilities and internet bandwidth. It's this flexibility that makes OBS Studio a superior alternative to using a streaming service's online tools, which tend to more limited.
If you want your stream to stand out for its professionalism and slickness, it pays to have a firm idea of what you plan to cover. Start with a simple storyboard, which you can render on paper: break down your stream into component parts.
Assign a Scene to each part. Remember that Scenes are basically templates, so can be reused multiple times throughout your stream. When working out what elements to include in each Scene, why not sketch it out on paper: for example, a video feed certainly, but also titles, captions, and maybe images too.
You should also consider writing a script – either a tightly written one you read straight from or a looser series of pointers to keep your stream on track with a basic structure and a list of key points to include.
OBS Studio saves all your changes as you go along, meaning you can happily close it while you put these elements together. It'll save your settings – including the streaming key – when you exit, so everything is where you left it when you next launch the program.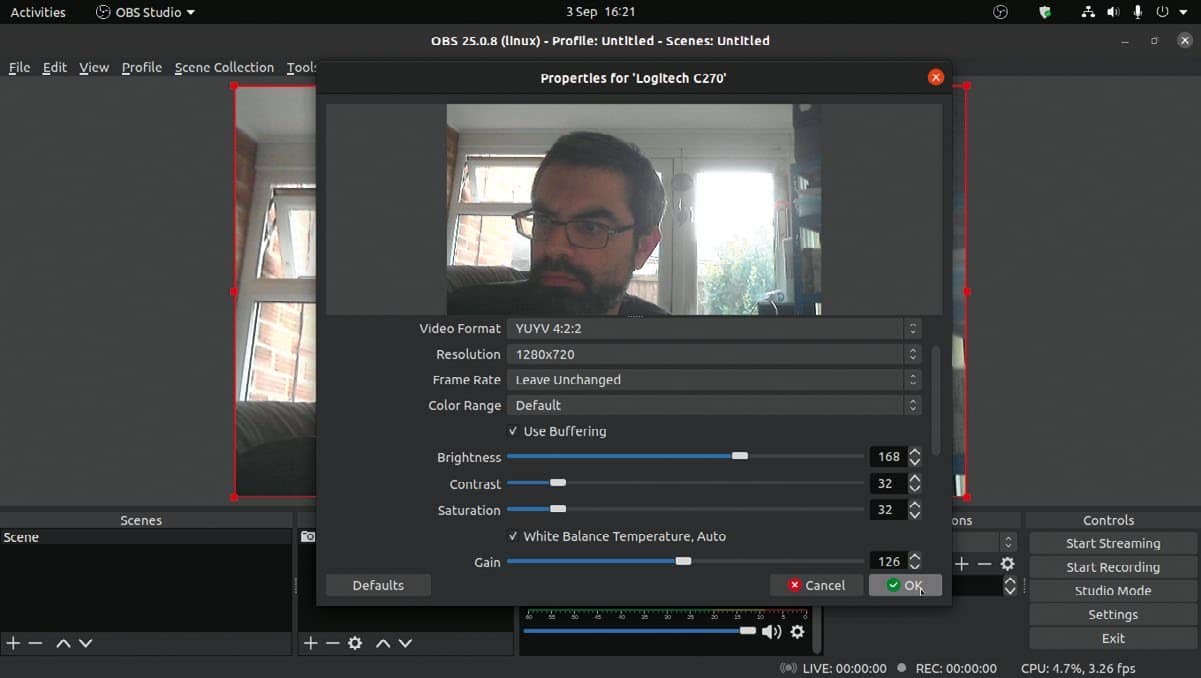 Create a Scene
Once you've worked out your stream's structure, open the main program where you'll find the Scenes panel is already populated with a single Scene. Right-click this and choose Rename to give it a more suitably descriptive title. You can work on Scenes in any order you like – simply rearrange them by drag and drop to help you switch Scenes during your stream with the minimum of fuss.
You can read up to 3 premium stories before you subscribe to Magzter GOLD
Log in, if you are already a subscriber
Get unlimited access to thousands of curated premium stories, newspapers and 5,000+ magazines
READ THE ENTIRE ISSUE
November 2020