MARIA A. GANDOLFO
Muse Science Magazine for Kids|March 2020
Animals and insects aren't the only ones that leave their remains in stone and amber! Meet paleobotanist Maria A. Gandolfo, who studies fossils made from flowering plants. A flowering plant tucks its seeds inside a flower instead of growing them on its leaves. Most of the plants we eat and use as medicine and fuel are flowering plants. Today they flower all over the planet—but that wasn't always the case. Here Gandolfo explains what plant fossils can tell us and how flowering plants got to be such a big deal.
HOW DO YOU STUDY A PLANT FOSSIL?
Working with plant fossils is an extremely rewarding job! The most interesting thing is to do fieldwork and to collect the fossils. In the field, the fossils are numbered and carefully packed. Once the fossils arrive at the museum, they are catalogued and sometimes cleaned. Then we "describe" the fossils (measure them, assess their shape, note if they have veins) and analyze them. They are compared with modern plants and other fossils that are similar. This way we can figure out their plant ancestors and if there are any modern, related plants that will help us understand their past distribution. When possible, we reconstruct the environment (habitat and climate) in which they lived with the help of geologists and sedimentologists.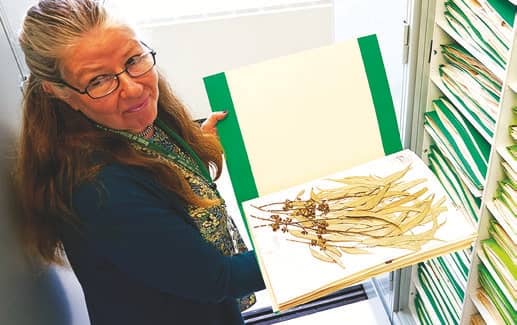 WHEN—THAT IS, FROM WHAT TIME IN THE PAST—DO YOU FIND FLOWERING PLANT FOSSILS?
You can read up to 3 premium stories before you subscribe to Magzter GOLD
Log in, if you are already a subscriber
Get unlimited access to thousands of curated premium stories and 5,000+ magazines
READ THE ENTIRE ISSUE
March 2020