VOTE! From Marbles to Machines
Faces - The Magazine of People, Places and Cultures for Kids
|
September 2020
People have dropped marbles into baskets, drawn Xs by names, colored in dots, and pulled levers to elect their leaders during the past 2,000 years. Early voters used simple, inexpensive objects to cast their votes. The ancient Greeks, the first known voters, placed black-and-white pebbles into pots. Roman soldiers tossed small clay balls into their helmets. Early colonists in the Americas used colored beans and kernels of corn. Today's election traditions and terms have ancient roots. Voters now often mark ballots, or pieces of paper, to cast their votes. The term comes from the Italian word ballotta meaning "little ball."
People around the world vote in many different ways. Some methods resemble early elections while others are highly technical. Whether voters use beans or machines, the process is designed to be fair. Each person gets to cast only one vote, which must be accurately counted. Also important is the idea that a person's vote is private.
The ancient Romans sometimes voted out loud, or viva voce. In some areas, like Appenzell, Switzerland, people still gather in the town square to voice their votes, as they have for hundreds of years. But some feel it can be intimidating to state your choices aloud, and therefore, the individual may not express his or her true opinion. The idea of voting privately by paper ballot is said to have originated in Australia and is sometimes called kangaroo voting. Most people around the world, though, use secret ballots, marking their choices behind curtains or screens or inside voting booths. Whatever method voters use to make their choices, they want to know that their vote counts and that no one can change it. Many different styles of voting machines have been invented to make counting more accurate. They've featured mechanical levers, switches, buttons, and hole punchers. Computers can scan the voter's marks on a ballot and record the vote. Machines are often used because they are faster and more precise than counting votes by hand.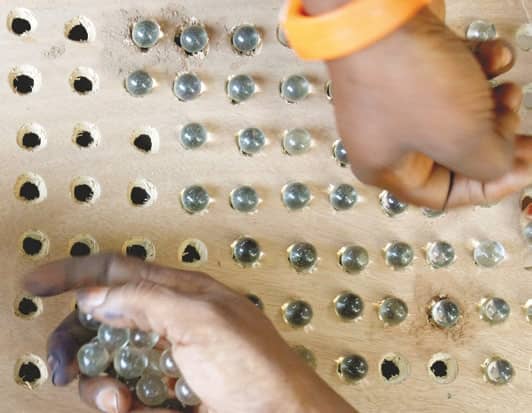 Mechanical voting machines can cause problems, though. Sometimes voters get confused by the directions. If they fill out the ballot incorrectly or even use a pen instead of a pencil, the machine won't count it. Machines can break down or jam, leaving the final vote count unknown. People also worry that machines can be tampered with or illegally adjusted to change the results of the election.
Just as voters want to know that their votes count, they also want to know that everyone has an equal say. Each person gets only one vote. For years, election officials around the world have devised ways to make sure no one votes more than once. In ancient Rome, voters walked one at a time across a narrow bridge. In many countries today, poll workers check the voter's name off a list before handing out a ballot. Other methods rely on sight and sound. Voters in a recent election in southwestern Africa had their arms painted green after they voted. Iraqis dipped a finger in a jar of purple ink. Gambian voters dropped a clear glass marble into a colored drum. When the marble fell, a bell sounded so officials could hear if a voter dropped in more than one marble. Because the bell sounded like a bicycle bell, they banned bikes near the polls.
You can read up to 3 premium stories before you subscribe to Magzter GOLD
Log in, if you are already a subscriber
Get unlimited access to thousands of curated premium stories, newspapers and 5,000+ magazines
READ THE ENTIRE ISSUE
September 2020