From Bean to Bar
Faces - The Magazine of People, Places and Cultures for KidsOctober 2019
Aztecs believed that chocolate was the gift from a god, and most people today would probably agree that it is a heavenly treat. The ingredients of this exotic and ancient food gets its complex flavors from the fruit of cacao trees. In fact, it might be strange to think about, but chocolate is made from the seeds of this fruit, the cacao pod.
It all starts with the harvesting of cacao beans. Cacao trees typically grow in areas just north or south of the equator, such as West Africa, Mexico, Indonesia, or South America. Being tropical trees, they love high humidity, plenty of rainfall, and a shady spot to grow. In fact, cacao trees are often grown in the shade of mango, banana, papaya, or rubber trees. New cacao trees take about five years to grow their first fruits—large pods with thick skin that can be red, yellow, or orange. The pods grow on the trunks of the trees and must be harvested with a large knife.
Harvests take place twice a year, from November to January and May to July. The pods are cut open to remove the beans, which are surrounded by white, fruity mucilage. This pulp is described as tasting like a lemon-flavored mango, or lychee. The beans and pulp are placed in special wooden boxes to ferment up to week. Later, to stop the process of fermentation, the beans are dried, oftentimes on the ground in the sun.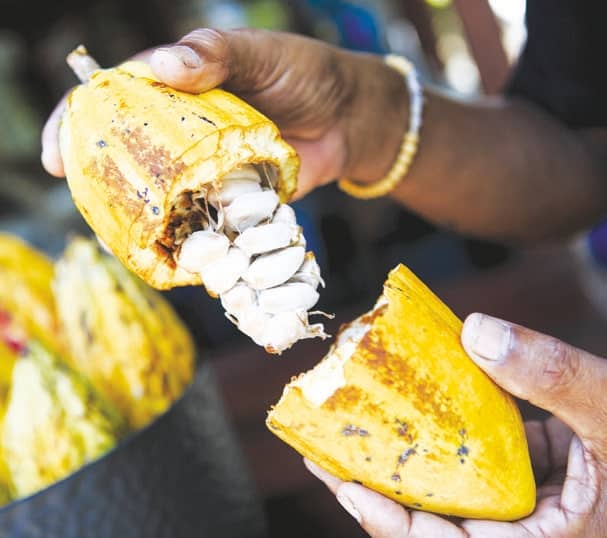 Next, the beans must be cleaned and prepared for transportation. All sorts of things can be found in the beans—from sticks and pebbles to wire and rope. These items are removed by hand or with the use of sieves, vacuums, or magnets. After foreign materials have been removed, beans are ready to make the journey to a chocolate-making facility. Oftentimes, they are destined for another country—or continent—such as North America or Europe.
You can read up to 3 premium stories before you subscribe to Magzter GOLD
Log in, if you are already a subscriber
Get unlimited access to thousands of curated premium stories, newspapers and 5,000+ magazines
READ THE ENTIRE ISSUE
October 2019