A World Without Chocolate?
Faces - The Magazine of People, Places and Cultures for Kids
|
October 2019
Many people enjoy a steaming cup of hot chocolate on a snowy day or a gooey candy bar as an afternoon treat. So rumors predicting that chocolate would disappear from the planet by the mid-21st century sent chocoholics into a frenzy.
Loretta Schumacher Carlson
Fortunately, those rumors are false. However, scientists agree that cocoa production faces other threats that are all too real. In fact, they are working on solutions to one of the most pressing concerns.
Climate Change Imperils the Rain Forests
All the chocolate we eat comes from thebeans of cacao (kuh-COW) trees grown in rain forests located near the equator. The cacao tree is native to the Amazon region of Central and South America. However, more than 70 percent of cacao beans come from West Africa. Cacao trees have also been introduced into the Caribbean, Malaysia, Indonesia, and Australia. Despite this expansion, scientists believe that land suitable for cacao trees could decrease significantly in the near future.
In some areas, longer or more intense dry seasons may hinder cocoa production. In other places, increases in rainfall and/or humidity levels may help spread diseases. Such conditions could also bring in pests that attack the cacao trees. Such declines would jeopardize the livelihoods of farmers who grow cacao trees, the economies of countries that produce cocoa, and the futures of companies that sell chocolate.
Environmental activists like the Rainforest Alliance and the World Cocoa Foundation are working with scientists and farmers in cocoa-growing nations to solve these problems. They are developing cacao trees that are more resistant to disease and better able to survive the changing climate. They are also helping farmers adopt "climate-smart" ways of growing cacao trees.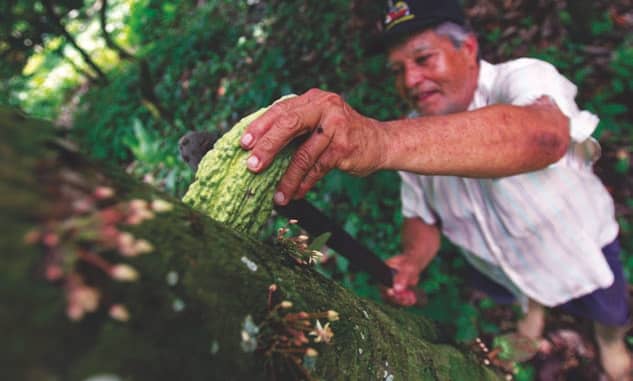 Climate-smart Farming Holds the Key
You can read up to 3 premium stories before you subscribe to Magzter GOLD
Log in, if you are already a subscriber
Get unlimited access to thousands of curated premium stories, newspapers and 5,000+ magazines
READ THE ENTIRE ISSUE
October 2019