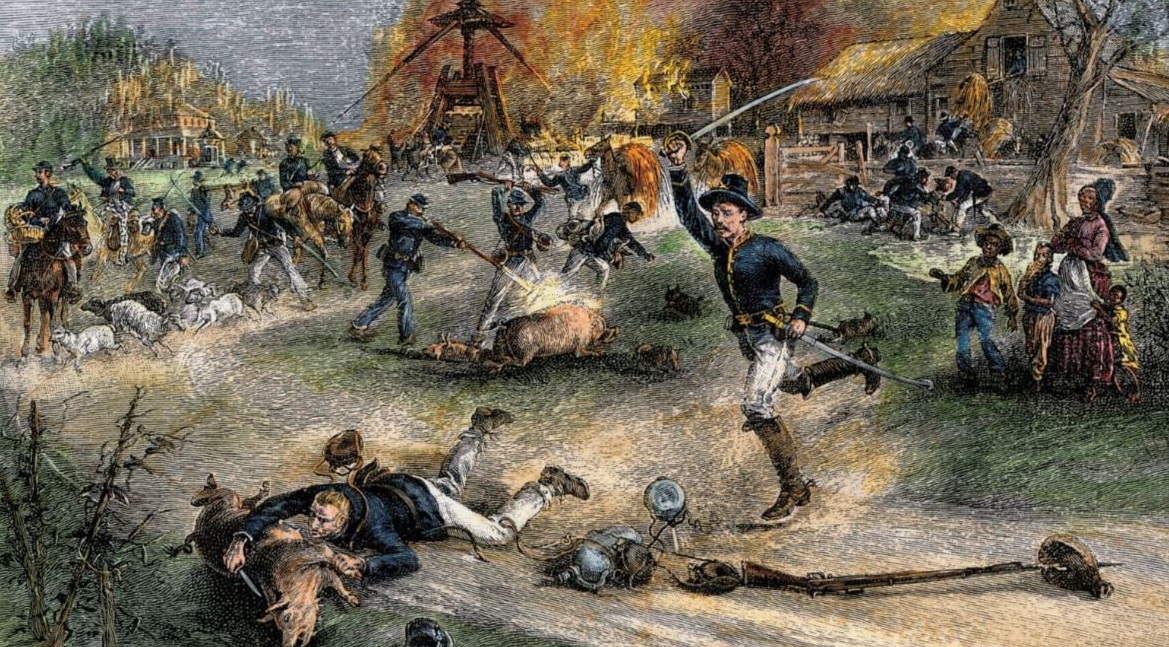 From his headquarters in Atlanta, Georgia, Union major general William T. Sherman prepared for his next move. It was a bold plan. He would cut his supply line, which extended back to Tennessee. The line provided his army with food and material, but it was long and difficult to defend against enemy raiders. He also would cut the telegraph wires that kept him connected to his superiors. That would stop all communications between him and his commander, Lieutenant General Ulysses S. Grant. At first, Grant expressed reservations about the plan, but his faith in Sherman won out. Grant told him, "Go as you propose."
Before Sherman abandoned Atlanta, he ordered all its military installations burned. He knew that once the Union army left, Georgians would reclaim their city. He didn't want the Confederacy to be able to use Atlanta as a military and transportation hub again. The fire grew out of control, and about half of the city was destroyed.
On November 15, Sherman set out with 62,000 soldiers on his March to the Sea. His goal was to destroy the infrastructure that supplied the Confederate army with food and materiel. He also wanted to show the people of Georgia that the Confederate government was not able to protect them. The sight of Union soldiers marching unchallenged through the heart of the South, Sherman believed, would crush the people living there. It would bring the war to a speedy conclusion. A quick end would mean fewer lives lost on both sides.
Continue Reading with Magzter GOLD
Log-in, if you are already a subscriber
Get unlimited access to thousands of curated premium stories and 5,000+ magazines
READ THE ENTIRE ISSUE
January 2018