Storm Warning
TVPlus - English|18 December 2019
Qhabanga, his wife Gabisile and his son Khehla are cosy under one roof – but that affair will blow the house down!
2019 has been a heartbreak year and it has really tested Qhabanga's (Siyabonga Shibe) faith. But hope is dawning during December. Not only does the pastor have the love of his life and ex-wife Gabisile (Baby Cele) back by his side, in the final week of November he also returned to his church and found his long-lost son Khehla (Thobani Nzuza).
In Qhabanga's eyes, this is real love. "Qhabanga is desperate to be loved. He has never belonged anywhere – he is using Khumalo, which is his mother's surname, and not Mhlongo, which is his father's surname. And he has always wanted to belong, even when he was growing up with Nkunzi (Masoja Msiza) and their sister Badumile (Nomonde Mbusi). So when he saw his son for the first time, it was the heavens opening," says Siyabonga.
Alas, as viewers can already guess, the heavens have really opened just to drop a rock to crush Qhabanga's hopes and dreams – since we all saw lover Gabisile and his son Khehla have sex in Qhabanga's bed in the first week of December. And the end of the year will see Qhabanga's fragile heart shattered all over again… releasing his inner villain as he tries to make some form of sense of what has happened.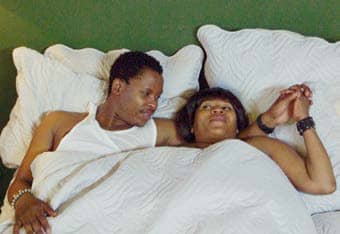 AN AWFUL YEAR
One more betrayal could be the last straw. Qhabanga is in a vulnerable place right now following a series of betrayals that took him from being a pillar of the church, to being a drunk bum stumbling in the street laughing, crying, singing and grieving. "He broke up with his wife Gabisile (in July) and that was the most down moment of his life. And then he was chased away from the church. MaMlambo (Gugu Gumede) was there to give him a shoulder, but it wasn't an honest love. MaMlambo just happened to be there.
"That came out when he was getting married (to MaMlambo in early October – a terrible week that also saw Gabisile marrying Nkunzi). MaMlambo chose Nkunzi over Qhabanga right at the altar," says Siyabonga.
You can read up to 3 premium stories before you subscribe to Magzter GOLD
Log in, if you are already a subscriber
Get unlimited access to thousands of curated premium stories and 5,000+ magazines
READ THE ENTIRE ISSUE
18 December 2019