Fire and fury
TVPlus - English|18 June 2020
Lehasa uses Rachel's disappearance to get his claws into a desperate Marothi.
LEZANNE JANSE VAN RENSBURG
The history between business rivals and frenemies Lehasa (Cedric Fou-rie) and Marothi (Macks Papo) is a long and turbulent one. The two guys have just never seen eye-to-eye, and that inability to get along has slowly grown into outright hatred over the years. When one does well with a business idea, the other has sour grapes and plans an attack. There is never peace and they'd sooner see each other destroyed than say a kind word.
The arson at Lehasa's Maphosa Nut factory last year has seemingly sent the scheming Lehasa over the edge. "It has been building, the stress, and Lehasa is ready to lash out at anyone," warns Macks. Unfortunately for Marothi, that happens to be him this fortnight.
NUTS ABOUT REVENGE
Ever since that fateful day the businessman watched his factory burn to the floor, Lehasa has fervently believed – and correctly so – that Marothi and his wife Rachel (Lesego Marakalla) were the ones behind the devastating fire. And despite not having any solid proof, Lehasa has always maintained the arson attack stemmed from pure jealousy on Marothi's side. "When Lehasa's old factory still existed in Turf, Marothi was lowkey and threatened by the fact that he wasn't the only successful businessmen in town," Cedric explains. "It pushed Marothi, who came with a reputation of being devious, to new lows and nothing is out of the question – including torching a factory possibly with people in it." So now that Marothi is at his weakest, his enemy is ready to strike like a cobra.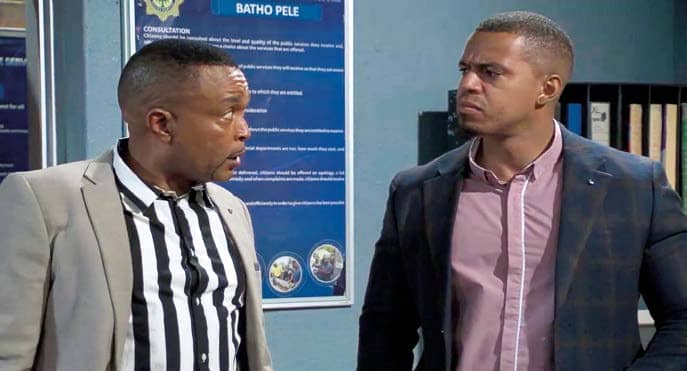 You can read up to 3 premium stories before you subscribe to Magzter GOLD
Log in, if you are already a subscriber
Get unlimited access to thousands of curated premium stories and 5,000+ magazines
READ THE ENTIRE ISSUE
18 June 2020