Crossing The Line
TVPlus - English2 July 2020
Zinhle spirals out of control after her BFF Keabetswe puts her in the friend zone following their passionate time together.
Other than her par-ents Khulekani and Nandi (Mncedisi Shabangu and Nompilo Gwala), no one has ever shown genuine concern for destructive high school student Zinhle (Kealeboga Masango) the way her bestie Keabetswe (Kamogelo Molatlhoe) does. Not only does Kea offer Zinhle emotional support and a sense of belonging, she recently helped the teen kick her Slaza (liquid pain medication) drug addiction. "They're getting rather close lately and Zinhle is practically falling in love with Kea by the day. She is just waiting for the right time to tell Kea," says Kamogelo. And that perfect moment presents itself when Kea's crush Stixx (Matshosa Joseph Sedibo) cancels their plans to go to the talent show...
But before Zinhle can tell her, Kea kisses her because Kea is feeling emotional about being stood up – a move that changes their friendship for good. "The kiss leads the two girls to have sex. They're awkward around each other the next morning, and Kea learns that it was Zinhle's first time. Kea instantly regrets everything as the night of passion didn't mean anything for her," explains Kamogelo.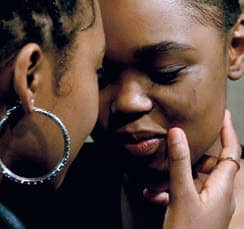 But for Zinhle, it wasn't just an experiment. She wants more than a friendship from Kea – and when Kea rejects her, Zinhle develops an obsession with Kea that will take her close to taking her own life.
OVERSTEPPING THE MARK
You can read up to 3 premium stories before you subscribe to Magzter GOLD
Log in, if you are already a subscriber
Get unlimited access to thousands of curated premium stories, newspapers and 5,000+ magazines
READ THE ENTIRE ISSUE
2 July 2020