Court On Camera: The Appeal Of Courtroom TV
TVPlus - English
|
10 September 2020
It's candid camera on DStv in the courtroom as Court Cam captures the US's most shocking real-life legal meltdowns.
Courtroom shows might be the ultimate in popcorn TV. They're full of "Oh no you didn't", "Did he just say that?", and "How dumb do you think we are?" moments. The likes of Judge Judy and her followers, including Judge Joe Brown (read p11 for both), allow us to not only shake our heads over the wicked and shiftless cheats and cons of the world, they give us the character of the judge, a higher being. Not only do mostly the judges agree with us, they immediately hand out punishment to people who've crossed the line. It's satisfying as it plays out onscreen and they're led away in shame. TVs most popular judges are quotable and relatable to the point that the saying "only Judy can judge me" is a popular tattoo. It's about the victory of truth and right over deception and stupidity.
But if you've ever wondered who judges the judges, the witness, the cases and the whole courtroom… well, this could be your job after Court Cam season started on Lifetime (*131) at the end of August. The series is based on surveillance footage recorded in select courthouses across the US, and features some of the most dramatic, emotional moments ever caught during US trials. It shows breakdowns of not just the witnesses and accused, but the legal system itself. Unlike normal TV judge shows, these are high-stakes murder and robbery trials. No dog-snatching, rent-dodging defendants here.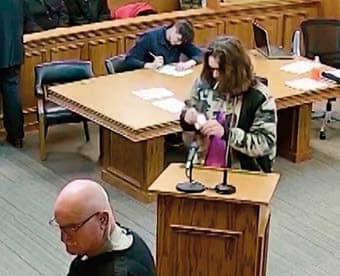 TRIAL BY DAN
Court Cam series host and executive producer Dan Abrams (the chief legal analyst for ABC News in the US) interviews witnesses, judges and victims in the recorded courtroom incidents to capture their different perspectives on what really happened during dramatic moments and why. "I've covered trials for my entire career, and even I was stunned by many of these remarkable courtroom moments. Then getting to talk to the people involved, from heroes to victims, was as enlightening as it was humbling," says Dan.
It's not all heartbreak and tears. There are lighter moments too that we would never hear about. Find out what gets one judge so hot under the collar that he strips off his robe in court and jump over his bench, and what happens when one suspect starts singing in an effort to derail the trial. Dan is the perfect host, always ready with a witty quip for the more absurd moments from the courtrooms.
DISORDER IN COURT!
You can read up to 3 premium stories before you subscribe to Magzter GOLD
Log in, if you are already a subscriber
Get unlimited access to thousands of curated premium stories, newspapers and 5,000+ magazines
READ THE ENTIRE ISSUE
10 September 2020