Life & Times
Soap Opera Digest
|
September 07, 2020
A look back at what happened to DAYS's Philip before his recent return to Salem.
1995: Victor and Kate attempted to have a baby via in-vitro fertilization, but the embryo wound up implanted in Vivian. She gives birth to Victor and Kate's son, Philip, in February.
1999: Teenage Philip surfaces in Salem. When Victor cuts off his son's cash supply, Philip turns to gambling and gets in over his head with bookies. Philip is gashed across the forehead by a bookie's henchman and ends up in the hospital. Victor settles his son's $4,500 debt, but insists that Philip pay him back by working as family butler Henderson's intern.
2000: Philip is intrigued by the odd new girl in town, Chloe, but hides it from the in crowd at school. When he loses a video game bet with Shawn, Philip is forced to take Chloe to the Last Blast Dance. His humiliation turns to joy, however, when Chloe ditches her glasses and baggy clothing and looks like a knockout. Philip and Chloe grow closer, until Jan derails things by telling Chloe the real reason why Philip started dating her. Eventually, Chloe forgives Philip, who says that he thinks he's falling in love with her.
2001: After Victor fakes his death, Chloe comforts Philip over the loss of his father. The couple spends a platonic night in the Kiriakis stables, where Victor finds them. Furious that Philip kept mum about his dad being alive, Chloe becomes hysterical. When Nancy misconstrues the situation and asks her daughter if she's been raped, Chloe says yes. Although Chloe sets the record straight, Victor sees her as trouble and asks Brady to keep her away from Philip. At the Last Blast Dance, Jan and Mimi, who had secretly taken photos of a naked Chloe in the school showers, put them on full display with a slide show. Philip dumps Chloe, accusing her of setting up a website and selling her nude pictures. When he learns the truth, he tries to apologize, to no avail. That summer, the teens embark on a treasure hunt in Puerto Rico. Brady rescues Belle, Shawn and Philip from the evil Paul after they nearly drown.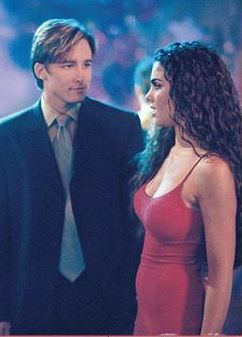 2002: Philip starts dating Chloe again and professes his love to her. At the Last Blast Dance, Chloe collapses and is rushed to the hospital, where tests reveal she has leukemia. Desperate for a bone marrow transplant, Chloe and Brady go looking for her father. A jealous Philip arranges to have Brady arrested to destroy his budding relationship with Chloe. It's the last straw for Chloe, who tells Philip they're over. Philip leaves town and enlists in the Marines.
You can read up to 3 premium stories before you subscribe to Magzter GOLD
Log in, if you are already a subscriber
Get unlimited access to thousands of curated premium stories, newspapers and 5,000+ magazines
READ THE ENTIRE ISSUE
September 07, 2020