It's A Living
Four behind the scenes professionals describe their soap jobs
BOLD AND BEAUTIFUL LINDA GRAND
HEAD-PROP, 1992- PRESIDENT
What do your duties entail?
"To maintain the integrity of Production Designer Jack Forrestel's vision and manipulate the props for camera during each scene."
How many people are on the prop team?
"Four to six, depending on what we're shooting."
How are prop requests submitted to you?
"I'm the conduit between the set decorator and the stage. The Set Decorator, Charlotte Garnell, makes the props needed at production's request and I ensure that they are delivered to the specific set and placed appropriately for camera."
Do you have any favorite props?
"The Christmas carousel is a favorite. It's always in the Forrester living room during the holidays. One of my other favorites was the life-size model that we made of Hunter Tylo [Taylor] that was revealed when Ridge dug up Taylor's grave."
What's the oldest prop in B&B's arsenal?
"The original Sally Spectra glass candy dish that sat on her desk. We still have that. It doesn't play on camera anymore, but I now keep in on my desk."
What's been your most challenging assignment?
"Turning one set into another set during show production. An example would be turning Brooke's bedroom into Douglas's bedroom while we are shooting a show, as both sets need to be used. That will always remain challenging to me."
What can go wrong when working with props?
"A lot can go wrong. You can put the wrong prop somewhere. You have to double-check three and four times. If the wrong prop goes in the wrong set and it ends up on camera, it is a big deal."
How many duplicates do you have on hand for vital props?
"A minimum of three. If they are documents that need to be signed, we usually have four or five."
Do you ever repurpose props?
"Yes. An example would be wallets, checkbooks and cell phones."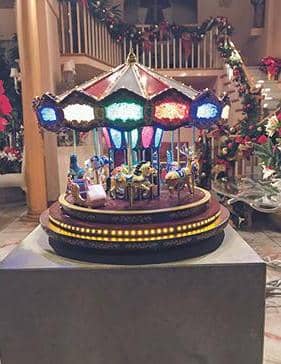 Have you personally created any props yourself?
"Yes. I am proud that I created specific keys for each character, all on their own key chains. They live on a board on the side of my prop cart. It's pretty cool."
How and where are B&B's props stored?
"We have about seven prop boxes with anything from candles to silver to glassware, and they are outside the stage door. We have an entire room dedicated to a 'kitchen' with dishes, dish towels and even generic alcohol bottles. The furniture is all stored in one of two prop storage areas in the building. Plants are rentals and they come in weekly. Fresh flowers arrive each morning as needed. That's a specialty of the Bell family. It started with [Creators] William J. and Lee Phillip Bell wanting fresh flowers that continues today with [their son, Executive Producer/Head Writer] Brad Bell."
Do you get requests from fans about where to find certain props, like the Christmas carousel?
"Yes, all the time. The show tries to answer as many letters as possible. The Christmas carousel was purchased many years ago and fans can buy it online. It's called Mr. Christmas Marquee Deluxe Carousel, and it costs about $300."
Considering the number of births on the show, have you incorporated any of those animatronic dolls that appear more lifelike, or is it easier and more economical to wrap a doll in a blanket?
"We have a few of the animatronic dolls that we use, but we also sometimes wrap a doll in a blanket. It's easier now that the babies are older."
What do you do in an emergency situation, like when a prop goes missing but it's needed on the set?
"We fake it really well! We pull stuff out of hats and make magic happen."
Are there certain actors who are better with handling props?
"Absolutely. Susan Flannery [exStephanie] was the absolute best at handling props. A close second is Rena Sofer [Quinn]. She's very good at handling props while acting."
When it comes to photos, who does the actual Photoshopping of the image?
"Our publicity department gives the photo to our graphics department; they Photoshop it to the specifications of the set decorator and then it comes to me already framed."
Who came up with the idea of having a bell on the laptops, as opposed to an Apple?
"It was Supervising Producer Casey Kasprzyk's idea as a special nod to the Bell family."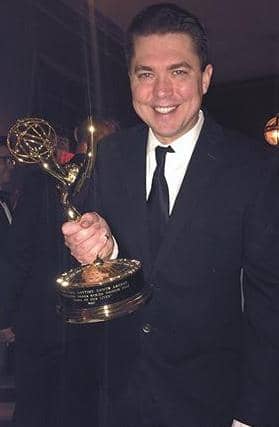 DAYS OF OUR LIVES- TYLER TOPITS
Writers' Assistant, 2008-present
How did you first get hired at DAYS?
"They had an internship program back in 2008. I applied for that and got it. I was an intern in the writers' office. As soon as the internship was over, they were looking for extra help around the office. They were still a little bit backed up from after the writers' strike ended in 2008, so I stuck around for about four weeks. That turned into five and then they just kept me on as a full-time writers' assistant."
Did you study writing in college?
"I went to Cal State, Fullerton. I majored in radio, television and film, with an emphasis in writing."
Have you held any other positions at DAYS?
"Yes, outline coordinator and script coordinator, script writer, associate writer ... Now, I'm just in the position in the office, and I do a few things for the [DOOL] app or special projects. And, once in a while, I get to write a show."
Did you watch the show before you landed the job?
"I had been a DAYS viewer in my childhood. It was one of the soaps my mom watched, so I had it on in my house. I was familiar with the show. That kind of led to my destiny here, I guess you could say."
You can read upto 3 premium stories before you subscribe to Magzter GOLD
Log-in, if you are already a subscriber
Get unlimited access to thousands of curated premium stories and 5,000+ magazines
READ THE ENTIRE ISSUE
March 2, 2020