The temperatures are dropping, but the storylines are heating up!
BOLD AND BEAUTIFUL
Executive Producer/Head Writer Bradley Bell shares what's coming up.
Hope/Liam/Thomas: "Ripped apart by a stolen kiss, Hope and Liam face their biggest struggle since being reunited with their daughter, Beth. Thomas's obsession with Hope is stronger than ever and he will stop at nothing to get what he wants. In February, Thomas raises the stakes by using Zoe and Douglas in his cruel scheme."
Sally/Wyatt/Flo: "Already heartbroken over losing Wyatt to Flo, Sally receives more bad news with a devastating medical diagnosis. Having been sworn to secrecy, Katie begs Sally to confide in Wyatt, but her Spectra pride will not allow her to do so. Will Wyatt find out that Sally is in a desperate struggle for her life? And what will that mean to his committed relationship with Flo?"
Brooke/Ridge/Shauna/ Eric/Quinn: "Brooke and Quinn are at war. Eric and Ridge are beside themselves as they watch the women they love do battle. Brooke is convinced that Quinn and Shauna are to blame for her troubles. Ridge, however, makes it clear that the only thing keeping them apart is Brooke's immense hatred of Thomas and her refusal to see that he's no longer a danger to Hope. This month, as the fire heats up between Brooke and Quinn, so does the rift in Brooke's marriage to Ridge. Will Ridge fall into the hands of adoring Shauna?"
In Other News: "During February, a proposal of marriage is made, a former couple reunites and the Forrester Creations Fashion Showdown shifts into high gear."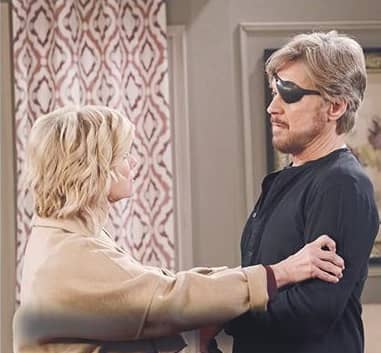 DAYS OF OUR LIVES
"It really is life-and-death stakes for almost every story," says Head Writer Ron Carlivati of what's coming up in Salem.
Eli/Gabi/Lani/JJ: "Eli and Gabi have stepped up this wedding. Julie offers to perform the ceremony. The wedding's imminent and the question is, is there anything that JJ and Lani can do to stop the wedding when it seems in a lot of ways that Gabi's holding all the cards and Julie's life is at stake?"
Doug: "Bill Hayes [Doug] is about to celebrate 50 years of being on DAYS OF OUR LIVES. I think it's important to honor the actor and the character and the longevity, and also for the fans who have watched that person for so many years. We found a way in by there being an unexpected death in the family that has an impact on Doug and causes him to reminisce about when he first came to town. I don't want to give away too much, but there will be a very nice day that honors him."
Eric/Sarah/Mickey: "So far there's no bone marrow match. It's looking very dire. Eric and Sarah are fearing the worst. At the very 11th hour when it seems like maybe Mickey is doomed, a match is found and it comes from a very unexpected source."
Ben/Ciara: "It was always my plan that when it got to its bleakest point for Ben, we would bust Ben out of prison and do a little sort of romantic interlude of this couple on the run together trying to prove Ben's innocence before it's too late. The stakes couldn't be higher because his life is really on the line. It's a really old school kind of soapy story. So often it's the guy rescuing the girl and here we're trying to flip the script."
Continue Reading with Magzter GOLD
Log-in, if you are already a subscriber
Get unlimited access to thousands of curated premium stories and 5,000+ magazines
READ THE ENTIRE ISSUE
February 10, 2020