Amitabh Bachchan: The Most Celebrated Indian Actor
STARDUST INDIA|February 2016
Generally, people retire at age 60 and enjoy their second innings in life. And then we have Amitabh Bachchan on the other hand, who at 73, can give younger actors a run for their money. Standing out in every role he delivers on the silver screen, there are no two ways about him being the most celebrated Indian actor across the globe. He talks to Nawaz Kochra, rejoicing over Wazir, gearing up for his next, about his run in the industry so far and about how things have changed, but not concepts.
Do you believe in New Year resolutions?
No, I don't believe in New Year resolutions; if I have to do something, I'll do it now. Why wait for the 1st of January?
Didn't Vidhu Vinod Chopra want to make Wazir long ago in English?
Yes, it was called Chess Player, and he narrated the idea to me almost 15 years ago. He wanted to make the film in English, but for some reason he didn't. And now he got this project again, so we did it.
Would you have taken up the film if it was in English?
I don't think he wanted to do that now, this is already done. But earlier, I was fine doing the film in English as well.
How did you slip into the skin of your character in Wazir?
Sir, I don't slip at all. I was just asked to sit on this wheelchair and move around, that's it. When someone narrates an idea or a story, you just hear it. If you like what you have to do, then just go ahead and do it.
What was your preparation for this character, considering it was very challenging?
Not really, other than the fact that you are going to spend the full film on a wheelchair. Most actors look for wonderful properties to assist them in their performance, and this was a wonderful prop. The other fact is that of course, you are sitting and not doing anything. But, it is wonderful that you can use that prop as a part of your act.
How much of a chess player are you in real life?
I used to play, but now I don't, so I have forgotten a lot. Because of the film, we had to learn a few moves.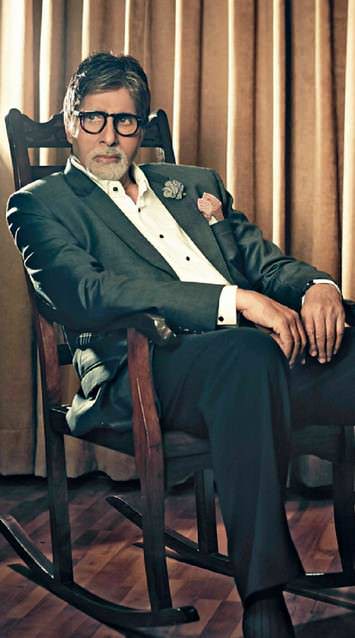 Farhan Akhtar had said that he bonded very well with you during Deewaar and that you shared anecdotes with him. What was your experience like?
Javed (Akhtar) Sahab and I have been together for so many years, and I have worked on so many projects with Salim (Khan)-Javed. So there were many stories that Farhan and I shared.
Farhan has directed you earlier in Lakshya, and was your co-star in Wazir. What is he better as?
As a director, he is a director, as a co-artist, he is a co-artist. There are very few individuals who are able to do that, so all credit to him because it is not easy to be a director and an actor at the same time, and also a musician.
How was your singing experience with him?
It was beautiful.
Your last few projects, Piku, Shamitabh and Wazir have all been comparatively different in terms of your roles. Which one was most demanding?
You can read up to 3 premium stories before you subscribe to Magzter GOLD
Log in, if you are already a subscriber
Get unlimited access to thousands of curated premium stories and 5,000+ magazines
READ THE ENTIRE ISSUE
February 2016