Alia Bhatt: A Rare Star Who Can Laugh At Herself
Alia Bhatt's gamine charm cradles talent and the nous of self-deprecation.
SCENE 1: Alia Bhatt squeals, "Prithviraj Chavan," when asked to "name the president of India" in the quiz in Koffee with Karan, only a second after Varun Dhavan has anointed "Manmohan Singh" the president. While Varun escapes with little damage, poor Alia becomes an icon of dumbness for weeks.
Scene 2: An innocent-looking Alia surpasses expectations as she tightly holds her kidnapper Randeep Hooda, as he breaks down inconsolably in Imtiaz Ali's Highway. Her performance as a child abuse survivor finding inner freedom with her kidnapper set her apart as an actress to watch out for. She is 20.
Alia, now all of 22, inhabits the essence of both scenarios. She is also that rare star who can laugh at herself. The cute neophyte who could not answer a simple question pretty much silenced her critics with a generous dose of self-deprecation with the All India Bakchod video Genius of the Year, loosely titled on her debut film, Student of the Year.
So is Alia an Indian version of pretty dumb blonde or is she the next big star backed by both lineage and talent? Or is she a product of effective brand and image management, something attributed to Aishwarya Rai for her impeccable public persona? While answers may differ depending on stakeholders, there is no disagreement about her talent and courage as an actress.
"She always sees the bigger picture first and then has fun with the role or the shoot. She is very bright and always gets the point," says Vikas Bahl, director of the woman-centric hit Queen. Bahl is now directing Alia in upcoming romcom Shaandaar and had earlier made a video on women's safety with her, where, in a utopian setting, she gets a lift from five gruff-looking boys after her car breaks down on a deserted road.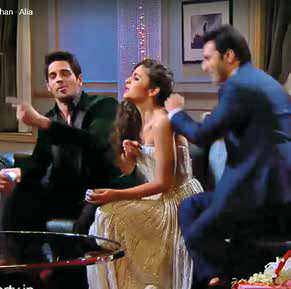 Shaandaar is making news for many reasons not least because it is Bahl's next after the acclaimed Queen. Secondly, because it brings Shahid Kapoor (after his momentous outing in Haider) and Alia together. At the press conference, packed with fans and production teams apart from journalists, Alia is a clear winner. "This character made me explore this fantasy, a quirky side which I always wanted to, which I do only in my room. I became the character..." she chirpily starts, immediately adding, "I want to say one thing to everyone who is here. Alia in Shaandaar is very very intelligent. Please don't mess with her. She gets all the facts right. So don't ask her any questions. Don't ask me any questions either...." she giggles naughtily, pre-empting the unspoken, as Karan Johar, Shahid Kapoor and Vikas Bahl enjoy the ensuing uproar amidst the audience.
You can read up to 3 premium stories before you subscribe to Magzter GOLD
Log in, if you are already a subscriber
Get unlimited access to thousands of curated premium stories, newspapers and 5,000+ magazines
READ THE ENTIRE ISSUE
August 24, 2015