'SUSANNA AND I HAVE AN ARRANGED MARRIAGE WITHOUT ANY OF THE GOOD BITS!'
GOOD MORNING BRITAIN PRESENTER PIERS MORGAN EXCLUSIVELY TELLS OK! ABOUT HIS RELATIONSHIP WITH COSTAR SUSANNA REID DEALING WITH TROLLS AND WHAT HE'D SAY IF HE CAME FACE TO FACE WITH THE DUCHESS OF SUSSEX
You know you're in for some frank opinions when you get Piers Morgan on the blower, so we're well prepared for his epic rants when he calls us up on a Monday lunchtime, punctual as ever.
The journalist-turned-TV presenter has released his new book Wake Up, which sees him reflect on 2020 – and we can all agree it's been a pretty catastrophic year all round. So be prepared for controversial views on veganism, Hollywood stars and the Government in Piers's acid-tongued tome.
As expected, the 55-year-old wastes no time in giving us his take on "woke illiberal liberals", as he puts it.
"There's a lot of hypocrisy around veganism," he rants. "I don't mind vegans being vegans. It's when they run into steakhouses and start screaming at meat eaters and showing footage of cows being slaughtered. Fine, you eat avocados – how do they think they get made? They're made from a pollination of billions of bees, many of which die!"
As well as his views on society, Piers is more than happy to reflect on his near five-year career on Good Morning Britain, disagreeing with his journalist wife Celia Walden and the possibility of a comeback on Britain's Got Talent after a 10-year hiatus.
Here, Piers, who counts Donald Trump and The Duchess of Sussex as former pals, talks working with Simon Cowell again, his TV marriage to GMB co-presenter Susanna Reid and what he thinks of Queen of Pop Madonna – we'll give you a hint, it's not good!
Take it away, Mr Morgan…
Hi Piers. You refer to Susanna as your TV wife. Have you two ever had a big fallout?
Not falling out as such, but we do have quite lively, animated debates. We're both strong-minded people with strong opinions and we don't hold back. Nothing that's been irreparable though and ultimately we have great respect for each other.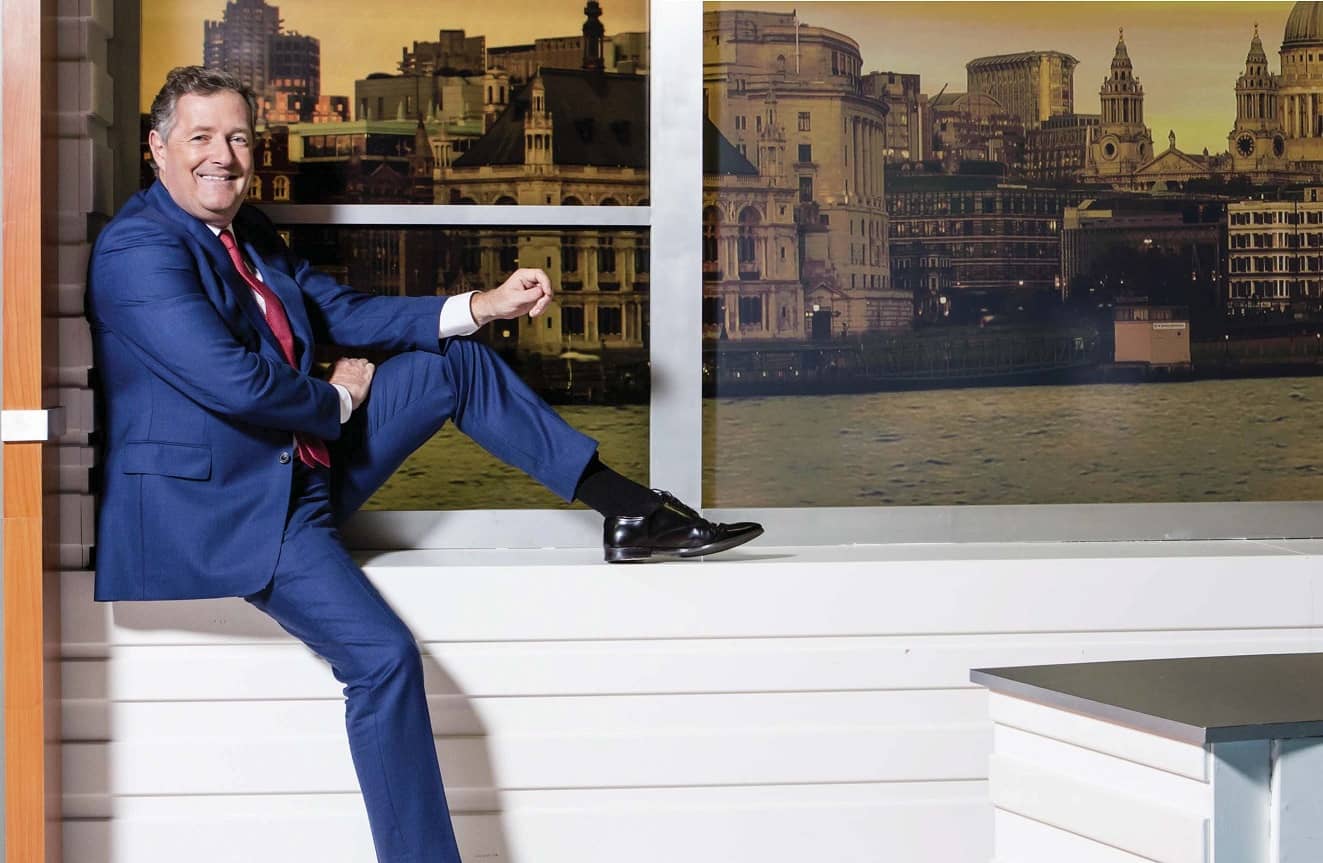 How would you describe your relationship?
It's like an arranged marriage without any of the good bits! [Laughs] We have a very good relationship based on good, healthy respect, but we don't like either of us getting away with anything. We have a very spirited, lively and nice relationship with each other – on and offscreen.
Does your wife mind?
I think she's just pleased to get me out of the house!
Who would win in a fight between Celia and Susanna?
Neither of them are remotely aggressive and a fight is the last thing I can imagine. It's me who's the problem!
Susanna is said to be loved-up with chairman of Crystal Palace FC, Steve Parish. How are they getting on?
You'll have to ask Susanna about her own life [laughs].
You can read up to 3 premium stories before you subscribe to Magzter GOLD
Log in, if you are already a subscriber
Get unlimited access to thousands of curated premium stories, newspapers and 5,000+ magazines
READ THE ENTIRE ISSUE
October 27, 2020