'HANNI'S MY SOULMATE – WE WILL GET MARRIED'
IN THEIR FIRST INTERVIEW TOGETHER CORRIE ACTOR JACK P SHEPHERD AND GIRLFRIEND HANNI TREWEEK OPEN UP TO OK! ABOUT FALLING IN LOVE LEGO WARS IN LOCKDOWN AND WHY JACK THINKS HE'S PUNCHING ABOVE HIS WEIGHT
Being asked for selfies is part and parcel of being in a prime time soap for two decades, and not even a global pandemic has deterred some fans from approaching Coronation Street favourite Jack P Shepherd.
"Even when we were in deepest lockdown, people would still come up and ask for a picture. I'd be like, 'No, two metres!'" laughs Jack, 32, who's played David Platt since he was 12 years old.
"I had to explain we were practising social distancing," adds his girlfriend Hanni Treweek with a smile.
The pair, who recently celebrated their three-year anniversary, laugh a lot during our interview. They met when Hanni worked in the script department of the ITV show.
"He just made me laugh so much. Finding a guy who makes you crack up is so important," says 31-year-old Hanni, who now works with brands on Instagram.
Jack and Hanni fell in love quickly but took things slowly for the sake of the actor's children, Nyla, 11, and six-year-old Reuben, from a previous relationship.
"We were together for about a year before they met. You don't want to introduce a new partner to small children too soon," Jack tells us.
Here, in their first interview together, Jack and Hanni open up about falling in love after meeting at Corrie and their plans for the future…
How has this year been for you both?
Jack: We were lucky as we really enjoyed lockdown. When do you ever get that time to sit at home and chill out? We didn't have any fights – well, aside from when I built the Taj Mahal out of Lego. It was 26,000 pieces and it took 21 hours and Hanni destroyed it!
Hanni: [Laughs] I didn't do it on purpose. It shattered when we were moving it. He can't even look at the Lego box now as it makes him upset. Our lives were so fast paced and we didn't spend enough time together, so it was really nice to slow down.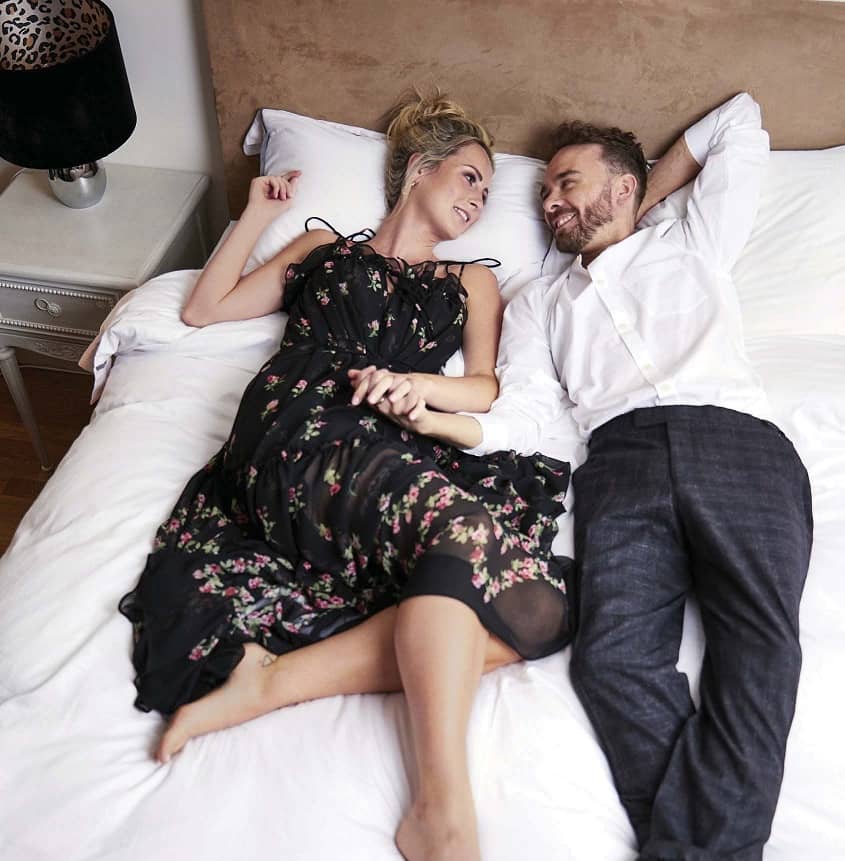 Jack, did you see your children often during that time?
Jack: Not at first as we didn't want to risk it. We gave it a month or two and then we had the kids to stay. It was tough at the beginning but we FaceTimed and did Zoom quizzes, so I was seeing them. It was lovely when we got back together. Then we had to start homeschooling and we'd all do Joe Wicks classes in the morning like everyone else!
Hanni: I loved it. Nyla would exercise with me.
How was the homeschooling?
Jack: It was a nightmare. I realised how thick I am! When do you use algebra as an adult?
Hanni: I was quite strict and had a bell. I took the role of the headteacher and would ring it for break times [laughs]. The kids loved it. They're lovely and we get on well.
You must be happy to see the children get on so well with Hanni, Jack…
You can read up to 3 premium stories before you subscribe to Magzter GOLD
Log in, if you are already a subscriber
Get unlimited access to thousands of curated premium stories, newspapers and 5,000+ magazines
READ THE ENTIRE ISSUE
October 27, 2020