'Motherhood's exhausting but I'd love another baby'
Ali Bastian gets honest with new about the highs and lows of motherhood and how regular counselling helps her marriage
Former Hollyoaks star Ali Bastian is in an excitable mood when we call her for a chat, revealing that for the first time since her daughter Isla was born just before lockdown, she's on her way to a Monkey Music baby group with her little one.
"I can't tell you how excited I am because we've not been able to do any of this," says Ali, 38, who lives in west London with her hubby David O'Mahony, an actor and also a talented snapper who just so happened to take the photos for this shoot. "It's literally the first thing we're doing where we're going to be around other mums and babies."
No wonder the actress is looking forward to socialising, as she tells us she didn't leave their home for months during lockdown.
"We didn't set foot outside the front door for about three months," she explains. "We live in a flat so it's not a sprawling space. We've got a postage-stamp-sized garden but thank God we do. I remember I had something to post and I said to David, 'I'm gonna do it, David, I'm gonna go outside and post this letter.' I went out there and I felt like I was in 28 Days Later!"
Ali's isolation coincided with looking after newborn Isla, who arrived on 12 March by last-minute C-section, after Ali discovered at 36 weeks that she had gestational diabetes and Isla had gone through a growth spurt.
It wasn't an easy decision but one Ali says, "I knew in my heart of hearts... was right for me. And when I was handed her at 9lb 2oz, everyone was like, 'Good choice!'"
But that didn't stop the nerves kicking in on the day. "I was so nervous, my teeth were chattering and I was talking at 100 miles an hour. I go into full entertainer when I'm nervous, cracking gags like some weird hospital comedy act!"
Now she's into the swing of parenting, Ali is starting to look to the future and tells us, with acting roles scarce, she's passionate about helping those in creative industries who are left high and dry by the lockdown measures.
Here, she talks candidly about the struggles she's faced in the early months of motherhood, why she's in no rush to return to her pre-baby weight, and her plans for a new career...
Hi Ali! How have the first few months of parenthood been – are you getting much sleep?
You know what, we just had a really good night and this morning we sat at the kitchen table and I was like, "I love you, David. Not just that, I like you!" Honestly, sleep changes everything!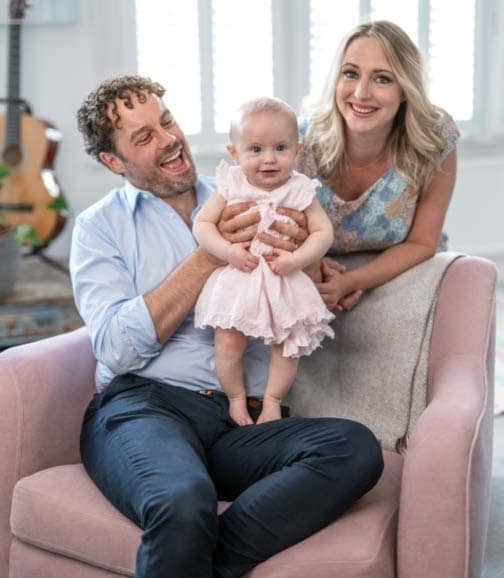 So it's not always like that?
She was actually a very sleepy baby the first couple of weeks, but she had mild jaundice so we were put on this crazy sleep-deprived regime, setting alarm clocks to feed her every three hours to get her weight back on, because that helps with jaundice. We were trying anything you can think of to wake her up, like tickling her feet and putting wet cotton wool on her legs. It almost felt quite mean! And it would take an hour to really wake her up and start feeding and then you'd be in that cycle again. Looking back at that period, we were completely cross-eyed, but that was a time of proper teamwork. We started watching 80s movies through the night. Once I started feeding on demand, she settled quickly. I remember the first time she slept through the night, I woke up at 5am and was just staring into the cot, panicking.
Did you read any books or get any help?
Everybody has so much advice, but it all depends on what kind of person you are. Some people lean towards sleep training and letting them cry it out. For me, that never felt right. We spoke to a sleep specialist, Sarah from Teach To Sleep, who I connected with over Instagram. She was about getting me in touch with my instincts. She also told me I'm doing a good job, which is so important. When you're completely exhausted, you really need to hear you're doing OK. I found that really empowering.
Was it hard not having family and friends around at first?
You can read up to 3 premium stories before you subscribe to Magzter GOLD
Log in, if you are already a subscriber
Get unlimited access to thousands of curated premium stories, newspapers and 5,000+ magazines
READ THE ENTIRE ISSUE
October 12, 2020