'I'm savage when it comes to men!'
From romancing a hunky Spaniard to lonely nights as a single mum, former BB star Imogen Thomas reveals the highs and lows of her love life and motherhood
Single mum Imogen Thomas is still looking for love after splitting from the father of her daughters, Adam Horsley, in 2018. And it's fair to say the reality star and model, who found fame on Big Brother in 2006, has searched high and low for her knight in shining armour – turning to online dating and even a holiday romance in her quest to find the perfect man.
The 37-year-old tells new she's had more interest from men than ever before after joining exclusive dating app Raya during the pandemic, but admits she's fussy when it comes to finding The One.
"I'm not going to give my all to the next one, because it's so draining," she tells us. "This time round is going to be a lot different, because there won't be any newborns involved!"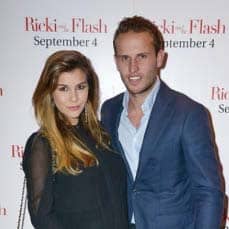 Although Imogen coparents with Adam – he looks after Ariana, seven, and Siera, four, every other weekend – being a single mum during lockdown proved difficult for the star, who admitted she "doesn't have the patience of a teacher" after homeschooling her girls.
"But it's been lovely having the routine and just enjoying our time together," she adds.
Here, Imogen opens up about feeling lonely, avoiding players and which one of her kids is her mini-me…
Hi Imogen! How is your dating life at the moment?
I've been talking to loads of men. Lockdown has rebooted my love life! I went to Spain and I met a guy there and had a good time. He wants to meet up, but do I want someone in another country? No. It was nice, but I don't feel like I want a boyfriend right now. But when I kiss and cuddle someone I really do miss it and it was nice to have a kiss and a cuddle with that Spanish guy!
Do you want to see him again?
Yeah. He lives in Barcelona so I said I'd see him, but I'd like someone in London. But then again, everyone I've met in London has not been worth carrying on with. I've just really enjoyed being with the girls, because they've been my focus for so long. That's why I've not really been bothered. I think someone is around the corner.
Are you on any dating apps?
I've been on Raya for a year and a half and it's the same old now. I'm bored of it. There are a lot of players on there. I call them Raya Players.
Ha! Are there any celebs on there that we might know?
Loads, but I'm not allowed to say because I'll get taken off the app!
Fair enough. Would it be a big deal for you to introduce a man to the girls?
It scares me, but that's because I've not found The One yet. I don't want my girls meeting any man until I'm completely sure about him. I've been dating, but nobody is good enough for me to even think about it.
Who would be your ideal man?
I'm so fussy it's unreal. I cut guys off more than I eat hot dinners. I'm savage and I'm not very nice to guys. I don't even know what I want myself, but I will know when he comes along.
What kind of personality do they have to have?
You can read up to 3 premium stories before you subscribe to Magzter GOLD
Log in, if you are already a subscriber
Get unlimited access to thousands of curated premium stories, newspapers and 5,000+ magazines
READ THE ENTIRE ISSUE
August 10, 2020