The Portman Powerhouse
Marie Claire - UK
|
September 2015
She's killing it in her career, winning at the work/life balance, and has excellent taste in wine (plus a very dirty laugh.) It's safe to say Natalie Portman is having the time of her life in her new home, France
Things I didn't expect when i went to interview Natalie Portman in a chateau in the hills above Cannes:
1. Swearing. Isn't she Hollywood's most prim and proper, most ladylike star? You'd never catch this Harvard graduate flashing flesh on the red carpet or falling out of a club, so it's something of a shock when she drops the F-bomb. 'I'm so boring! F**k, what's my vice? Probably looking at stupid fashion websites – I'll look at dresses for an hour and my husband will say, "What are you doing?"' she says with a wonderfully husky guffaw. (If they ever make a biotic of her life, she says the title will be She Had A Dirty Laugh.)
2. Rapping. I've heard she likes hip-hop, I just can't picture her reciting lyrics. But here she is, with a rendition of Shoop by Salt-N-Pepa: 'Here I go, here I go, here I go again/ Girls, what's my weakness? Men!' she sings, with a shimmy.
3. Boozing. She exits, gleefully clutching a bag containing three – three! – bottles of the deliciously chilled rosé from the chateau's vineyard. Has someone got a big night planned?
But let's rewind a little. It seems the blistering Riviera sunshine, the exquisite surroundings and that rose has made everyone a bit giddy. Cue one of the photographer's assistants falling in an ornamental pond, to universal giggles. 'This part of the country is so gorgeous and relaxing,' sighs 33-year-old Portman contentedly. We're sitting opposite each other under the shade of an olive tree, which is shedding its tiny white flowers on to us like confetti, in the sprawling grounds of the Renaissance-era pile. As far as the eye can see, there are vineyards, pines and palms. All around the swimming pool are lemon and grapefruit trees, and the sultry air is fragrant with jasmine and rosemary. It's a panorama so perfect it looks like it's been Photoshopped.
Portman is in town for the Cannes Film Festival and is currently living just a few hours north, in Paris, with her 37-year-old French ballet dancer/choreographer husband, Benjamin Millepied, and their four-year-old son, Aleph. 'I've never seen Natalie so free,' confides a member of her team. Indeed, in person, she is a very pleasant surprise; life in Paris clearly suits her. Known for being fiercely private and guarded, in a recent interview, she even recorded the conversation on her iPhone in case she was misquoted. (This is highly unusual, and not exactly an ice-breaker between interviewer and subject.) Today, however, she's warmer, funnier and more open than I'd expected. I quickly realise that while her words might sound dry or worthy on the page, in the flesh she's eloquent and thoughtful. It does take a while for her to fully relax but, as the minutes tick by, she makes increasingly more eye contact, becomes more animated and gesticulates as she speaks, and a wide smile breaks through with greater frequency. All week, she's been photographed in elegant gowns on Cannes' red carpets, looking every inch the style-savvy A-lister. But now she's anonymous in ripped skinny jeans, a black vest, grey socks and geeky-looking black trainers that turn out to be Stella McCartney. She's only 5ft 2in and bird-like of limb, so could pass as a nondescript teenager until you look beyond her shoulder-length chestnut waves and take in that face. Portman's beauty is mesmerising. There's nothing quirky here, just perfect symmetry – hazel eyes, a mega-watt smile and flawless olive skin.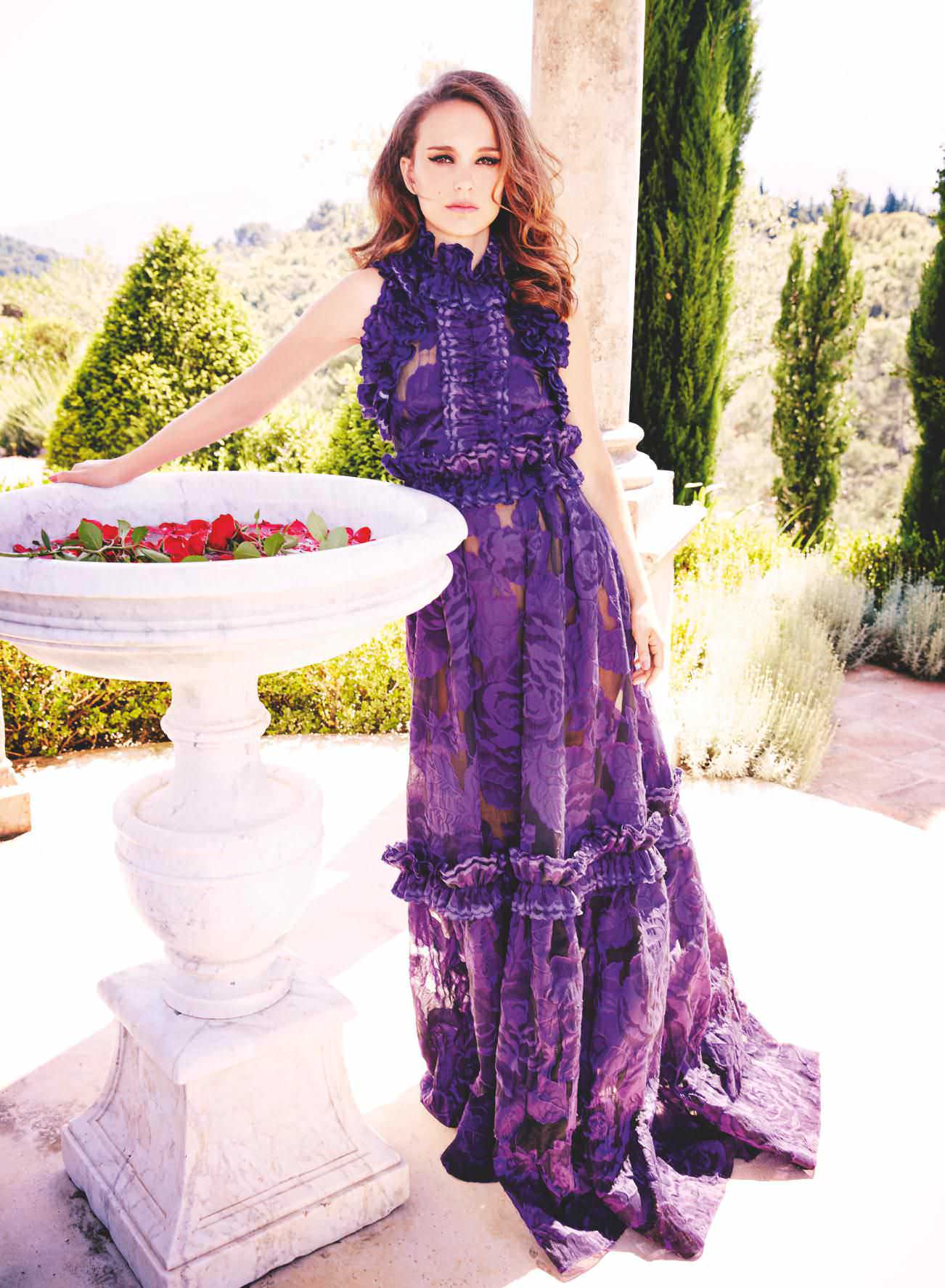 You can read up to 3 premium stories before you subscribe to Magzter GOLD
Log in, if you are already a subscriber
Get unlimited access to thousands of curated premium stories, newspapers and 5,000+ magazines
READ THE ENTIRE ISSUE
September 2015