Up close with India's top young author: Abhishek Kapoor
He created enchanting visuals of breathtaking scenes in The Selfish Betrayals, and he made us laugh incessantly in The Pride of t20 cricket, all of it using the magic of words!
One of the most versatile authors, Abhishek Kapoor recently opened up with Inspirant about his phenomenal journey from being an occasional reader to
Amazon's
bestselling and India's top young author (as adjudged by some national media portals)
Q. From The Selfish Betrayals to The Pride of t20 cricket, there's so much that's happened within a year. What for you has been the highlight?
Abhishek. Being Amazon's bestselling author (for The Pride of t20 cricket) and then India's top young author.
Q. Do you consciously create plots and genres that are diametrically different?
Abhishek. Of course, I cannot repeat the same tricks again and again.
Q. Is writing your full-time career?
Abhishek. Indian authors will have to endure difficult days if they opt for writing as their full-time career, so no.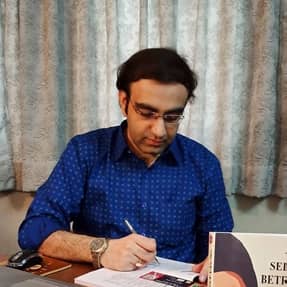 Q. Why do you write?
Abhishek. To delight readers with clean and unconventional content.
Q. Where do you draw inspiration from?
Abhishek. My idea of fictional writing is based on my observation of people, places, and situations around me, my research, and my thoughts and imagination.
Q. When did you first consider yourself a writer?
Abhishek. The positive reviews from the readers of my debut book The Selfish Betrayals were a green signal to my considerations of myself as a writer.
Q. What is the biggest challenge in the publishing industry?
Abhishek. The most difficult challenge is not the writing but the marketing of the books and in the modern world, the marketing onus is also on the author.
Q. What time of the day do you usually write?
Abhishek. I am the kind of personality who can focus for endless hours. I normally write in the evenings after the usual work is over and draft until I achieve my target for that day.
You can read up to 3 premium stories before you subscribe to Magzter GOLD
Log in, if you are already a subscriber
Get unlimited access to thousands of curated premium stories, newspapers and 5,000+ magazines
READ THE ENTIRE ISSUE
September 2020