Nature Is Nurture - Amrit Daswani
HE LOST HIS FATHER TO A LIFESTYLE ILLNESS THAT IS CONSUMING INDIA. A FEW YEARS LATER, AT 16, HE BEGAN TRAINING IN HATHA YOGA. HELLO! TALKS TO A BUSINESS SCHOOL GRAD WHO QUIT IT ALL TO BE AN URBAN NOMAD WHO WALKS BAREFOOT, LEANS ON NATURE AND SUNSHINE TO SUSTAIN NATURAL VITALITY AND WHO NOW HAS INVENTED RESISTANCE YOGA, WHICH HE TEACHES BOTH IN INDIA AND LA
Originally from Mumbai, Amrit began training in Hatha yoga at the age of 16, a couple of years after his father died of diabetes. Before that, Amrit was a popular DJ around the nightclubbing scene of Mumbai, but after seeing his father's health issues, he felt a calling to pursue a different path, one spreading health, happiness, and compassion. Then, an accident came knocking. At age 20, Amrit broke his back after falling off a motorbike and tore his rotator cuff lifting weights with poor posture. He was able to heal his injuries through functional alignment-based training. discovering that when he stretched and strengthened different muscle groups using resistance, specific organ functions improved and the whole day would become effortless and enjoyable. The muscles used in Hatha Yoga and Functional Training are the same ones mapped out along meridians in Traditional Chinese Medicine, referred to as 'nadis' in Indian traditional medicine as well. His movement and meditation practice allowed him to keep a positive attitude and create a space for healing. Through this experience, when he moved to America, he started training and managing the top fitness clubs including LA Fitness and 24-hour fitness. Amrit continues to train both VIPS and fitness enthusiasts between India and Los Angeles.
Tell us how you worked so hard towards a pragmatic career in business and then after working in a finance company, chucked it all to go live on a beach?
I was a banker in Long Island, New York, after graduating from Adelphi University with a Bachelors of Business Administration Degree. Even though I was earning a decent living, I wasn't fulfilled in having a desk job that included excessive sitting, driving to work and back just to earn a paycheck and social status, but compromising my wellness, passion and creative energy. My posture was deteriorating and I was starting to get low back pain and sciatica. So with deep trust and adventure, I moved to California a year later to listen to my heart's calling and ended up living on the beach. Being in nature, sleeping under the sky as the ceiling, sleeping before the ocean and the moon at night, resting and rising up with the sun around the ocean, birds, animals, was a liberating experience."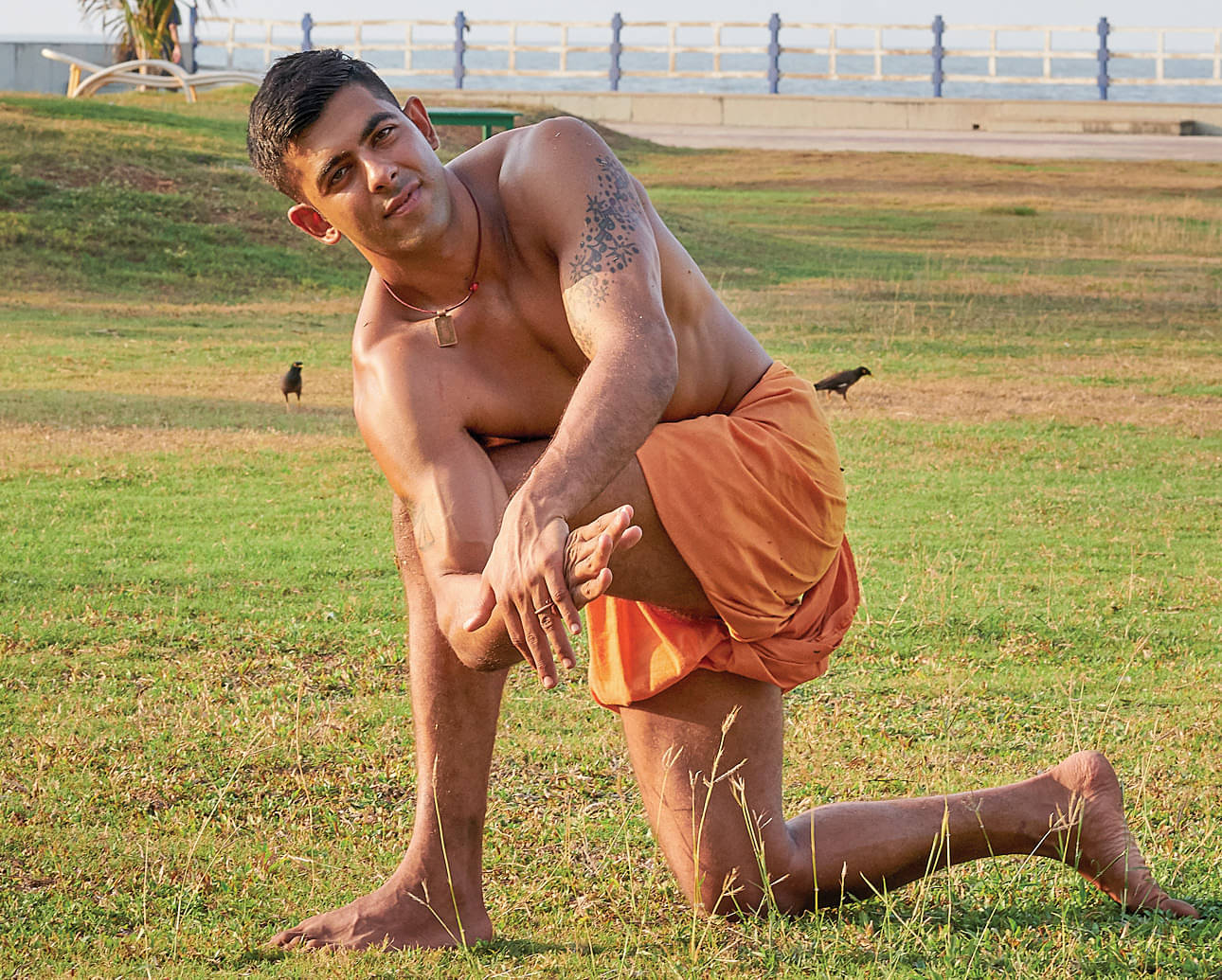 Who were your mentors? How did you find it so easy to question your identity?
"My first yoga and meditation teacher Vinod was from Rishikesh. Training with him my entire demeanor transformed within months. Breathing better, making cleaner food choices, I was looking healthier and far more attractive while experiencing life. I grew up in a nonreligious background, seeing everything as an extension of myself. When I was 16, Ramana Maharshi's teachings pushed me to question my identity and find my true self. Other mentors include Dr. David Bercelli for Trauma Release, US Olympic Trainer Bob Cooley for stretching, Pete Egoscue for alignment. I completed Paramahansa Yogananda's Self Realization Fellowship program, and thank Sadhguru for my knowledge of Kriya Yoga Meditation. Life itself is my greatest teacher and guide, along the way, there's always something to learn from and somebody to provide service to."
So, when you quit working in finance, what did that freewheeling existence teach you about living with nature?
You can read up to 3 premium stories before you subscribe to Magzter GOLD
Log in, if you are already a subscriber
Get unlimited access to thousands of curated premium stories, newspapers and 5,000+ magazines
READ THE ENTIRE ISSUE
June 2019