20 Super Achievers One Sparkling Evening
Innovators, Thespians, Leaders, Gods And Goddesses Of Glamour... All Assembled At This Year's Glorious Hello! Hall Of Fame Awards Evening. As Always, Our Glittering Assembly Of Super-Achievers Spanned The World Of Entertainment, Business, Philanthropy, The Literary And Fine Arts... A Power Gathering Presented In An Ambience Permeated By Luxury. Guests Were Treated To The Finest Of Flavours, Be It From The Champagne To The Finest Of Cuisine. Here, Hello! Brings You Timely Tête-À-Têtes With All Our Glorious Winners
The Ninth Edition of the HELLO! HALL OF FAME set yet a higher bar for award ceremonies, whether one is talking about the sheer range of personalities who sashayed in on the red carpet, the diversity of high net worth individuals who had assembled from North, South, East and West into one elegant Astor ballroom at Mumbai's St Regis hotel. The sit-down dinner, curated by Chef Dane, in collaboration with the HELLO! team and culinary savant Rashmi Uday Singh, ensured happy palates, preceded by the peerless Moët & Chandon bar in the cocktail lounge area.
As is the case each year, the stage resounded with talent and explosive moments of joy, reminisces and confessions. The night opened with a stellar cocktail lounge mixer, where prominent city personalities rubbed shoulders and conversed. This year, given the general need for the modern human being to imbibe the secrets of a balanced life, HELLO! honoured not just the rich and famous, but also those whose work impacts mind and body. Author Amish Tripathi shared how he wished for a stressed out humanity to revisit spiritual ideas, while Dr Harald Stossier shared that how one ate was more important than what one ate, as the city's millionaires took note.
The dynamic actor Ranveer Singh serenaded his presenter Shobhaa Dé with a classic Bolly ditty, then dedicated a special song to WWM CEO, Deepak Lamba. The hero of the past year's epic hits, Simmba and Gully Boy, didn't disappoint when he belted out his rap track Apna Time Aayega, totally acapella. Other stellar moments included our rarely seen, busy corporate awardees, who ushered in a sense of groundedness and hope in the country's future. The elegant Swati Piramal, winner of the 'Business Leader of the Year' award, our first female winner in this category, talked about reducing maternity mortality in Araku village in Andhra Pradesh, to much applause. The dapper young industrialist scion Shashwat Goenka, who won the 'Emerging Business Leader' award, talked about his stellar trajectory taking his supermarket and retail venture to newer heights. Actor Ayushmann Khurrana soothed guests with his sweet rendition of Paani Da, while Aditi Rao Hydari also delighted the audience when, after much deliberation, she finally succumbed to their enthusiasm – performing a few lines from AR Rahman's composition Kehna Hi Kya, from Bombay – the film which inspired her to act. The always regal begum Sharmila Tagore expressed her contentment with her 'Lifetime Achievement' award, paying a special tribute to the genius of Satyajit Ray, who was a particularly special mentor on her journey. She also presented the 'Creative
Genius of the Year' award to aesthete, restorer and interiors exponent Adil Ahmad, who our script gamely acknowledged, was a man who can see "drama in decay!"
The media shy Reena Kallat, our 'Artist of the Year,' was a particularly relevant choice for her award, given that her series, Hyphenated-Lives, highlighted geopolitical zones of conflict which are yet united in their geographical flows and essence. Actor Vicky Kaushal, winner of the 'Outstanding Talent' citation, let out a war cry, "How's the josh?" which got a rousing response, like his movie, Uri: The Surgical Strike has. Sonam Kapoor Ahuja spoke from her heart about what made her agree to do a film on lesbian love, and also created a memorable moment when she honoured her cousin, Janhvi Kapoor for 'Cinematic Debut of the Year.' All in all, the HELLO! HALL OF FAME proved to be a spectacular melange of ideas, personalities and moments that we recreate for you in the pages to follow...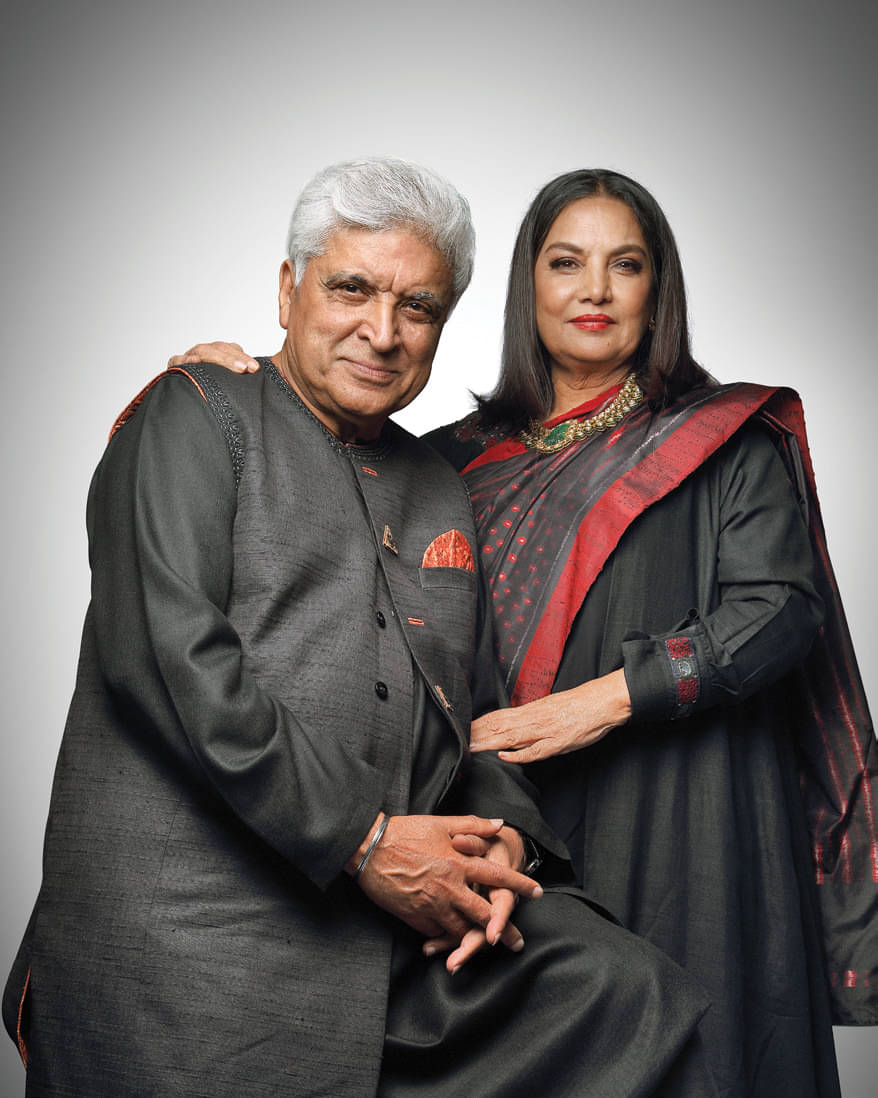 Timeless Icons in Indian Cinema
SHABANA & JAVED AKHTAR
#ArtForChange #Iconoclasts #Cinema
'It's double the joy as Javed and I are receiving an award together. We are similar in so many ways that people say we should have had an arranged marriage!'
– Shabana Azmi
HOW DO YOU FEEL WINNING THIS AWARD?
Shabana: "I feel grateful for the appreciation, but this time it's double the joy as Javed and I are receiving an award together. We are similar in so many ways that people say we should have actually had an arranged marriage. His father, a progressive writer and film lyricist from Lucknow, was a member of the Communist Party, a lot like my father. We were both brought up by parents who believed art should be used as an instrument of social change. We've learnt and imbibed it almost as a process of osmosis. Despite the fact that I keep saying that Javed is from mainstream cinema and I am from parallel cinema, the fact is that we complement each other. Awards are a bonus, but it's the work that you do and the sincerity with which you do it, that is the most important thing for an artiste."
Javed: "I am happy to have been honoured by HELLO! like this. Shabana has won hundreds of awards and I have been given quite a few, but this is unique as this is the first time that we are sharing an award."
WHAT HAVE BEEN SOME BREAKTHROUGHS OF THE PAST YEAR?
S: "This year has been exciting – it's the 100th death anniversary of my father, KaifiAzmi, and we've already done so much to celebrate it. In remembering him, we also remember the times of the progressive writers, the time of the IPTA (Indian People's Theatre Association) and artists who believe that art should be used as a medium of social change – about celebrating communal harmony, women's empowerment, India's pluralism and composite culture."
J: "It's been a good year so far. This is the centenary year for Kaifisaab. We organised a beautiful and unique programme at the NCPA with Ustad Zakir Hussain and Shankar Mahadevan – Raag Shayari. It was a seamless programme without any break, without any commentary. It's an interpretation of poetry by Zakir, with vocals by Shankar Mahadevan and a recitation of Kaifisaab's poetry by Shabana. It was so well received, I don't think anything of this sort has ever been attempted before."
WHAT ARE YOU MOST EXCITED ABOUT AT PRESENT?
S: "It's been an exciting year so far and I am also happy that Zoya's film, Gully Boy, has done so well. I am so, so proud of her for making a film like that. Her other venture, Made in Heaven, is also doing very well. It feels very nice when you can bask in the glory of your children. Personally, I am doing an extension of my work with a web series and a film for Netflix."
J: "Some more poetry, more good songs and at least one good script. It's been a long time since I've given a good script. I've been focussing on other work and, in turn, script writing got neglected. But, I have started working on scripts again and I hope that within this year I can deliver it."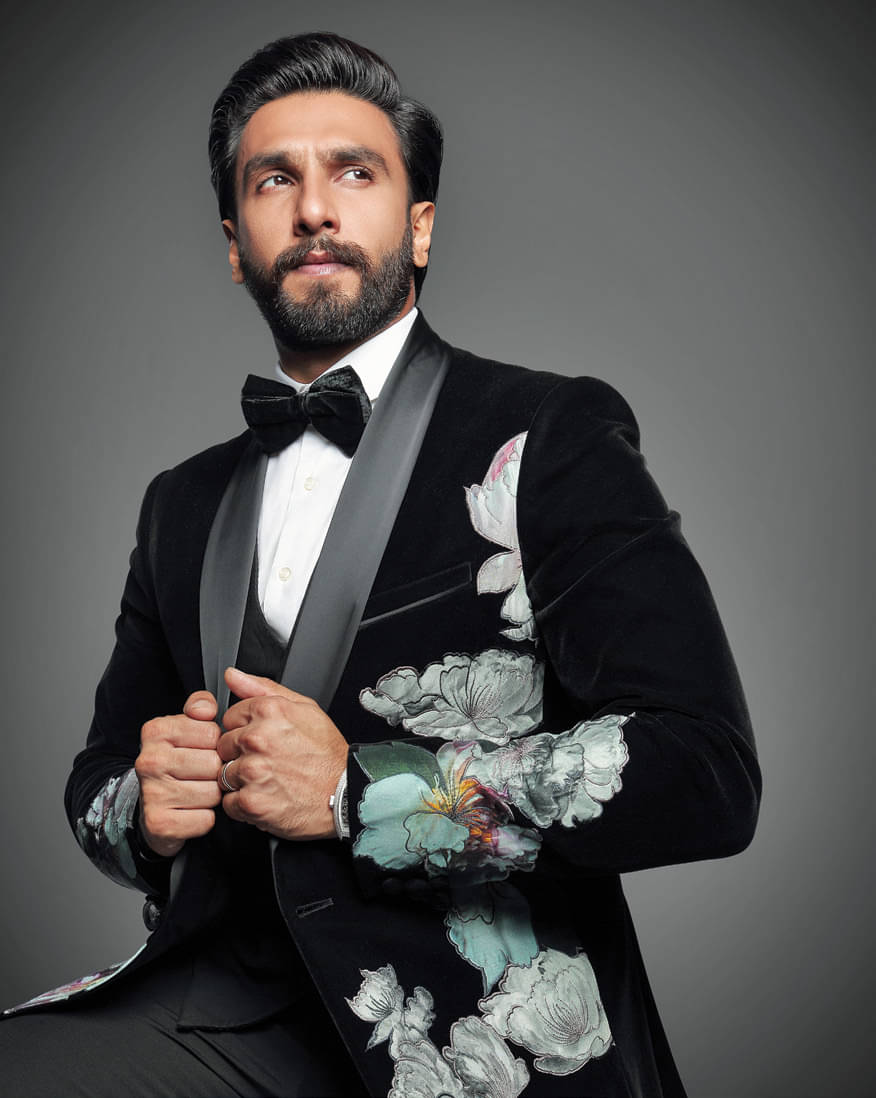 Superstar of the Year
RANVEER SINGH
#GullyBoy #Simmba #Unstoppable #Entertainer
'To me, this award means that somewhere I have fulfilled what I believe is my calling in life and that is to be the best entertainer'
YOUR FIRST AWARD WITH US WAS 'THE RISING STAR' AWARD, AND NOW YOU ARE 'SUPERSTAR OF THE YEAR'!
"The journey has been incredible and I have learned a lot along the way about my craft, about life; I have grown and evolved! To me, this award means that somewhere I have fulfilled what I believe is my calling in life and that is to be the best entertainer that could be possibly be. I am honoured and grateful to HELLO! for recognising my work."
WHAT HAVE BEEN THE HIGHLIGHTS OF YOUR PAST YEAR?
"I think all the clichéd phrases and philosophies that one learns while growing up, were validated for me, this year. Most significantly that there is no substitute for hard work and I feel validated for pursuing my passion and following my heart. And it has been, undoubtedly, one of the most special years of my life. Two blockbusters and a cult film all in the same year and the life changing event that is my marriage. That entire month of November was the most magical and memorable time of my life. An unforgettable year, and I feel extremely blessed."
WHAT CURRENT PROJECTS ARE YOU MOST EXCITED ABOUT AND WHY?
"I have started prep already for 83 and I am doing four hours of cricket training along with other commitments. April onwards I will be completely immersed in the film, where I will be training twice a day, prepping, spending time with Kapil sir. So, I am gradually immersing myself in that film. It is an extraordinary story of human triumph and one of the most glorious chapters in our nation's history and I am very privileged to be leading this extremely special project. After that, is Takht – I have always wanted to collaborate with Karan Johar and he has consumed my very different kind of passion. The story that he has chanced upon is incredible, the material is absolutely delicious. He has put together a stellar cast and he is assembling a team of outstanding technicians and mounting the film on an unprecedented scale. And… I am very excited about the project as well!"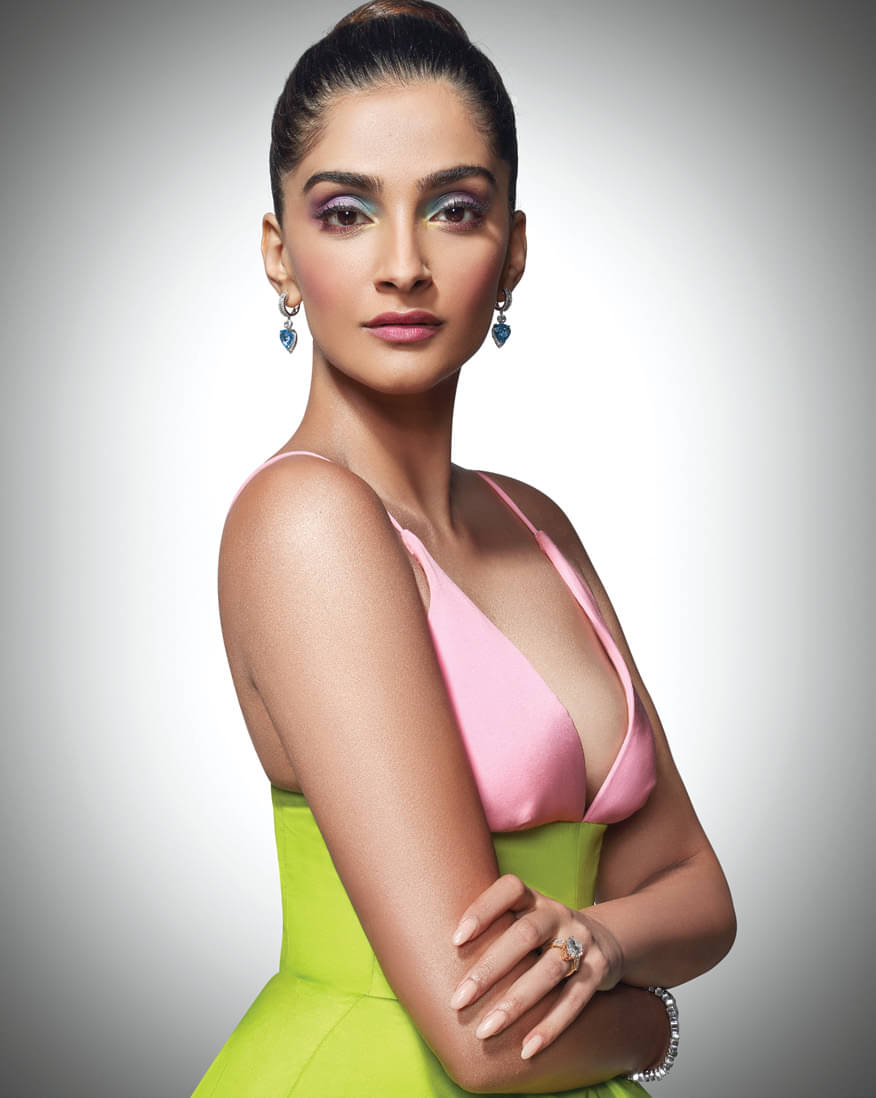 Path-Breaking Performance of the Year
SONAM K AHUJA
#EkLadkiKoDekha #MrsAhuja #GutsyActor
'From my wedding to the five films that released last year, it has been hectic, but it's been a great journey. I feel like I live a charmed life...'
HOW DO YOU FEEL ABOUT BEING A PATH-BREAKER?
"I had no trouble taking on the role in Ek Ladki Ko Dekha Toh Aisa Laga as I've always been part of a family – I mean Janhvi is also here to say this – which is very progressive and secular. We believe that everybody is allowed to be who they are. If you ever come for one of our family dinners, you wil see it's a mad house, filled with crazy individuals! So, when I did Ek Ladki Ko Dekha... I didn't think it was provocative or different. I have been supportive of LBGT rights from the very beginning. But, the basic premise of that story was very, very simple. Nobody gets to judge who you are, you should be who you are."
WHAT HAVE BEEN SOME BREAKTHROUGHS OF THE PAST YEAR?
"The last one year has been very special for me. From my wedding to the five films that released, it's been hectic, but it's been a great journey. The wedding was an intimate affair with only 200 people – that meant a lot to me. I feel like I live a charmed life and I am extremely grateful for that."
WHAT ARE YOU MOST EXCITED ABOUT AT PRESENT?
"My film, The Zoya Factor will be releasing soon and I am also looking at some new ventures. On the personal front, besides my husband, there are no other plans (smiles). I've got to work right now and that's what I am focussing on."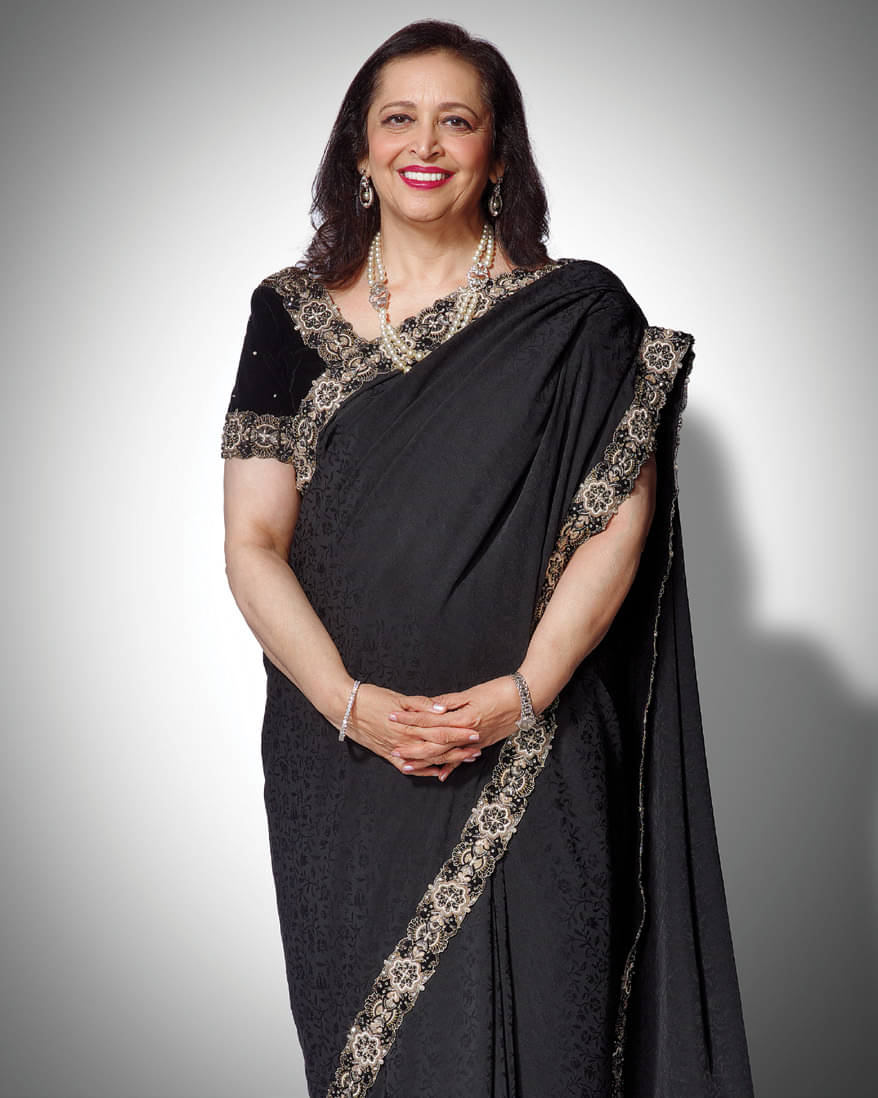 Business Leader of the Year
SWATI PIRAMAL
#PharmaQueen #Philanthropy #WomanOnTop
'Our foundation works in 15 states and whatever we do, is a drop in the ocean. There is really so much more to be done'
HOW DO YOU FEEL BEING OUR FIRST 'FEMALE BUSINESS LEADER'?
"It is an things with a focus on values – knowledge, action, care and impact. The last one in particular, I'm very interested in seeing, if we can make an impact in everything we do. So, of course, it's with business, but more with the community. Our foundation works in 15 states and whatever we do, is a drop in the ocean. There is so much more to be done. So we continue to want to do more, and we are getting there." honour to receive this award. I think the way I view it, our company does a few
You can read up to 3 premium stories before you subscribe to Magzter GOLD
Log in, if you are already a subscriber
Get unlimited access to thousands of curated premium stories, newspapers and 5,000+ magazines
READ THE ENTIRE ISSUE
April 2019