"She was a caged bird"
Filmfare|May 2020
DECADES LATER MADHUBALA'S SURREAL CHARM AND TRAGIC LIFE CONTINUE TO INTRIGUE FANS. SISTER MADHUR BHUSHAN HOPES TO SEE A BIOPIC MADE ON THE LEGENDARY ACTOR SOMEDAY
"Darkness is the beauty I am made of…" --Kelli Russell Agodon, Hourglass Museum
Too much in too little time. Beauty, fame, love and heartbreak… Madhubala had lavish doses of this in her ephemeral life. She seemed to be in a great hurry to play out her karmic trysts. Bestseller at the age of 16. Beloved at 18. Broken at 23. Bedridden at 27. Buried at 36. Yet five decades later, her photographs and memories ignite social media. Her beatific face continues to mesmerise generations. In a career span of two decades, she did around 75 films, most of them hits. But what continues to consume fans, biographers and cineastes is her life off the camera. Her doomed affair with superstar Dilip Kumar. The chimera of a marriage with Kishore Kumar. The excruciating illness. The desertion of her celestial looks and dreams… Her extreme rise and fall are compared to that of her Hollywood counterpart – Marilyn Monroe. Their heads thrown back in similar abandon, their full smiles concealing their hollow hearts. Once featured in the Life Magazine, as 'the biggest star' in the world… an ailing and anguished Madhubala had died in spirit years before she was buried. Such a story as hers deserves to be told believes sister Madhur Bhushan. Disappointed that the biopic on Madhubala by Imtiaz Ali was stalled due to familial opposition, Madhur isn't yet willing to give up on the celluloid dream… In her words...
THE STAR SISTER
My parents (Ataullah Khan and Ayesha Begum) had 11 children - seven girls and four boys. I'm the youngest. Madhu Apa (Madhubala) was the fifth child. In the '40s, Abba lost his job in the Imperial Tobacco Company in Delhi and came to Mumbai. My parents saw extreme poverty. Also, not one of my brothers survived. There was no money even for their kafan (shroud). Abba used to take Apa (Madhubala) from studio to studio in search of work. She was nine when she first appeared in Basant (1942 as Baby Mumtaz). Her first lead role, at 14, was in Kidar Sharma's Neel Kamal (1947). Kamal Amrohi signed her for Mahal (1949) when she was only 15. After Mahal, there was no looking back. Hits like Dulari, Tarana, Amar, Mr. & Mrs. '55, Barsaat Ki Raat… established her as a star.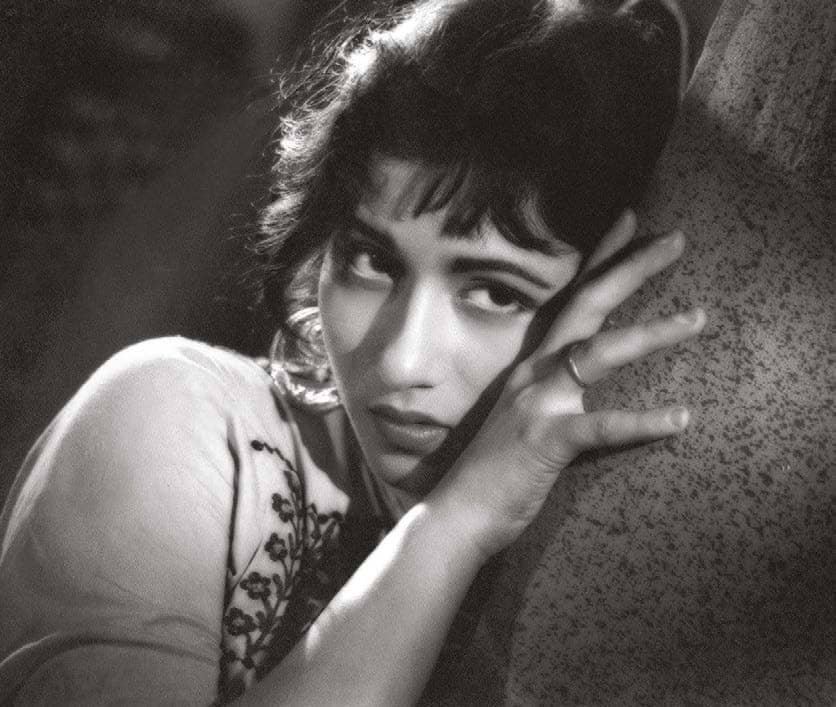 I was born in a chawl in Kandivali when Apa was around 16. But my parents believed I was lucky, because Apa became a top heroine after that. There's a reason why Abba was strict. A journalist once wrote that we were not Ataullah Khan's daughters. That he had brought us girls to Mumbai to earn money out of us. My father took him to court. Since then, Abba didn't allow journalists on the sets or at home. He hung a board on the sets saying, 'Journalists not allowed'. Apa wasn't allowed to attend any parties. People called him Hitler. Apa has been defamed saying she had many love affairs. Who would not be enamoured by such a beautiful woman? She was like marble. Like many others, Pradeep Kumar and Bharat Bhushan were also infatuated with her. Premnath was in love with her. But at that point Apa feared an inter-religious marriage would not be approved by the family.
You can read up to 3 premium stories before you subscribe to Magzter GOLD
Log in, if you are already a subscriber
Get unlimited access to thousands of curated premium stories and 5,000+ magazines
READ THE ENTIRE ISSUE
May 2020