SHOOTING STRAIGHT
MANOJ BAJPAYEE GIVES SOME DIRECT ANSWERS TO RAGHUVENDRA SINGH'S QUERIES
MANOJ BAJPAYEE is an unconventional star. He still retains the earthy fragrance of Bihar despite having spent half his life in Mumbai. He yearns to spend time in his native village, away from the madding city. Though he's candid enough to admit that even there, everyone is constantly on their phones these days. And ugly mobile towers have cropped up everywhere, killing the serenity of a village landscape. On the professional front, the actor was hugely appreciated for playing a counter-terrorism expert in The Family Man. His character leads a double life — a loving husband and a caring father while at home and an expert field officer trained to execute baddies, outside. He also released his first Bhojpuri rap single, Bambai mein ka ba, recently over the internet. The song talks about the hardships faced by the migrant workers and has become quite a rage. Another thing which hasn't changed with Manoj is his ability to call a spade a spade. Excerpts from a honest and candid interview...
How did the idea of doing a Bhojpuri rap take place?
The idea came from Anubhav Sinha. We were just talking about Bhojpuri songs and he sent me a poem written by Dr Sagar. I loved it and he asked me to sing it. Though I was a little hesitant at first, I agreed to give it a try. We did a rehearsal and the next day we recorded it. It gave me a lot of satisfaction to do something in Bhojpuri for the first time. We're both overwhelmed by the response.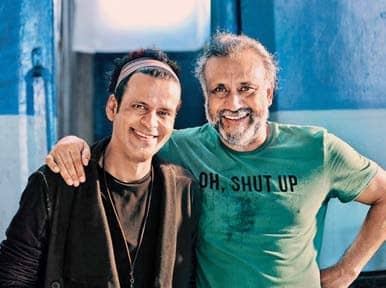 Do you have any plans of doing a film with Anubhav Sinha?
Anubhav and I go back a long way. We've known each other since our theatre days when he left his engineering job and joined me for a play for Mandi House in Delhi. After that, he left for Mumbai to assist Pankuj Parashar. He then sent me a ticket for Mumbai because he was casting for a series with Parashar. That was the second time I sat in a plane. I was selected for that series but unfortunately, things didn't materialize. After that I never left Mumbai.
How did you shoot the rap song during the lockdown?
We shot for seven hours. Everyone was wearing masks and using sanitizers on the set. I was the only one without a mask since I was in front of the camera. Sometimes Anubhav would take off his mask because he had to instruct me. All precautions were otherwise in place. If I saw anyone getting irritated by the mask and taking it off, I'd refuse to go in front of the camera until the mask was back on. All in all, everyone was concerned about one another and that took care of everything.
We heard of so many heart-wrenching stories during the pandemic. People suffered a lot but Good Samaritans too came forward to help...
You can read up to 3 premium stories before you subscribe to Magzter GOLD
Log in, if you are already a subscriber
Get unlimited access to thousands of curated premium stories, newspapers and 5,000+ magazines
READ THE ENTIRE ISSUE
November 2020