Love Is All There Is
Filmfare|July 2020
While his contemporaries wrote about rebellion, shakeel badayuni chose to write about romance, writes Farhana Farook
"Mujhe fakhr hai meri shayri Meri zindagi se judaa nahi." Shakeel Badayuni
He belonged to neo-India; a nation just woken to freedom. In that mood of revolutionary ideas and progressive poetry, Shakeel Badayuni stayed true to his romantic predilection. He preferred being a crusader of love than a cheerleader of rebellion. Along with maestro Naushad, he went on to celebrate romance in all its sensual and lyrical glory.
He's also remembered for being an advocate of the GangaJamuni tehzeeb, the womb of secularism. Shakeel, Naushad and Mohammed Rafi came together to create the iconic bhajan Hari Om… man tadpat Hari darshan ko aaj for Baiju Bawra based on raag malkauns. Story goes that Naushad asked his team to attend the recording only after ablutions as a bhajan was to be recorded… such was the sanctity of their art. MughalE-Azam remains another monumental collaboration where their songs captured the delirium and the disenchantment of love against the backdrop of palace intrigue.
Shakeel's the only lyricist to have won three consecutive Filmfare Awards (1960, 1961, 1962) under composers Ravi and Hemant Kumar. His paeans to a woman's celestial beauty in Chaudvin ka chaand, won him the Black Lady and Waheeda Rehman an epithet forever. He won the Filmfare trophy twice again for the deferential Husnwale tera jawab nahin and the melancholic Kahin deep jale kahin dil. While his lyrics for films thrived on corporal metaphors, outside it, his poetry was marked by the intricacies of love and life. No wonder it found patronage in renowned ghazal exponents. Begum Akhtar's rendition of his ghazal, Mere humnafas mere humnawa, has exalted Shakeel into the gallery of the greats…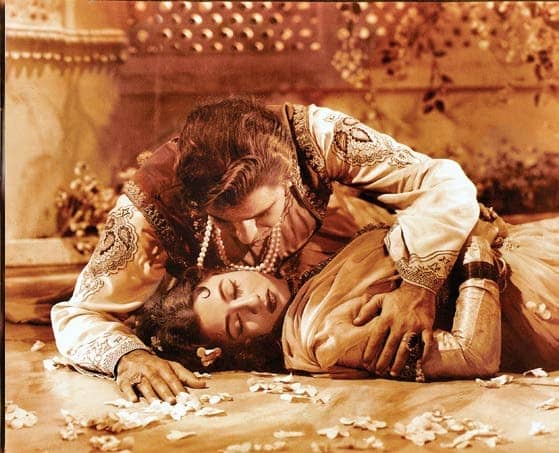 STAR POET
Shakeel Badayuni was born in 1916 in Badaun in Uttar Pradesh, known for its ethos steeped in Sufism and poetry. Hailing from a literary family, his father was keen he master Arabic, Urdu, Persian and Hindi. Shakeel's early inspiration was his relative Zia-ulQasiri Badayuni, a religious poet. Young Shakeel attended Aligarh University in the 1930s. There he came in contact with poets Neeraj and Jigar Muradabadi. The latter had a strong influence on Shakeel's poetic sensibilities. Given his flair for verse, Shakeel made a name for himself in mehfils and mushairas. Romance being his forte, he grew popular. After a short stint of working with the government's supply department in Delhi, Shakeel found his reckoning as a poet in Bombay in 1944.
NAUSHAD & SHAKEEL
Shakeel first met maestro Naushad at a mushaira in 1946. There Naushad asked Shakeel to express his skill in a couplet. "Hum dard ka afsana duniya ko suna denge / Har dil mein mohabbat ki ek aag lagaa denge," replied Shakeel. This interaction paved the way for a musical odyssey between the two, which spread across two decades and 22 films. Interestingly, Shakeel could sing and Naushad wrote poetry, which explains the symbiosis between the two musical soulmates. Shakeel's lyrics for Kardar's Dard (1947) for Naushad were hits especially Uma Devi's (Tun Tun) Afsana likh rahi hun. Their memorable songs include those in films like Dulari (1949), Babul (1950), Deedar (1951), Baiju Bawra (1952), Amar (1954), Mother India (1957), Mughale-Azam (1960), Kohinoor (1960) Gunga Jumna (1961), Mere Mehboob (1963), Leader (1964) and Dil Diya Dard Liya (1966).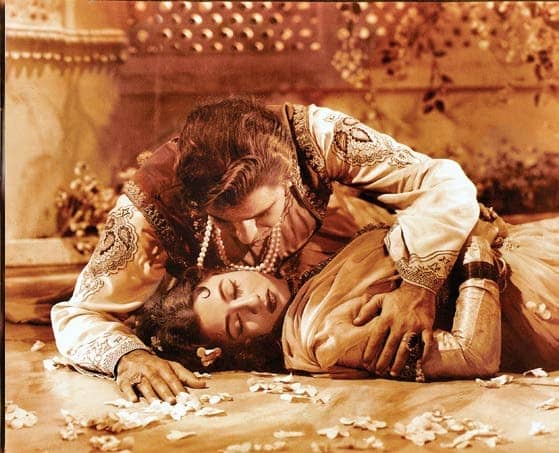 You can read up to 3 premium stories before you subscribe to Magzter GOLD
Log in, if you are already a subscriber
Get unlimited access to thousands of curated premium stories and 5,000+ magazines
READ THE ENTIRE ISSUE
July 2020