I've Been An Absolute Pain To Tahira
Filmfare|July 2020
Ayushmann Khurrana shatters all myths about himself in an intimate chat with Jitesh Pillaai
He's truly an 'outsider'. Someone who's part of showbiz and yet not of it. Someone who's as familiar with the dazzle as with the dust. In his eight-year career, Ayushmann Khurrana has acquired a lifetime of learning. Thanks to both success and failure, pleasure and pain, which have kept him engaged simultaneously. Being a consummate artiste – he sees the poetry in it all. In the seduction of stardom and the reality beyond it. An avid believer in the Buddhist philosophy, it helps him find equilibrium in a world of extremes. Understanding the mind and the method of the monk, who's at home with the movies…
WHAT ARE YOU DOING DURING THE LOCKDOWN?
I've been such a lazy lump of protoplasm during this lockdown. (Laughs) Forgive the biology. Actually, I was a student of biology. Samajh mein nahin aata hai ki thak kar sona hai yaa so kar thakna hai. So I'm confused. I sleep for seven and half hours during the night. The afternoon siesta is for an hour and a half. That makes it around 9 to 10 hours of sleep. I feel redundant. I wonder if I'll be able to work after the lockdown. I've become used to just lazing around. I surface around 4.30 pm. I feel energetic after that. Before that I'm cranky. (Smiles) I may even strike someone with something.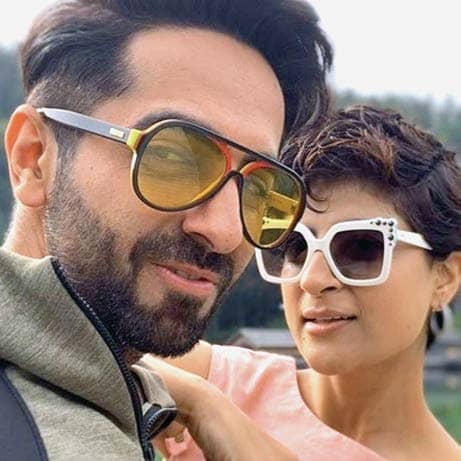 AREN'T YOU COOKING ANYTHING LIKE THE OTHERS?
Khana khane se fursat milti hi nahi. I can't cook. When I first came to Mumbai, I'd brought my cook along. I was living in a 1BHK flat. My cook used to share it with me. I can live without a girlfriend or wife. But I can't live without a cook.
ARE YOU BEING A PAIN TO YOUR WIFE TAHIRA (KASHYAP)?
I've been an absolute pain to Tahira. She wonders what I'm doing. The last time we spent so much time together must have been 10 years back. She considers me as her third child. She's always known me as a lazy guy, who tries not to be lazy.
WHAT HAVE YOU DISCOVERED ABOUT YOUR KIDS? ARE YOU A GOOD FATHER?
You can read up to 3 premium stories before you subscribe to Magzter GOLD
Log in, if you are already a subscriber
Get unlimited access to thousands of curated premium stories and 5,000+ magazines
READ THE ENTIRE ISSUE
July 2020