HOME BUT NOT ALONE
SOHA ALI KHAN SAYS THE LOCKDOWN HAS BROUGHT ALONG LESSONS ABOUT LIFE AND LOVE. SUMAN SHARMA IS EAGER TO KNOW THEM
Soha Ali Khan, an Oxford graduate in Economics, understands the balance sheet of her life perfectly. That's why she invests the most in family bonds. She understands the huge dividends that love pays. Playing mom to daughter Inaaya Naumi Kemmu is her key role. Lockdown or otherwise. In fact, the home isolation has brought her undiluted time with husband Kunal Kemmu and Inaaya. Amidst playing the enthusiastic homemaker, Soha's also been involved gainfully on social media doing endorsements and podcasts. The best tribute to time is making the most of it. Soha seems to have understood that truth…
HOW HAS THE LOCKDOWN AFFECTED YOU?
I'm not someone who goes out a lot. But not being able to go out for work is extreme. I was about to start shooting a series in Rajasthan, which has got stalled. My daughter can't attend school. We don't have staff at home. Also, as a family we can't meet. But technology is wonderful. It keeps us connected though nothing makes up for physical interaction.
WHAT'S YOUR DAILY ROUTINE LIKE?
I wake up around 7.30 am, when Inaaya comes into my room. Her nanny gives Inaaya her breakfast while I put together the things we need for virtual school. From 9 am onwards, I do school with her. The school sends us power-point presentations of stories, art activities and other things. At 10.30 am it's snack time for Inaaya. Then she goes off to play downstairs. I have a bath. I make the necessary calls regarding work. Kunal tries out new things in the kitchen. After lunch, Inaaya takes a nap. Between 4.30- 6.30 pm, it's work time for me. Then I do online yoga or exercise. We stay on the 15th floor. So I run up and down the stairs for 15 minutes. In the evening, Inaaya plays on the terrace. After that it's bath and dinner for her. Her bedtime is a long drawn one. We tell her stories. After she's asleep, I catch an OTT series. Kunal and I have dinner together. Then we're like husband and wife. Through the day, I'm predominantly a mother.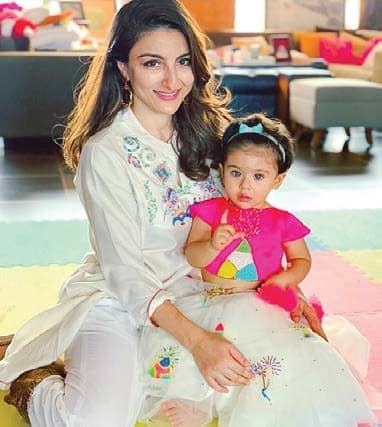 ARE YOU WORKING FROM HOME?
You can read up to 3 premium stories before you subscribe to Magzter GOLD
Log in, if you are already a subscriber
Get unlimited access to thousands of curated premium stories, newspapers and 5,000+ magazines
READ THE ENTIRE ISSUE
September 2020