GIRL POWER
JITESH PILLAAI HAS A HEART-TO-HEART CHAT WITH THE TALENTED TAAPSEE PANNU
SHE'S feisty, she's a spitfire and she calls a spade a spade. Scratch beneath the surface and there's a powerhouse inferno. She can be as soft as gossamer or as turbulent as a storm. You can see the eddies churning behind her face. Watch her as the edgy girl in Manmarziyaan or as a cool collected woman in Thappad, Taapsee Is a woman with many stories. She will show them to you on screen. Be it Mulk or Saand Ki Aankh. Every time you are done with a Taapsee performance, you feel you know her a little bit more. That's Tapsee's legacy. She will connect with you and allow you into the interiors of her mind and play with your memory. She will remind you of a lost love, she will remind you of a scar in your soul and she will also show you what it is to heal.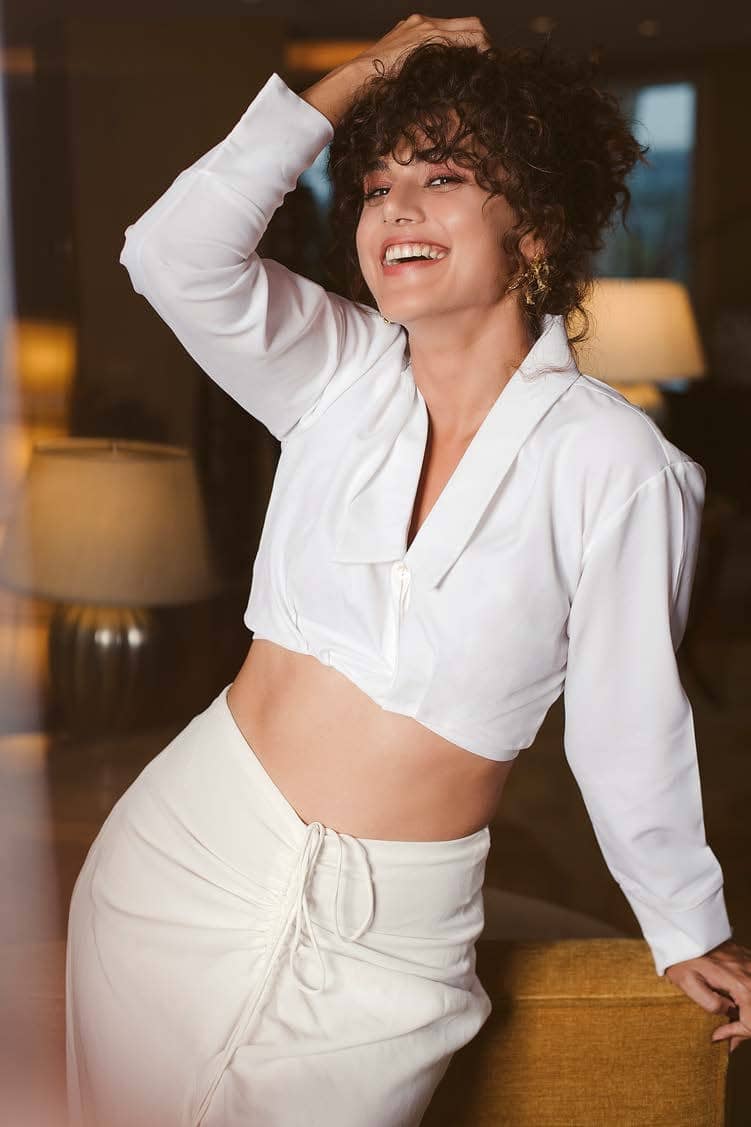 On social media, she's nifty and her self-deprecating humour makes the most corrosive people back off. And the roles that she will do, be it Haseen Dilruba and Rashmi Rocket... only attest to her talent and let you know that roles are being written with her in mind. She's had an impressive track record in Tamil and Telugu too, slaying the box office charts but she's found her true metier in the Hindi film firmament. An outstanding student and a sportswoman all her life, she's now drawing the stares as an actor to reckon with. Which just adds up as the right time to ask Taaspee a few questions. And I ask:
YOUR RECENT HOLIDAY WAS ALL OVER SOCIAL MEDIA. TELL US ABOUT THAT.
This has been a tradition in my work life that after every film I take some time off. I plan my holiday according to the number of days I get off. So, this time when I finished my Tamil film in September, I decided that before I start work on Haseen Dilruba I will take a week off. My travel agent gave me two options - Dubai and Maldives. The Maldives, regardless of whether everything is open or not, is my favourite destination. It was just picture perfect everywhere. It was indeed like a surreal dream and I woke up after seven days.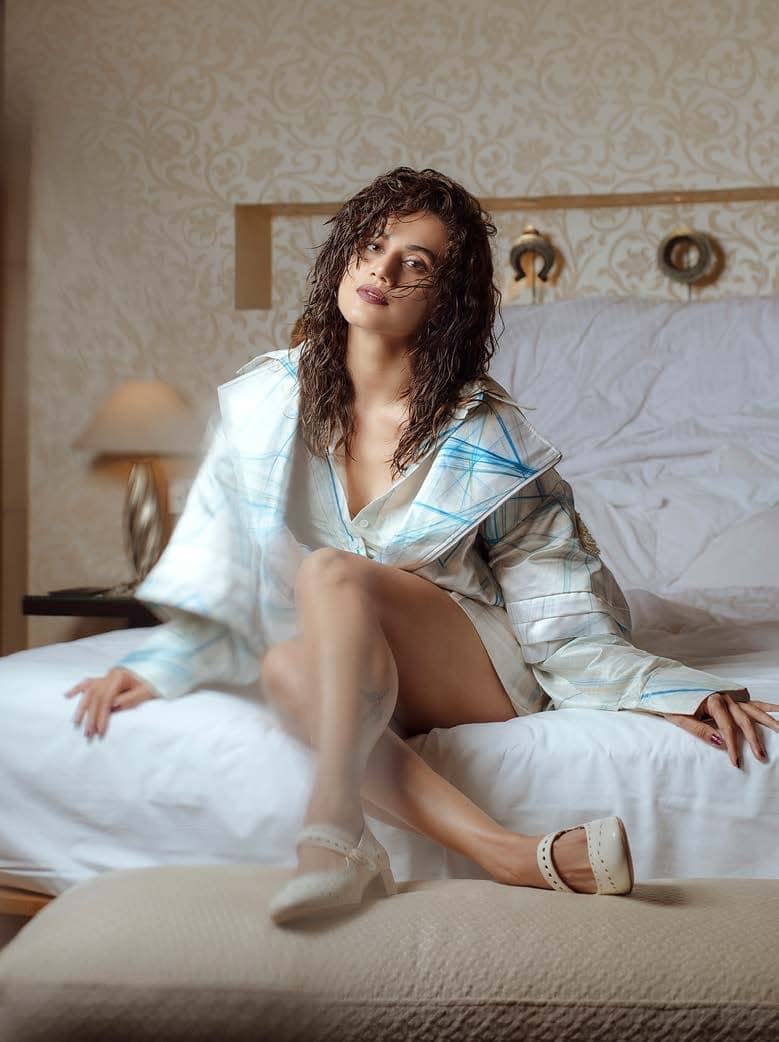 TELL US ABOUT THIS BIKINI BODY YOU'VE MADE AND HOW HARD YOU'VE WORKED ON IT?
It's still a work in progress. I'm working towards getting the perfect sprinter's body for Rashmi Rocket. I want to have a perfectly muscled body. Not big muscles but lean muscles. I'm giving it all to hit the mark. I'm almost midway through the process. My fans have not seen me in bikinis because I don't post such overtly glam photos on social media. Apart from Judwaa 2, I never had the chance to show off my body. People just never imagined me to be in a bikini.
A LOT OF WOMEN, CHILDREN GO THROUGH BODY ISSUES. YOU ARE TOLD TO HAVE THE PERFECT SKIN, THE PERFECT HAIR, THE PERFECT BODY. DID YOU FACE ANY SUCH ISSUE DURING YOUR GROWING UP YEARS?
I remember for the longest time in school I was skinny. I was an extremely hyperactive kid. I used to run around in school and would later come back home and keep playing whatever sport we used to play around the house. I'd only come back home to eat and to sleep. That made me thin and always hungry. The eating habits continued even when I'd cut down on physical activitiy to study before exams and hence I used to put on weight. I was never obese, but I did become slightly overweight towards the end of my school and college. When I entered the Hindi film industry, many people asked me, 'Did David Dhawan tell you to reduce weight?' Even for Judwaa 2, they asked me did you lose weight? I said nobody has asked me to reduce weight ever. Be it in Hindi, South, for ads…nobody has pushed me to become skinny or anorexic. I've been fortunate that way.
YOU MENTIONED THAT YOU WERE NATURALLY INCLINED TOWARDS SPORTS.
I used to play basketball for my school, which I was forced into because of my height. Otherwise, I'm not into the kind of games where you have a lot of physical contact because then it gets ugly. I love playing racket sports. I played badminton in school. I used to participate in 100m, 200m, 400m and relay races. That gave me whatever competitive spirit and sportsmanship I have as a person today. It also made me a team player. I became good at handling a team and at being part of a team. It really changed me as a person and added a lot to my personality and confidence.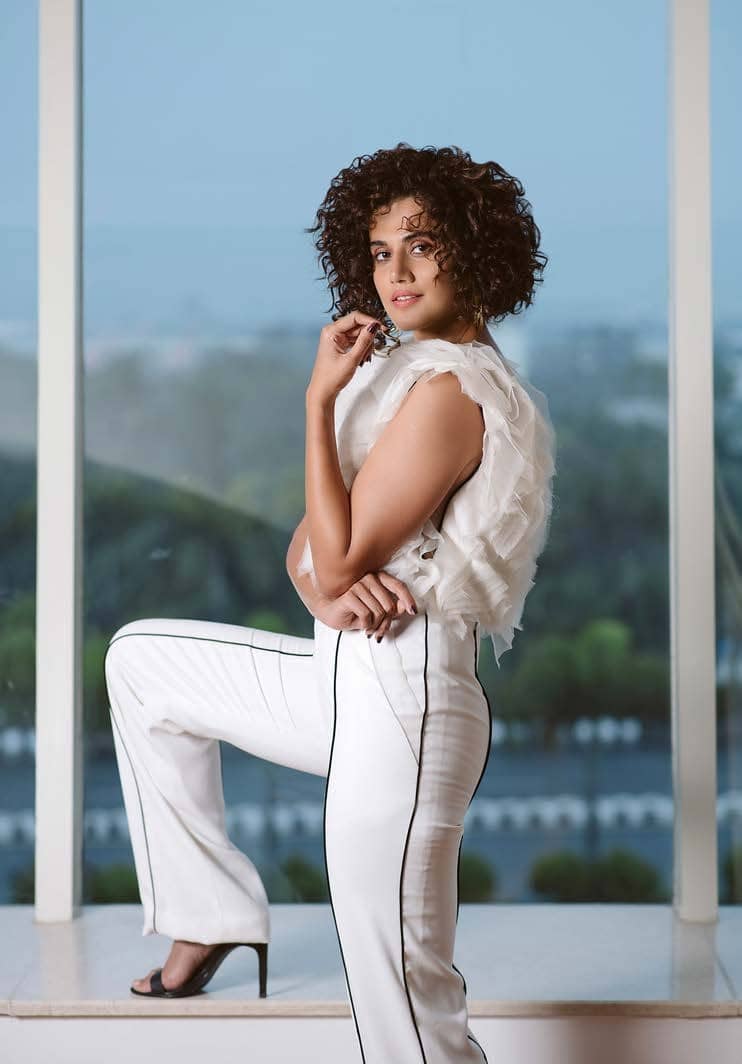 CAN YOU TELL US ABOUT YOUR EARLY DAYS THAT HAD AN IMPACT ON YOU?
I had a regular, boring childhood. I never faced extremely terrible times while growing up. Even if there were bad times, it was probably something that every middle-class family would face. You know those restrictions on how much you can do as a girl and how much you can spend as a middle-class family...It was in the eighth standard that I first set a target and achieved it. I wanted to become the head girl of the school And to top that, I was declared the student of the year at my school. That made me realise that if I genuinely set my heart on something, I can achieve it. It's not that I achieved everything I aimed for. I wanted to crack my MBA with a 90-plus percentile, which did not happen.
HOW DID YOU LAND UP IN FILMS?
I'm glad that this will break the notion that actors are either backbenchers or dropouts. I loved going to school. I used to be one of the frontbenchers and genuinely liked studying. I might not have the best attendance in the last few years because I started participating in a lot of extra-curricular activities like dancing and public speaking. But, when I was in my class, I was there. That thing of giving your 100 per cent wherever you are, I learnt from there.
WHICH SCHOOL AND COLLEGE WERE YOU IN?
You can read up to 3 premium stories before you subscribe to Magzter GOLD
Log in, if you are already a subscriber
Get unlimited access to thousands of curated premium stories, newspapers and 5,000+ magazines
READ THE ENTIRE ISSUE
November 2020