Age of Innocence: Alia Bhatt
From being a fan girl to being a showtime princess, Alia Bhatts is a coming-of-age fairytale writes Ashwini Deshmukh.
Ashwini Deshmukh, photography by Errikos Andreou
They keep cracking jokes about her intelligence, more often than not making her out to be a facsimile of the Hollywood blonde. Yes, she's just as good looking as those golden-haired dames from LA. But there's something more... A sense of gravitas lurking behind the veil of beauty and fluff. Also, she's just as popular. Alia Bhatt is enjoying a whole new level of popularity. Films like Shandaar, Udta Punjab, Kapoor & Sons and Ayan Mukerji's next opposite Ranbir Kapoor are in her kitty. The latest trophy is the much-talked-about Shuddhi from Karan Johar's stable. Many would say Alia has arrived and she's even cemented her own space. The young actress though isn't flattered. "Shuddhi's a big project and also a world I've not been a part of. I'm excited about it but I feel excited and charged about every film I do. For me the measure of the magnitude of a film is its popularity with the audiences. You only realise how big a film is when it's out there," she says adding, "Yes, there's a lot on offer right now. And the best part is, each film is distinct from the other. I've haven't had a release for a year. So I'm excited about Shandaar, more excited about Udta Punjab and even more excited about Kapoor & Sons."
Shuddhi was first offered to other stars like Kareena Kapoor and Deepika Padukone, much before it landed in Alia's lap. "Shuddhi had so many suitors but ultimately it's all about destiny. To reach one destination, I'll have to pass through many other stations. Every film has its journey. What matters is who is in front of the camera eventually." says Alia in a matter-of-fact tone.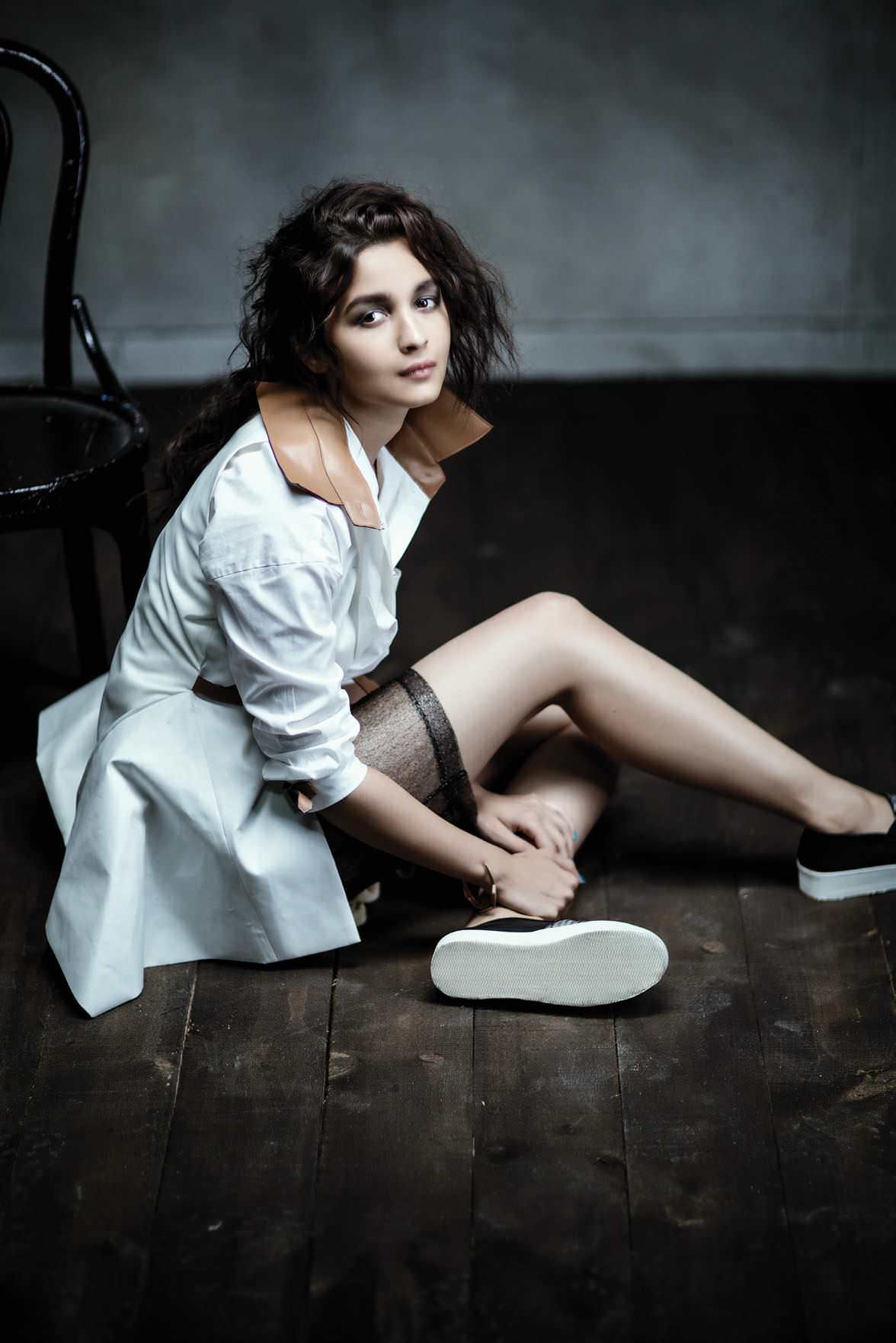 She's thrilled about her upcoming films also because of the variety of co-stars she will collaborate with. "It's a big deal for me. In Udta Punjab I share screen space with Kareena and Shahid (Kapoor). I'm also working with Fawad (Khan) and Sid (Siddharth Malhotra) in Kapoor & Sons. It's nice and they are all lovely actors. Every film has its own plus points. Eventually, we'll see whether it works out or not."
At 22 all she's doing is work, 24 x 7. She reveals she's enjoying the workload but she does feel a bit lost sometimes. "It's hectic right now but I'm having a lot of fun. It gets so hectic at times that I end up wondering where I am, what I am doing! It's been a crazy work schedule this entire year and every time I feel I have a window, it inevitably gets filled up. But whenever I get time off, I set off for a holiday with my sister (Shaheen Bhatt)." But time off doesn't just mean cooling off heels. She ties up leisure with ambition. "I need one holiday every year at least. Even though I love working and I work throughout the year, I'm one of those people who also want to live a fine life. The more I live, the more I'll learn." She admits she misses the smaller joys of life. "I miss walking on the road. I miss hanging out with my friends at places we used to frequent earlier. But nothing's too bad because the things I'm doing instead are a lot more important to my life than my casual desires."
People in their early 20s aren't generally receptive towards responsibilities. But Alia has no qualms with accountability. "There are responsibilities but I am doing my own thing, things that I feel like doing. I make my own rules. When you're 22, you are told you can't do this and you can't have that... all those set rules exist. But I think it's time to change them. Today, 20 is the new age for responsible behaviour and maturity. I believe it's not too different from the time of our parents. They always say, 'When I was 18, I used to do this and I used to do that.' Not much has changed."
You can read up to 3 premium stories before you subscribe to Magzter GOLD
Log in, if you are already a subscriber
Get unlimited access to thousands of curated premium stories, newspapers and 5,000+ magazines
READ THE ENTIRE ISSUE
August 12 2015