The Jhakkas Gentleman 'Anil Kapoor'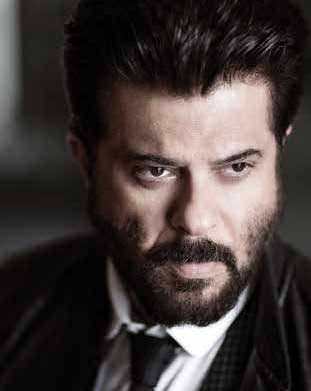 After spending three superb decades in Bollywood, our cover star Anil Kapoor has proved his mettle in various spheres. His suave personality does not really compliment his street lingo Jhakaas, but the way he says it, it's flawless. You would have always see him impeccably dressed, not a stitch less than what may qualify for being fashionably sophisticated. Anil simplifies all the mulling over his career graph by saying it has to do with his willingness to take risks. We completely agree with him on this. If you don't take risks, then you are more at risk. After playing the underworld don Majnu Bhai in Anees Bazmee's Welcome Back, Anil is getting ready for the second season of 24. In the second season, Anil will be playing a depressed alcoholic who has left the ATU.
The way our Mr. India rocks that sexy beard, it's commendable. Not to forget mentioning that, we are the first to disclose this secret look of his specially kept under wraps for 24. During the shoot, Anil wants the music off because of our serious theme. Well, we don't blame him for being a perfectionist. His key to survival is to listen and we would vouch for the fact that he is a pretty good listener. We enjoyed getting into a candid conversation with our versatile Slumdog Millionaire star, Anil Kapoor.
After a smashing performance in Welcome Back, what's next on the cards for AK?
24, second season.
So 24, didn't you think it was huge risk to produce and act in Hindi, considering the impeccable plethora of movies you have done previously?
Ya, obviously, it was a big risk. Many movie actors and stars have done television previously, mostly reality shows. Nobody has really done fiction. Fiction is as good as playing a character. Usually on television, stars go and play themselves. Here, I am playing the character of Jai Singh Rathore. It was more time consuming. You are doing something on a small screen, which you have already done and are still doing on the big screen. It was one of the biggest risks of my career but it paid off.
Been in the industry for a really long time, how would you explain the evolution in filmmaking?
Things definitely keep on changing over the years. Everything has become so digital. We no longer shoot on film. We shoot digital. So many film theatres and multiplexes have come up over the years. Considering the last five years, yes, there has been a lot of change in the industry.
You can read up to 3 premium stories before you subscribe to Magzter GOLD
Log in, if you are already a subscriber
Get unlimited access to thousands of curated premium stories, newspapers and 5,000+ magazines
READ THE ENTIRE ISSUE
October 2015