One Man's Wife Can Not Be Another Man's Fantasy: Raveena Tandon
Blunt as always, Raveena Tandon discusses her insistence on a real marriage - the reason why she pulled the plug on a toxic relationship - with Vanessa Viegas.
Sensually undulating in a yellow sari to the tune of 'Tip tip barsa paani…' she set the screens ablaze back in 1994, and had every male fixated to the one fantasy that was Raveena Tandon.
Come 2004, and fantasies were turned to dust when she found conjugal bliss in Anil Thadani. Knocking on wood, I ask her what marriage means to her… and the reverence she has for the word is palpable. "It's a very special bond. You actually pledge to love each other, look after each other and share your life with each other. Marriage brings with it that one true companion, to walk with you through your troubles, your sorrows, your joys, your pain, everything! I have always looked up to my parents' marriage as something very special. They just completed 48 years in marital bliss, and another two years for them to turn golden! I have always wanted a marriage like that. I think I am one of the lucky few to get what I wanted and I thank God for answering my prayers. Today I can proudly say, ours is a real marriage. It absolutely explains everything about what true companionship should mean." Ask her about the nitty-gritty's of how marriage has changed her and she quips, 'Everything was done in fast forward!'
Rewinding a little, she takes us back to the making of her film Stumped (2003) where she began dating fi lm distributor Anil Thadani.
"Anil and I met a little late in life; I was pushing 30 and Anil was 31 when we got married. We thought that was late and we did everything in fast forward. In fact we had our kids almost immediately. In the year we met, we actually kind of dated for two months starting from August. No sooner were we engaged in October, than we married in February and I was pregnant in June! So within two years, we had already had my daughter Rasha. Honestly, so to speak, my courtship with Anil is still going on. Now that the kids have gotten a little older we are starting to fi nd time to spend with each other and actually go on dates!"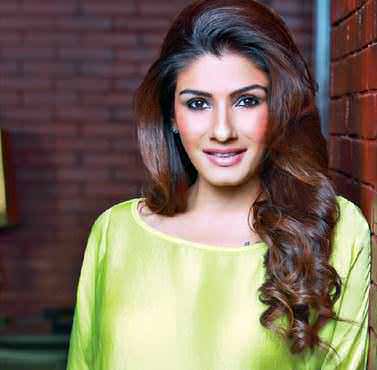 You can read up to 3 premium stories before you subscribe to Magzter GOLD
Log in, if you are already a subscriber
Get unlimited access to thousands of curated premium stories, newspapers and 5,000+ magazines
READ THE ENTIRE ISSUE
October 2015