Meet 6 Firebrand Actresses Of Bollywood
Ever Fell In Love With Someone Who Is Unapologetically Imperfect And Prides Herself On It? We Did And We Are Celebrating These Firebrand Actresses For Being Who They Are.
There are many rules in this industry and for actresses it is best to conform to each and every one of them. After all, the ones who get second billing don't have the liberty to even bend a few. Yet, there are some who have not just told the conformists where they can get off, they have shone so bright that they have blinded the others with their glory. These girls might not share the same magnitude of stardom but they have, each in their own way, been successes. It is not their stature but their spirit we have to celebrate this festive season!
KANGANA RANAUT
When I first met Ranaut, I came out refreshed thinking about the girl whose dark curls stuck out in a world of rebonded and highlighted hair. That was then, and yet today after the many years she still likes standing apart from the crowd - be it not accepting commercial awards or refusing to be a part of a big hero film and claiming it as hers when it is a hit! Her films are her films and they are steadily sweeping many off their feet. For someone who had been pulled down and stripped for everything from her voice to her choice in men and movies, her language, her diction and even her acting was ridiculed; her becoming the star she is, is applause-worthy. However, not taking away from her rise to stardom, it is her conduct over the years that won us over. Despite the many instances in the not so recent past where she blundered, never once did she allow another's opinion to spill all over her image. Be it 'prawn allergies' that distorted her face, or her fluctuating accent or the scientist she claimed to date (who was dumped before he surfaced), she stood her ground and, as she recently stated at the Women In The World summit, 'never lost the confidence'. No one has been allowed close enough to prick the bubble she has made around herself. It cannot be called a wall, because there are moments when she allows you glimpses of how fragile everything she has built has been. From feeling like a 'madaari ka bandar' to knowing and realising that she, like every other woman, 'should not seek approvals from others', the journey has been a decade too long to walk a lonely path but Kangana here doesn't want to hitch a ride with anyone. 'In this industry, just good friends means a fuck buddy who is being promoted,' she says and she clearly isn't interested in being one and certainly doesn't need to, either!
KALKI KOECHLIN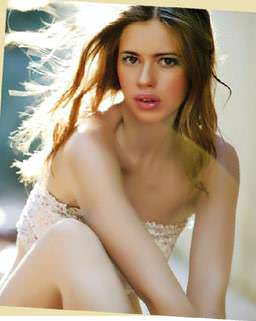 You can read up to 3 premium stories before you subscribe to Magzter GOLD
Log in, if you are already a subscriber
Get unlimited access to thousands of curated premium stories, newspapers and 5,000+ magazines
READ THE ENTIRE ISSUE
November 2015