Class Act
CBS Watch! Magazine
|
July - August 2019
Carrie Ann Inaba brings her grace and good humor to The Talk
Carrie Ann Inaba says warmly, motioning for a visitor to settle on her dressing room couch, a cozy white two-seater flocked with fluffy pillows and fit for a gab-until-dawn slumber party. "I could have them all day long."
It's a gift now on daily display for the former professional dancer, who has found her niche as a co-host of The Talk, alongside Sharon Osbourne, Eve, Sheryl Underwood, and Sara Gilbert (Gilbert's seat will be filled in September by Marie Osmond). She's just wrapped today's show, during which she's shared her thoughts on the latest headlines, but it's immediately clear that her megawatt smile and ability to connect with others aren't reserved for the cameras.
"I have the shortest attention span if I'm not talking about something real," Inaba, 51, admits. "Life is too short. I mean, look at Luke Perry, right?" The sudden passing of the former Riverdale star, who lived in Inaba's L.A. neighborhood, weighs heavily on her. "He was just walking down my street with his boxer. It's so sad. I think I'm still in shock."
Inaba's caring ways are rooted in the Hawaiian concept of ohana, where friends and neighbors are considered family. She and her older brother Craig, who is president of a dietary supplement company, were born and raised in Honolulu by their father, Rodney, a real estate developer who passed away in 2013, and their mother, Patty, whose four best female friends were never far away.
"All of our families hung out together, so I had lots of calabash cousins," she says, using the Hawaiian slang term for super-close friends. While she herself is of Japanese, Chinese, and Irish descent, Inaba has a powerful affinity for her balmy native island state—and the women who collectively raised her. "Those relationships set the pathway for me. Now, I have strong relationships with women— strong women. It makes sense that I'm on The Talk."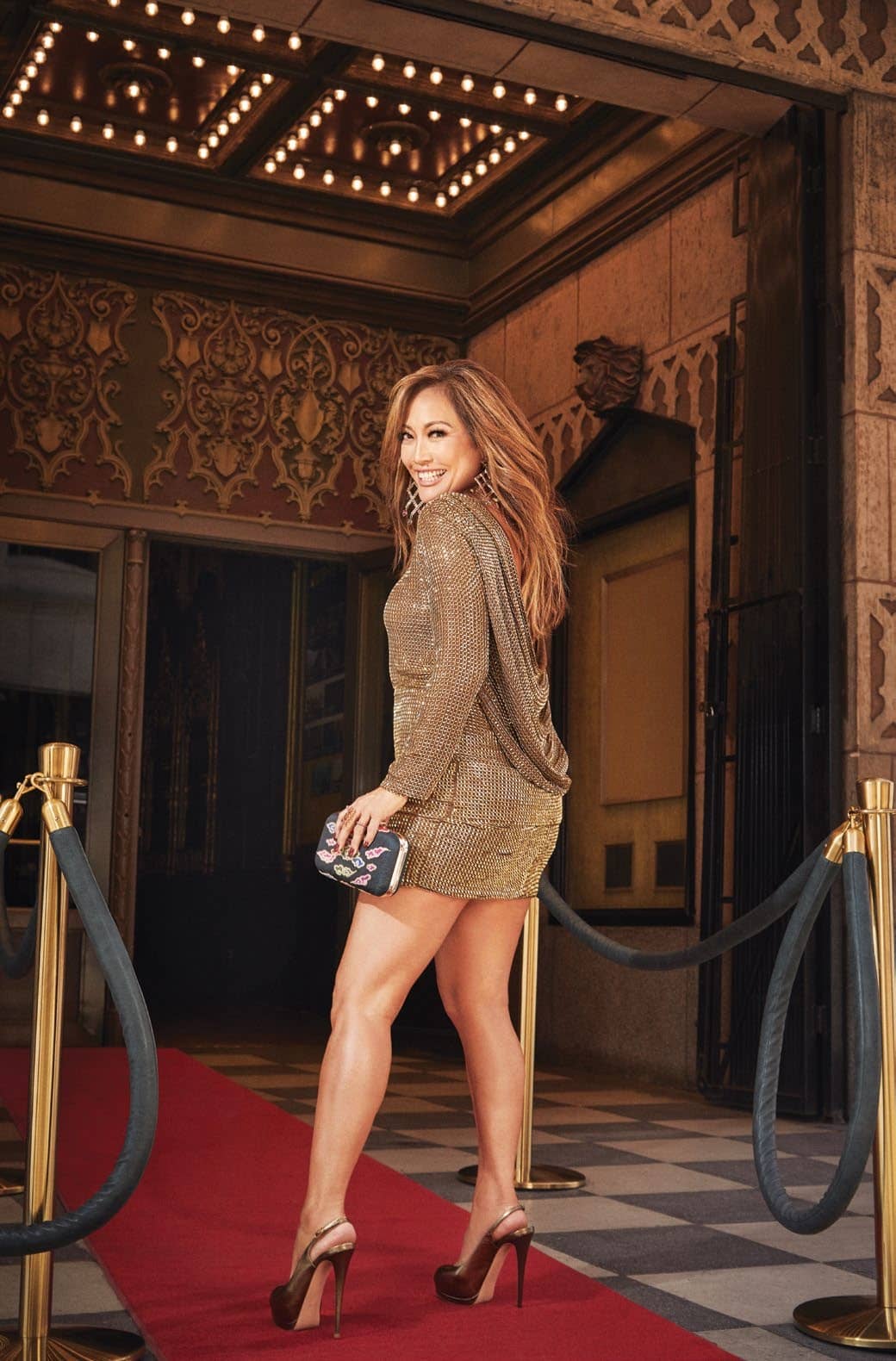 Inaba's talent was apparent early on. At her mother's urging, she began taking dance classes in elementary school; by the time she graduated from Punahou, the private prep school also attended by former President Barack Obama, she had caught the attention of local talent scouts. Her big break, at 18, came with a record deal in Japan, where she lived and sang pop hits phonetically (often on TV) for a couple of years. Needless to say, performing tunes under the guise of a cutesy persona was not her thing. "I became a product very quickly," she says. "I prefer to collaborate creatively with people."
Moving to California did the trick. She studied choreography at UC Irvine, then headed to L.A. in 1990 to dazzle for three seasons as one of the original Fly Girls, the famously funky dance troupe that included Jennifer Lopez and performed between sketches on In Living Color, which featured a cast of rising comics including Jim Carrey and Damon Wayans. But by the time she scored a featured role touring on Madonna's 1993 world tour, Inaba was growing tired of certain aspects of the business. Her experience as one of the dancers in the 1995 movie flop Showgirls further cooled her heels.
She decided to expand her knowledge, ultimately graduating from UCLA with a degree in world arts and culture in 2000. "If I could be in school all the time, I would," she says. To pay the bills, she segued from dancing gigs to choreography and staging gigs, and opened her own digital video production company where she edited dancer and choreography reels to learn more about behind-the-scenes production.
You can read up to 3 premium stories before you subscribe to Magzter GOLD
Log in, if you are already a subscriber
Get unlimited access to thousands of curated premium stories, newspapers and 5,000+ magazines
READ THE ENTIRE ISSUE
July - August 2019