Christine Baranski – CB
CBS Watch! Magazine|May/June 2020
As Diane Lockhart on The Good Fight, the legendary Christine Baranski has created a character who is equially legendary.
By Chip Brown. Photographed by David Roemer
AN ACTRESS DOESN'T GET TOBE NO. 1 on the call sheet without the ability to create an air of intimacy, even when "social distancing" is the order of the day. Faced with the unexpected peril of a face-to-face meeting, Christine Baranski picked up the phone. It was the second Friday in March 2020. The repercussions of a worldwide viral outbreak were surfacing in New York City. Schools were closing. Broadway was going dark. Lines were forming outside grocery stores suddenly bereft of chicken and hand sanitizer. City residents accustomed to teeming sidewalks and sardine subway cars, not to mention up-close-and-personal interviews, were being advised to stay at least six feet away from each other.
"We were supposed to talk on the set," Baranski says with such genuine regret that anyone would be tempted to get jimmied into a hazmat suit to make it happen. Baranski was holed up in her Manhattan apartment. CBS had temporarily suspended production of the fourth season of The Good Fight, the streaming-platform hit in which Baranski stars as the sharp-tongued-and-tailored litigator Diane Lockhart.
"When they shut down The Good Fight yesterday," she says, "one of the actresses actually asked the producers if she could take home some toilet paper. There was a run on toilet paper in Brooklyn."
On the strength of her voice alone—a tony metropolitan alto gifted with drop-dead timing and readily effervesced by her signature brass-and-bubbles laugh—it was easy to imagine Baranski proceeding imperturbably as workaday routines and expectations faltered all around her. And why not? For more than 40 years, the Juilliard-trained actress has been a consummately versatile, self-assured pro, elevating musicals, stage dramas, and film and television roles in the course of amassing a résumé as lengthy as her famously long legs. Among her many awards, she counts two Tonys and an Emmy (and 15 Emmy nominations). She manages the paradox of being both regal and down-to-earth, a grande dame happy to hang a teaspoon off her upturned nose. She's as comfortable handling the boozy, over-the-top rants of Maryann Thorpe on the ahead-of-its-time sitcom Cybill from the mid-1990s as she is launching out on grandiloquent flights of Shakespeare and Shaw. As at home as a saucy Mrs. Lovett singing "shepherd's pie peppered with actual shepherd" in Stephen Sondheim's Sweeney Todd as she is tendering witheringly crisp assessments of cathected emotion as the Freudian-in-barrettes psychiatrist Beverly Hofstadter, better known as "Leonard's mother" on The Big Bang Theory.
As if that were not enough, two years ago Baranski was inducted into the Theater Hall of Fame.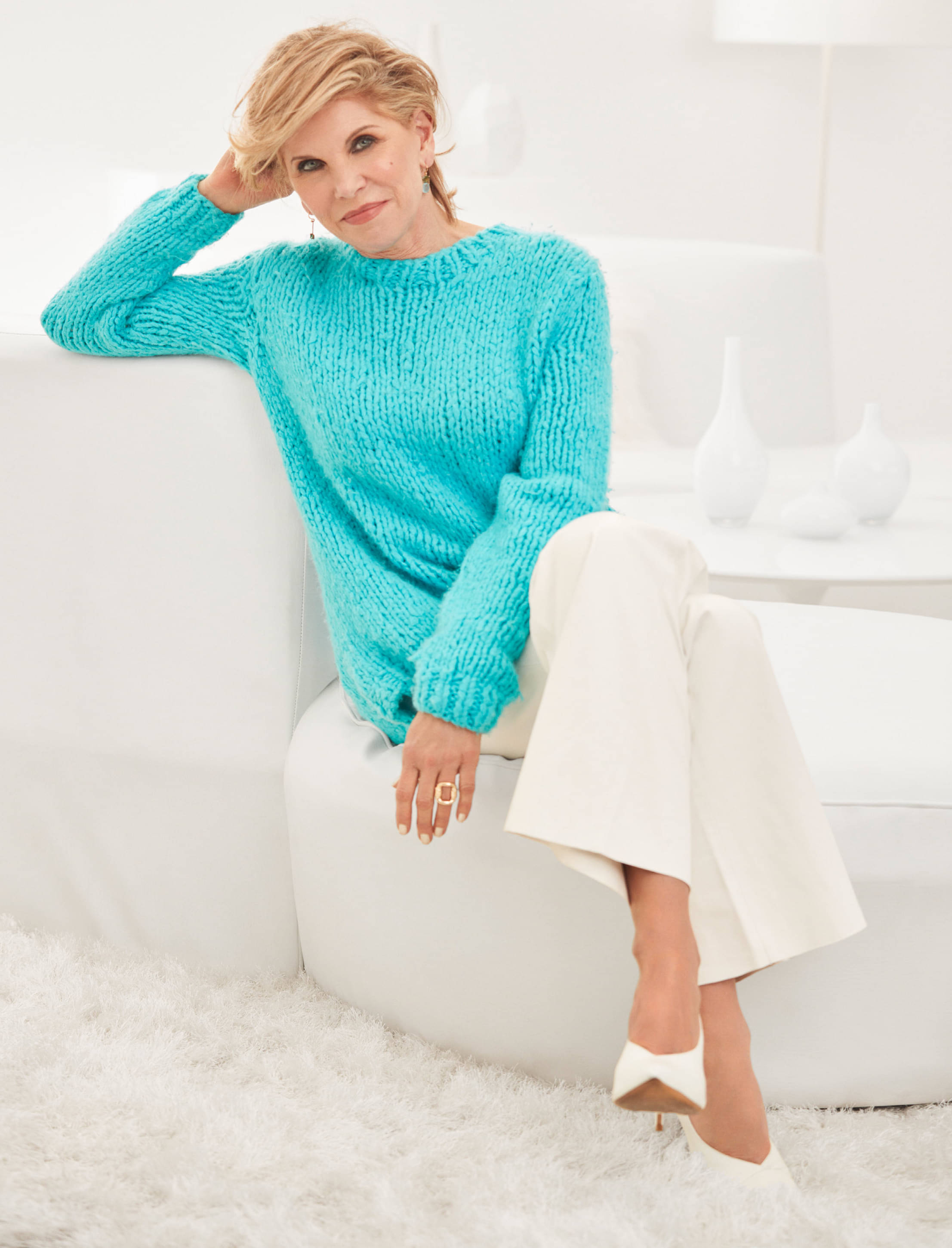 At an age—68 this month—when most people are filing for Social Security and glumly wading through junk mail from the American Association of Retired Persons, Baranski seems almost to be sizzling in a second prime or to have enviably extended her first. She has her pick of projects and parts. (After completing the fourth season of The Good Fight, she's scheduled to shoot an HBO series, The Gilded Age, and will appear in the coming holiday season as the town grinch in a Dolly Parton Netflix movie, Christmas on the Square.)
Having grieved for her husband, the actor Matthew Cowles, who died in 2014, Baranski often says she's never been happier in her work. She's in remarkable shape and still fast on her feet. Consider how she handled a screwball question during a red-carpet TV interview at the premiere of the Mamma Mia sequel in Los Angeles in 2018.
"Strange question," said the interviewer, catching Baranski who played the character Tanya in the 2008 original and in the follow-up, Mamma Mia! Here We Go Again. "'Big Dick Energy'—have you heard of it? And that people are saying that you have it?"
"That I have what?" said Baranski, leaning in close. She was wearing a white-dotted brown dress, cut low to show most of her throat, and bright red lipstick, her blonde mane coiffed in a frisky bob. Fans of The Good Fight might have stopped her on the red carpet to ask for legal advice, so much did she look like Diane Lockhart.
"Big Dick Energy," the interviewer said.
"People are saying you have an abundance. They put you up as the poster child of it."
"Big Dick Energy? Is that a new saying? Just tell me it's a good thing."
You can read up to 3 premium stories before you subscribe to Magzter GOLD
Log in, if you are already a subscriber
Get unlimited access to thousands of curated premium stories and 5,000+ magazines
READ THE ENTIRE ISSUE
May/June 2020