How Kylie Jenner Became a Millennial Icon
She's just 18, but could Kylie Jenner be the savviest of her famous older sister? Inside her hot media and retail empire, where millennial fans and brands want in.
There are few narratives in modern celebrity culture as unexpected as the ascent of the Kardashian-Jenner family. When they first appeared on America's televisions in 2007 as the stars of E!'s reality series Keeping Up With the Kardashians, few could have guessed that within nine years, daughter Kim would become a massive, global celebrity; that patriarch (and former Olympian) Bruce would transition to Caitlyn; that matriarch Kris would sit atop a billion-dollar empire—or that the youngest daughter, Kylie, just 9 when the show launched, would find herself an online superstar, budding entrepreneur and millennial icon.
Now 18, Jenner is the embodiment of an entirely new type of celebrity, one that didn't exist only a few years ago. Her massive celebrity is not based in any type of legacy medium (although she appears on KUWTK, the show is far less essential to her than to her older sisters), any aspiration to be an entertainer (she has expressed little interest in acting, singing or hosting) or the creation of digital content (unlike major online celebs like PewDiePie and Bethany Mota, Jenner didn't accrue her fan base via YouTube videos or blogs). Rather, her celebrity—and increasingly valuable brand—stems merely from the image she presents across social media.
On Instagram, she has amassed more than 57 million followers, making her the seventh most-followed celebrity on the platform, between Justin Bieber and Cristiano Ronaldo. On any given day, she might post upwards of 10 photos of herself hanging out with friends and family, showing off a new pair of shoes or promoting a brand. On Snapchat, where Jenner became the most-followed celebrity last July, fans will find her lip-syncing to Kanye, J. Cole and Future while riding around in her Ferrari or Rolls-Royce; canoodling with her boyfriend, the rapper Tyga; and pouting at the camera. The best content is reserved for the official Kylie Jenner app, where fans spend $2.99 per month for access to exclusive articles and videos of Jenner giving beauty tips or taking viewers on a tour of her home.
While that may not sound like groundbreaking stuff to older generations, it's obsession-worthy for Jenner's massive audience of millennials and teens. Her every move is closely watched and emulated—trends from matte lipstick to "athleisure" apparel can be traced back to Jenner— while products featured on her Instagram feed, whether it's a pair of Levi's new "Wedgie Fit" jeans or her own cosmetics, invariably sell out.
Just what makes Jenner so influential? First, there's the fact that, unlike many of her Hollywood peers, she seems to truly let her audience inside her everyday life. "The new definition of fame has everything to do with access," says MaryLeigh Bliss, chief content officer at youth research firm YPulse. "The Kardashian sisters are all famous, obviously, but Kylie is the social media native. Giving fans that access through such a huge variety of social media platforms is really easy and natural for her."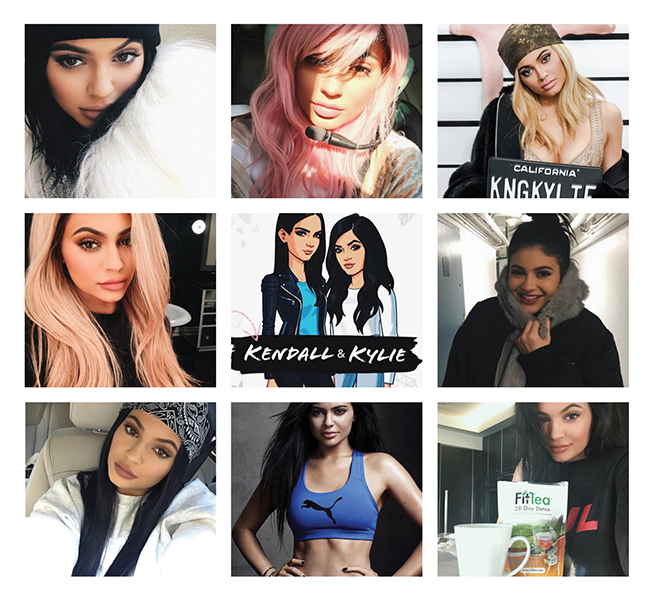 Then, there's the content itself, which, for teens looking for a taste of the celebrity lifestyle, is undeniably fun. "She's doing everything that teenagers want to be doing—driving around in a fabulous car, hanging out with her friends, not appearing to be too burdened by schoolwork or homework or too many responsibilities," says Teen Vogue editor in chief Amy Astley. "It's a total, vicarious thrill."
You can read up to 3 premium stories before you subscribe to Magzter GOLD
Log in, if you are already a subscriber
Get unlimited access to thousands of curated premium stories, newspapers and 5,000+ magazines
READ THE ENTIRE ISSUE
April 11, 2016