Peh-Ing Tribute
JOANNE PEH's relationship with print — books, magazines, newspapers — has been a long one. In the second-last print issue of 8 DAYS, she reminisces about all the write stuff, from the time she aspired to be a journalist, to becoming constant fodder for news headlines.
"Byeeee, 8 DAYS!" chirps Joanne in her usual bright and bubbly self. She's standing tall, perched on a bed of 8 DAYS magazines scattered haphazardly on the floor of the photo studio. Our art director and hair stylist, stationed on the side lines, fling magazines over Joanne's head. One moment, the actress jokes that she looks like "the poor intern" as she squats in the midst of the pile while striking the 'migraine pose'. Then she's channelling a powerful editrix, a girlboss who lives and breathes magazines. Whatever Joanne — and you, dear reader — does with her 8 DAYS print issues, she won't be able to do it after this month, when we go fully digital. While www.8days.sg may not be as ideal as a hard copy of the magazine for hurling in the air like a graduation hat — like what Joanne's doing in her final print cover for 8 DAYS — it's still got all the stuff you love about us, and then some.

Given that it's Joanne's final time fronting our print cover, what better way to do it than with the ones she loves most, right? If we had our way, Joanne would be on this cover with hubby Qi Yuwu and their three-year-old daughter Baby Qi and one-year-old son Qi Di Di. With the faces of their kids creatively-hidden, of course. By now, you'd know that the fiercely-private couple keeps their kids away from the spotlight, their faces strategically-hidden on their socials. Alas, that Qi family cover didn't materialise as Yuwu is busy filming in China and the couple didn't want to put their kids under the stress.

And so Joanne's final 8 DAYS cover would end up the same way her journey with us began: solo. Over the past 14 years, we were there every step of Joanne's showbiz journey, from the time we christened her a Fann Wong-lookalike in her first cover (where she had to pretzel herself into a "really uncomfortable" yoga-like pose) to one of Ch 8's most sought-after stars and hot-mama-next-door. Her ups and downs, maybe-romance with Tay Ping Hui, defo-romance and heartbreak with Bobby Tonelli, and finally finding her happy-ever-after with 715 have been chronicled in 25 covers (yes, we counted) over 14 years.

Something that hasn't changed about Joanne over the years is her somewhat-endearing penchant for yakking till the cows come home and those refreshingly honest soundbites, as we're reminded when we meet Joanne two days after the photo shoot at Wanderlust, an artychic boutique hotel along Dickson Road. It's a slice of serenity a few shophouses away from where Ch 8 dimsum-themed drama Heart to Heart, in which Joanne plays a tomboyish chef, is filming today. The actress' schedule is so packed (evenings are strictly family time) that she can only meet us during her break. The hotel is tucked away in an old-skool 'hood, perfect for chatting about stuff like books and print magazines, things that would be considered old-skool to the attention-deficient social media generation.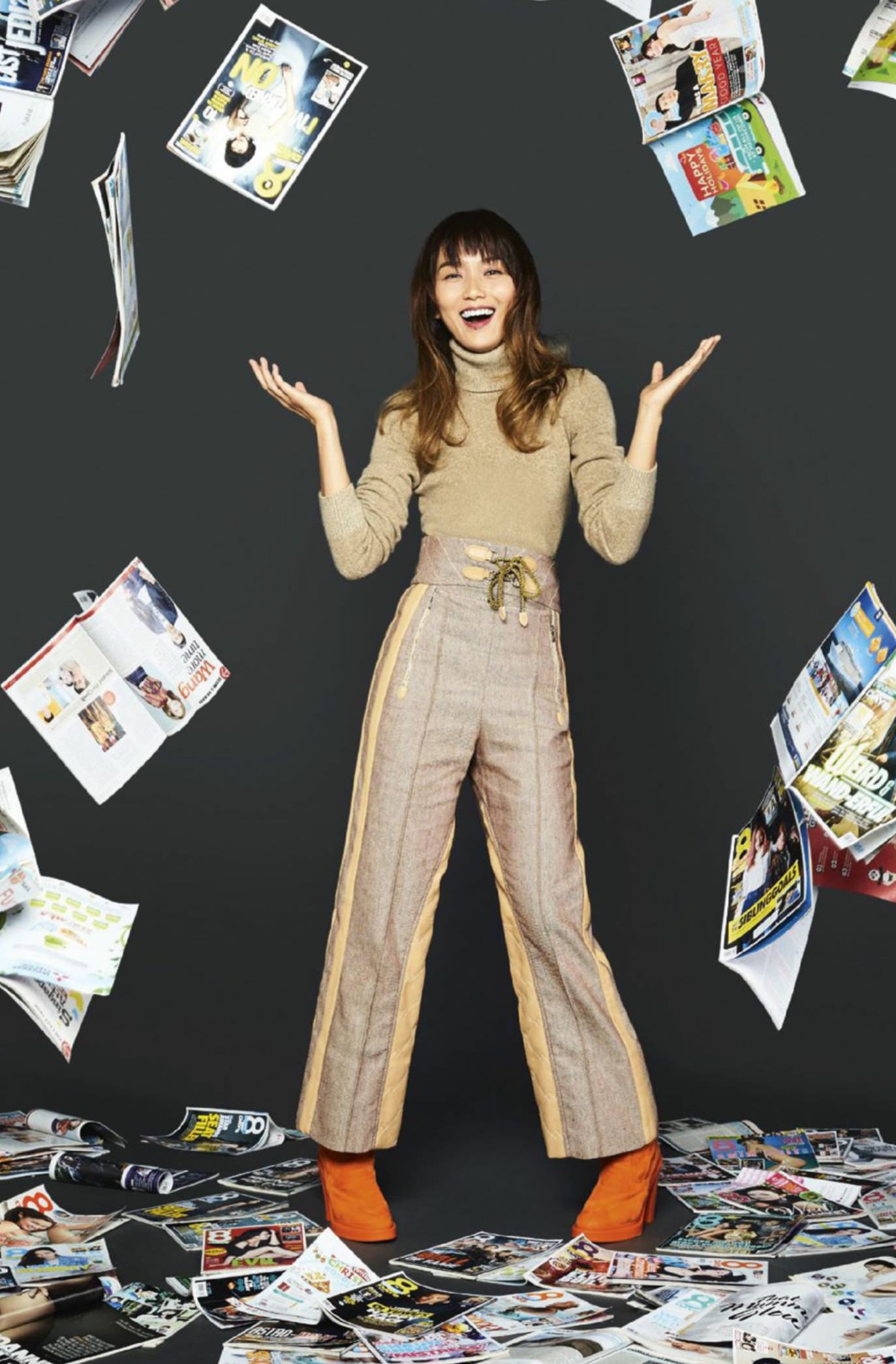 But we digress. During our chat, she waxes lyrical about her "love-hate" relationship with us. "Back then, being on the cover of 8 DAYS was a big deal 'cos everyone had it on their coffee tables. It was a magazine that allowed people to get to know us. So I'm very thankful for those opportunities," she says. "But sometimes, I feel misunderstood or misrepresented. Maybe when a neutral party reads it, they'll think it's not a big deal. But we tend to take what's written about us a lot harder lah. But no hard feelings. And in fact, I'm very, very sad that 8 DAYS is not going to have a print version anymore."
Indeed, the Joanne of today has moved on. We end up chatting for two hours, despite the fact that she survives on only five hours of sleep daily. When she's not acting or mothering, the actress has been busy spearheading a children's workshop start-up called The Dimple Loft. And if the stars align, she may get to add filmmaker to her CV soon, thanks to a Mediacorp incubator project. Little wonder that Joanne immediately takes the chance to nap, curled in a fetal position on a plush sofa at the hotel, right after this interview. Never mind that we're on public property. Sleep comes first. We leave 10 minutes later and Joanne rouses from her slumber and bids us a groggy goodbye. In this instant, she looks like neither poor intern nor empowered girlboss, but really sleep-deprived mum-of-two in need of a caffeine fix.
8 DAYS: In two issues, 8 DAYS will be going fully digital. Looking back at your past 25 print covers, which were your most memorable ones?
JOANNE PEH: The first one is always memorable 'cos it was such an honour. The shoot was very unnerving 'cos I was working with one of the best photographers and make-up artists in Singapore and everyone was so full of weight. And then I was this newbie who didn't even know how to pose. Of course, the one about my break-up [with Bobby Tonelli] was memorable too 'cos that was a very difficult cover for me to do. And yet it had to be done 'cos social media was building up. So if I didn't come out and say something, if someone saw me on the streets with someone else, it comes off wrong. And I don't want that. It was one of the hardest things that I had to do. I didn't want to talk about it. Yet, I was very much obligated to. I can't run away from the fact that people will be curious about my personal life. There are some things you just cannot hide from the media.
You mentioned you wanted to be a journalist. Instead, you became the one being interviewed all the time as one of our regular cover stars.
You can read upto 3 premium stories before you subscribe to Magzter GOLD
Log-in, if you are already a subscriber
Get unlimited access to thousands of curated premium stories and 5,000+ magazines
READ THE ENTIRE ISSUE
September 20, 2018