Adapting To a new WORLD
strategy+business
|
Autumn 2020
Facing the challenges of the post-COVID-19 landscape.
Blair Sheppard, Daria Zarubina, and Alexis Jenkins
The COVID-19 pandemic has wrought enormous personal, economic, and social damage. It has upended countless lives, and exacerbated the many disruptions afoot, laying bare the unviability of many business models. Beyond that, it has provided a new set of acute shocks to seemingly sturdy businesses and principles that have guided our thinking for decades. Wrapping our minds around what is happening is enormously difficult. Having resulted in 14.6 million known infections and 608,000 known deaths as of July 20, the new coronavirus is unpredictable and lethal, and its like hasn't been seen in more than a century. Its effects are paradoxical. It has caused a supply shock and a demand shock.
It is causing a recession of indeterminate length and severity — even as some countries are crawling their way back to recovery. It is inspiring heroic feats of public-spiritedness and charity among millions, while also providing an opportunity for fraudsters to peddle false cures and prey on the vulnerable. It is stoking competition among countries, and between regions within countries, to secure supplies, while also serving as an occasion for greater national solidarity and regional cooperation. The pandemic is primarily a public health problem, but one with immense immediate implications for business, and for economic, fiscal, and monetary policy. The health threats could disappear within a matter of months — or they could persist for years. This virus is both accelerating powerful existing trends (such as automation and inequality) and slamming the brakes on trends that had, until very recently, possessed tremendous momentum (such as globalization).
Out of nowhere, COVID-19 has emerged as the top agenda item for leaders of organizations of all types: governments, NGOs, and the private sector. The central question in every (virtual) board meeting is how to grapple with the horrific short-term consequences — the health challenges faced by millions of people and the effective shuttering of economies and societies around the world. At the same time, leaders can't lose sight of the existential difficulties they faced before discussions of viral loads, reagents, and recovery rates became part of the vernacular — difficulties that, if anything, are intensifying.
The scope of the challenges, with all their dimensions, is as much philosophical and intellectual as it is physical and practical. Simply put, we are wondering how to go about restarting the economy; repairing what was broken; and preparing ourselves to cope with a host of urgent social, environmental, demographic, and economic troubles.
At PwC, we have been thinking about how to approach these issues holistically. In 2017, we identified a set of urgent, interdependent, and accelerating challenges confronting the world. We dubbed it the ADAPT framework — describing a world in which asymmetry, disruption, age, polarization, and trust were fundamentally changing the way millions of people live and work. It was clear before COVID-19 that the pressures arising from the ADAPT issues would forge a completely different world by 2025, and that organizations would have to reconfigure themselves to maintain their viability. Accelerated by the pandemic, these changes may actually come about sooner than we thought (see "ADAPT + COVID-19"). In our forthcoming book, we predict that humanity has "10 years to midnight." Now, it seems there may be even less time to the fateful hour. Moreover, COVID-19 will not be the last such shock to the system. Unless we massively and quickly address the issues highlighted by ADAPT, and in a way that manages the crisis of today while preparing us for the future, the next shock will be much more damaging. That's the bad news. The good news? At every unit of analysis and level of society, there is an opportunity to build a more sustainable and resilient future in which all people can thrive. By recognizing the challenges confronting the world, internalizing the lessons of the pandemic, and deploying the tools and technologies at hand, we can chart a new, more adaptive course.
COVID-19 and the economy
Efforts to address these issues that are made even more urgent by the pandemic face four harsh realities.
First, at both a national and a corporate level, balance sheets will be tremendously stretched and require significant shoring up before resources become available to address the issues outlined in the ADAPT framework. According to the Institute of International Finance, "If net government borrowing doubles from 2019 levels — and there is a 3 percent contraction in global economic activity (nominal terms) — the world's debt pile would surge from 322 percent of GDP to over 342 percent this year." There will be intense competition for funds as societies focus on the many tasks associated with restarting businesses, creating jobs, and supporting those most harmed by the pandemic and the national response. At the corporate level, limited capital will necessarily be focused on repairing damaged supply chains, restarting the business, rebuilding revenue, and bringing employees back into place.
Second, small businesses will be even more significantly affected than larger ones by the policy decisions made. The impact will vary across countries because of the very different ways governments are responding to the crisis. Across the world, however, most small businesses do not have the kinds of cash reserves larger companies do; according to a study by JPMorgan Chase, the median U.S. small business holds only 27 cash buffer days in reserve, after which it would have to be shuttered without cash inflows. This is a particular problem as small business is generally the most important source of employment and disproportionately the source of growth. But it is also a problem for larger organizations because small businesses are most often primary customers and a third or fourth tier in their supply chain. Small businesses also provide essential services, such as equipment maintenance and repair, dentistry, and, in some economies, basic foodstuffs.
Third, different sectors of the economy — and even individual businesses within the economy — will be quite differently affected by the crisis. Platform companies, grocery stores, and pharmacies have, for the most part, done extremely well so far. But many others (e.g., airlines and hotels) largely shut down for a time.. All except the hardest-hit firms are trying to maintain their workforce; the result is that they burn through cash and end up in a much more precarious financial position. Clearly, firms with stronger balance sheets will be able to build back or sustain their business more easily, while many others will struggle. Decisions made about when to begin and how to end the lockdown, coupled with financial relief packages, will cause businesses in some countries to be better positioned to weather the crisis and recover afterward. The dispersion of outcomes could have a radical impact on a nation's influence at a global level and how that nation is able to compete on the international stage in the future.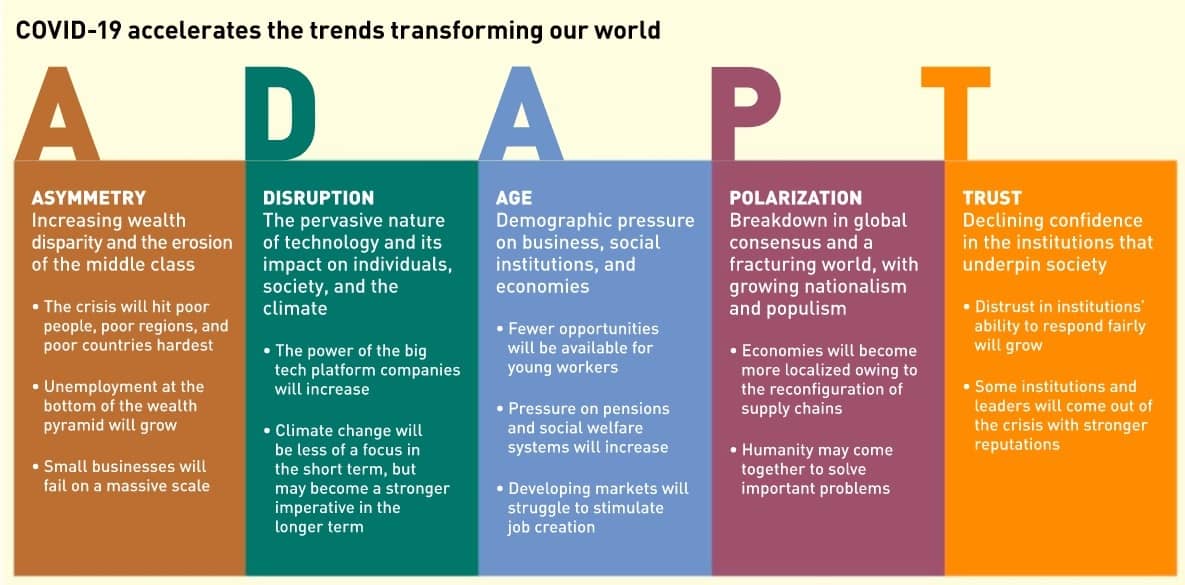 ADAPT + COVID-19
You can read up to 3 premium stories before you subscribe to Magzter GOLD
Log in, if you are already a subscriber
Get unlimited access to thousands of curated premium stories, newspapers and 5,000+ magazines
READ THE ENTIRE ISSUE
Autumn 2020