THE ACHILLES HEEL OF MOBILE-FIRST NATION
Voice and Data
|
September 2020
As a large and fast-growing mobile economy India ranks #1 on the target list of fraudsters. It is also the second-largest victim of mobile ad frauds globally
Mobile ad spend has been a consistent portion of digital ad budgets accounting for about half of the global ad spend today. The reasons behind are pretty clear. Given the omnipresence of mobile devices in our lives today, mobile advertising is definitely one of the most effective channels for reaching out to a particularly large base of potential customers. The fact that it encompasses multiple advertising channels as well also makes it a preferred outreach media. With large number of companies focusing on mobile-first strategy majority of India's ad spend are now shifting towards the mobile channels.
The popularity and money involved in mobile advertising have made it a magnet for the fraudsters. The threat of mobile ad fraud is looming large, draining marketing and advertising budgets at an alarming rate. According to the mobile ad fraud report by Appsflyer, 22.6% of global mobile media spend in 2019 was wasted on mobile ad fraud. The scenario appears even more abysmal, when one considers the collateral damages the frauds can cause on such as decisionmaking based on polluted data – a sheer waste of time, money, and resources.
India is not alone in facing the challenge. Other fastgrowing countries with large population bases are also among the top target regions of these fraudsters. The large base of attack makes up for the lower payouts and is the reason that makes India the second-largest victim of mobile ad frauds globally, after Indonesia.
Exposure Varies Across Platforms, Verticals
Mobile ad fraud has emerged as a major concern, especially in the in-app advertising space, siphoning away budgets, reducing campaign effectiveness and making the entire ecosystem less trustworthy.
With USD 2.3 billion exposed to fraud in the first half of 2019 alone, mobile app install fraud is already a multibillion-dollar threat to the app marketing ecosystem. The larger the fish, the higher the chances of it being targeted by fraudsters, the Appsflyer report indicates. Data shows that 20% of large apps have more than 30% fraud, compared to 13% among medium-sized apps and only 8% of small apps.
Fraud rates on different platforms are also not the same. The percentage of Android apps that have a fraud rate of over 30% is 2.5 times higher than iOS that registered 12% such cases (see App install fraud: Global trend by platform). Similarly, the exposure to frauds is also different across verticals. For example, the finance sector is most exposed to fraud due to the high payout it offers and its scale, followed by shopping and business (see App install fraud: Top 10 financially exposed verticals worldwide).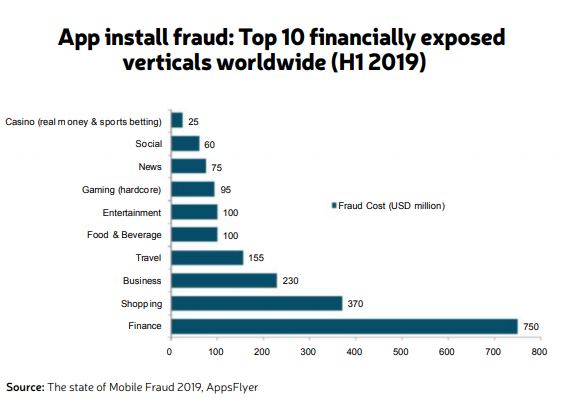 Factors behind ad fraud menace in India
Absence of any strict industry regulation or punitive measures has worsened India's ad fraud scenario further. According Mobile Marketing Association (MMA) India Country Head Moneka Khurana, the lack of transparency and absence of standardized regulatory practices are the major reasons for the existence of fraudulent activities in mobile advertising.
"Lack of monitoring sources of traffic and using campaign metrics that can be easily manipulated by fraudsters are some other factors that contribute to ad fraud. The absence of open, real-time data sharing between marketers and ad space sellers makes the advertisement vulnerable to fraudulent activities at various stages of the publishing chain," she said.
"As marketers start venturing into mobile platforms for marketing purposes, they also become susceptible to fraudulent activities due to the loopholes in the ad buying and publishing process," Khurana added.
InMobi Managing Director for Asia Pacific region Vasuta Agarwal further pointed out that the rise of ad fraud can be attributed to several factors: the steady shift of advertising dollars to digital, increasing pressure to drive growth in highly competitive markets especially in the Asia Pacific focused on high Return On Advertising Spend (RoAS), and the fast-paced nature of technological advancement.
You can read up to 3 premium stories before you subscribe to Magzter GOLD
Log in, if you are already a subscriber
Get unlimited access to thousands of curated premium stories, newspapers and 5,000+ magazines
READ THE ENTIRE ISSUE
September 2020