SUSTAINING & SCALING FUTURE BUSINESS
The Retail Jeweller
|
March - April 2020
The 7th edition the SGL & Ithra Dubai Retail Jeweller India Forum 2020 once again explored out-of-the-box strategies and case studies as ways to boost the business of all participating retailers at the one –day learning event. Sustaining & Scaling future business was the central theme of the forum and the discussion centred on 10 curated topics across the realms of technology, building and game-changing new ideas to capture the next generation of buyers. In the following pages The Retail Jeweller presents, session by session, the highlights of RJIF 2020.
BUILDING THE RIGHT KIND OF CUSTOMER ENGAGEMENT FRAMEWORK – SUNTECH SHOWS THE WAY
RISHIKESH TRIVEDI DIGITAL TRANSFORMATION ADVISOR, SUNTECH BUSINESS SOLUTIONS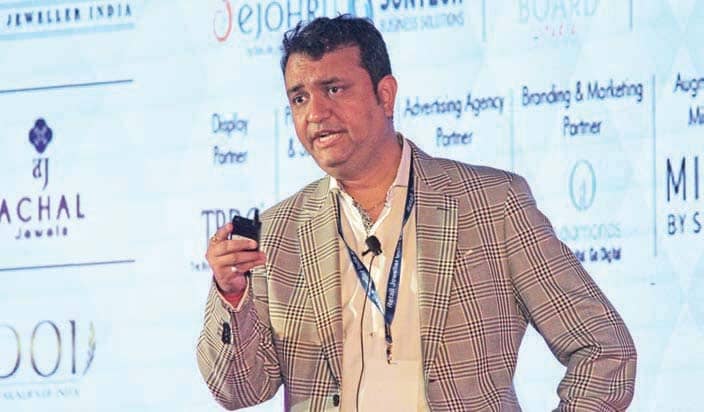 The first session of the Retail Jeweller India Forum 2020 saw Rishikesh Trivedi, Digital Transformation Advisor, Suntech Business Solutions talking about the usage of technology to drive a customer-centric approach. He also raised questions on the utilisation of technology to overcome challenges in the decision-making process.
The session was presented by Rishikesh Trivedi, Digital Transformation Advisor, Suntech Business Solutions. Talking about the trends in the industry, Trivedi said that corporatization of industry players is a major factor in the sector, with the second trend being a significant change in consumer behavior, and the third being an attention-deficit economy. In this scenario, a business person will have three critical goals – engaging with customers in a creative manner so as to get their attention, powering the business through better insights, and boosting efficiency through well-thought-out decisions.
Trivedi had some insights of his own to share. He said business people have lots of cognitive biases based on their prior experiences, and their expertise. These inherent biases can limit their ability to think divergently and innovatively, and come in the way of generating new ideas. He observed that this is a problem that is prevalent across all organizations.
He then raised some interesting questions – how to utilize technology to overcome these decision-making challenges and standardize the decision-making process so that more people within the organization are capable of making similar decisions?
Trivedi added that most businesses have similar concerns, similar questions – which are my top-selling products, who are my best customers, and so forth. But the answers to these questions keep changing week on week, month on month and year on year. Not only does the business landscape not remain static, how businesses utilize the existing information is also an important factor.
Today, every organization needs to have a customer-centric approach. Customers want to engage with brands on their own terms, explained Trivedi. Typically, most of the marketing agencies start with a demographic segmentation as a first step, but the more important thing is to have behavioural segmentation. He added that every brand has different segments of customers who need different levels of attention. Marketing needs to become more personalized; brands need to get to know their customers more intimately so that they have advance information about what they will buy next, and when.
Sharing the steps that his company has taken to get to know customer preferences, Trivedi said Suntech has built the right customer analytics and the right customer engagement framework to communicate and engage with its customers. The company has developed the RFMBTC (Recency Frequency Monetary Breadth Tenure and Continuous) model, which it uses for client segmentation. Suntech has also built the Customer Transition Matrix, which is based on the market transition model. Studies of customer behaviour reveal that customers have different life stages. Marketers have to grapple with the task of identifying and predicting a sales opportunity, and send relevant and regular communication to the target customer base.
Suntech also undertakes campaign analytics to understand how the customers are responding to different promotional offers. It has built interaction analytics which make it easier for customers to search for, and buy, products online. But they can also come to the physical store to buy them. Trivedi said that Suntech has technical expertise across multiple platforms, which can help the industry to take better decisions.
He concluded by saying that the important thing to understand about the automation journey is that it's not that business can't be done manually, but it takes a huge amount of time. Automation helps you to speed things up with accuracy, and that is the power of technology.
EJOHRI DEMONS TRATES HOW TO SYNERGISE ONLINE OFFLINE SALES
SHAILEN MEHTA CO-FOUNDER & MD, E JOHRI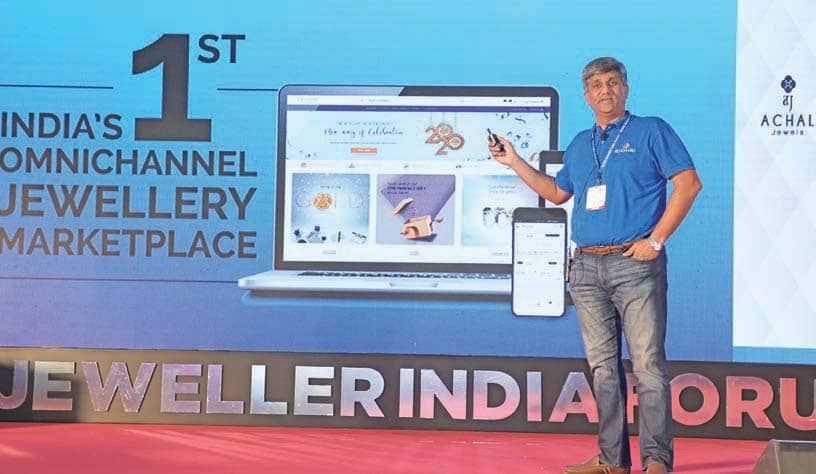 The second session of RJIF 2020 was devoted to online commerce in the jewellery industry where the speaker, Shailen Mehta, Co-founder & MD, E Johri, dwelt on the importance of having an online as well as an offline presence to cater to today's aware and well-informed customers.
Addressing the attendees, Mehta said that customers across the world are checking jewellery online before visiting stores. Making an interesting observation, he said that we have heard of acronyms such as B2B and B2C, but in today's time, what is important is O2O, or Online to Offline, because sellers do not know where the buyers are.
Mehta added that no matter where a company has its stores, and no matter how many stores it has, it will not be possible for it to reach all customers. Today, a potential customer could be sitting anywhere in the world. In order to cater to a geographically diverse customer base, it is essential to have both an online and offline presence. Having a physical showroom is not enough; companies need a listed omnichannel platform so that customers across the world see its products and be able to buy them as is convenient for them. They could either visit the showroom physically, or select them online and buy them online, or select them online and buy them offline by visiting the store physically.
Yet another interesting point Mehta made was that since jewellery is a big-ticket purchase, people want to actually touch it and feel it before they buy it. This makes it all the more important for companies to have an omnichannel platform. To illustrate his point, he gave the example of the automobile industry. Around 15 years back, customers would physically visit a showroom, and the salesperson would explain the feature and specifications of a particular model, and the customer would buy it But things have changed dramatically today. Before they go to buy a car, customers have already done their research online, made comparisons, checked prices, and made their decision as to which model to buy. When they finally go to a showroom, it is basically just for a test drive. Something similar is happening in the jewellery industry, Mehta stated.
Customers have already browsed through websites and portals, and, more or less, made their choice. When they visit the showroom, it is just to take that final look at the product, and to touch it and feel it.
He added that E Johri is catering to these savvy customers, who look up products online, and even set up appointments online, then visit the showroom to buy them. This helps jewellers as well, as they are already aware of the choice of the customer.
Sharing data, Mehta said that in the past 10 years, the online sales of jewellery and watches have grown by almost three times, but the offline sales have not grown at the same speed. The total online sales in India have gone up by five times in the past six to seven years. "In 2012, the total online jewellery sales were just Rs 7 crore, but this figure is expected to go up to Rs 50,000 crore by 2024. If we see the data of 2018, the online sales stood at a meagre Rs 2900 crore, which is only one per cent of the total jewellery market. Though the size of the online jewellery industry is still small, it has seen an exponential grown in the past seven to eight years," he concluded.
TOWARDS TECHFRIENDLY RETAIL JEWELLERY STORES
SACHIN JAIN PRESIDENT, FOREVERMARK INDIA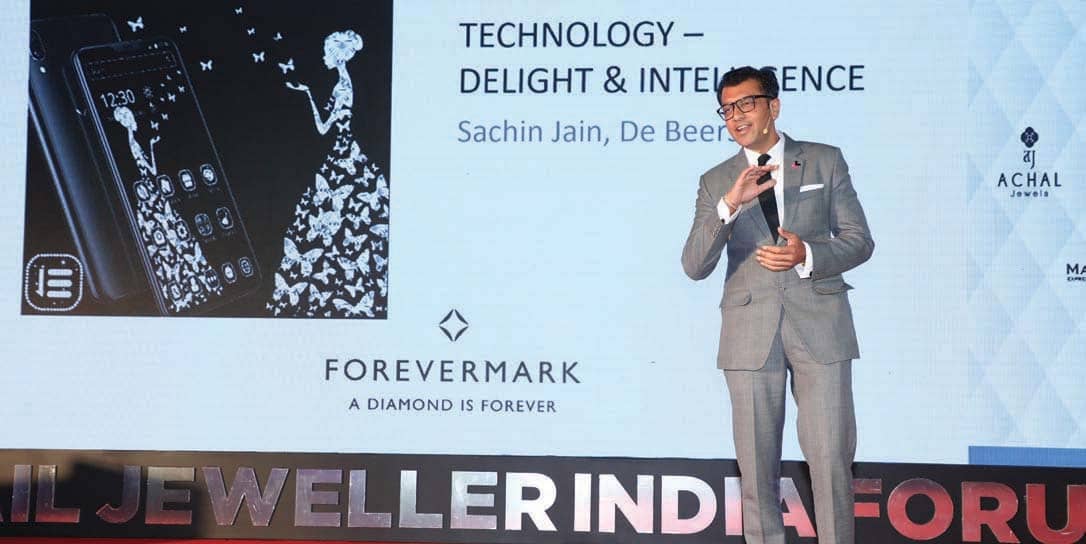 The speaker of the third session of RJIF 2020, Sachin Jain, President, Forevermark India, set the ball rolling by talking about how important technology has become for connecting with consumers, understanding the tastes and preferences, and figuring out the buying patterns of young age customers in a country like India.
In an attempt to underline the importance of technology in retail, Jain cited the example of Amazon Go convenience stores in the US, which are the first of their kind, being totally frictionless. When customers visit these stores, they do not have to pay via cash or card. They just use the Amazon Go app which scans the unique barcode as they enter the store through sliding gates. Once in, customers can pick up what they want and walk out, without queuing or paying. The groceries are automatically billed to their Amazon account. The Just Walk Out system uses technology that automatically detects when products are taken from, or returned to, the shelves, and keeps track of them in a virtual cart. Starting with just three stores, Amazon is moving to 3,000 Amazon Go stores this year. Jain said that this was evidence enough that the way consumers are using technology is evolving. Putting things in perspective, he said that the research budget of Amazon is close to $ 22 billion, whereas the global rough diamond market is just $ 20 billion.
Jain then went on to talk about the necessity of talking to customers in the language they understand, expressing concern that the industry is not doing that, as of now. He gave instance of family jewellers, adding they might be having customers comprising three generations, but the newest generation would be thinking, behaving and shopping very differently from the earlier generations. "We need to talk to this generation in its language," Jain said.
Coming to Forevermark stores, Jain said that technology is being put to good use in these outlets. "We are using technology to drive business insights based on consumer behavior at the point of sale. We have implemented heat maps in our stores, which are basically AI-based scanners that track the movement of customers inside the store, figure out their gender, and also determine the time of the day when the concentration of customers is higher. Besides, the high-end tech that we use maps out the parts of the store where sales are happening," he added. The entire process is integrated to the phone, and can be evaluated while on the go.
Jain said that thanks to technology, when an ad is placed, or an offer is announced, products can be placed in the most optimal manner, store space can be used better, which part of the store is best for the display of promoted products can be determined more accurately, and so forth. All this can be done on the back of empirical data thrown up by technology, rather than just perception.
Technology is throwing up other interesting insights, said Jain. For instance, it has been found in a number of cases that the places where customers spend more time may not necessarily be the spot from where they are actually buying the product. Overall, the implementation of cutting-edge technology will give lots of insights to retailers having large retail stores, Jain added.
He shared data about Forevermark stores, saying the company started its journey a few years back with its partners, and now has six operative stores, with two being under construction. By the end of 2020, the company is expected to have 22 partner stores. As of now, the company is launching exclusive Forevermark stores that will use technology in a big way.
Forevermark has already incorporated smart era RFID trays, which enable customers to view the back story of products they might be interested in, and also provide the price break up. It all allows the company to understand how many times a product was placed on the tray before being purchased or returned back to the shelve. When the company analyses the products that come up on the tray but do not get sold, it can go back and investigate why they did not sell – was it pricing, a lack of connect with customers, or some other reason.
Jain said that insights on merchandise are now provided by scientific data, and not perception. Besides, the company is using smart Point of Sale systems. As a result, when a product sale is made, the supplier is informed in real-time, resulting in zero time lapse. This ensures timely replenishment, so that no sales opportunity is lost.
Sharing more details, Jain said Forevermark has started sending invoices online to its customers, thus taking a step forward to go paperless. The company is also tracking consumers from the online space to the offline physical space. "For all our digital advertisements, we are able to track how many consumers clicked, and how many actually visited the store," he said.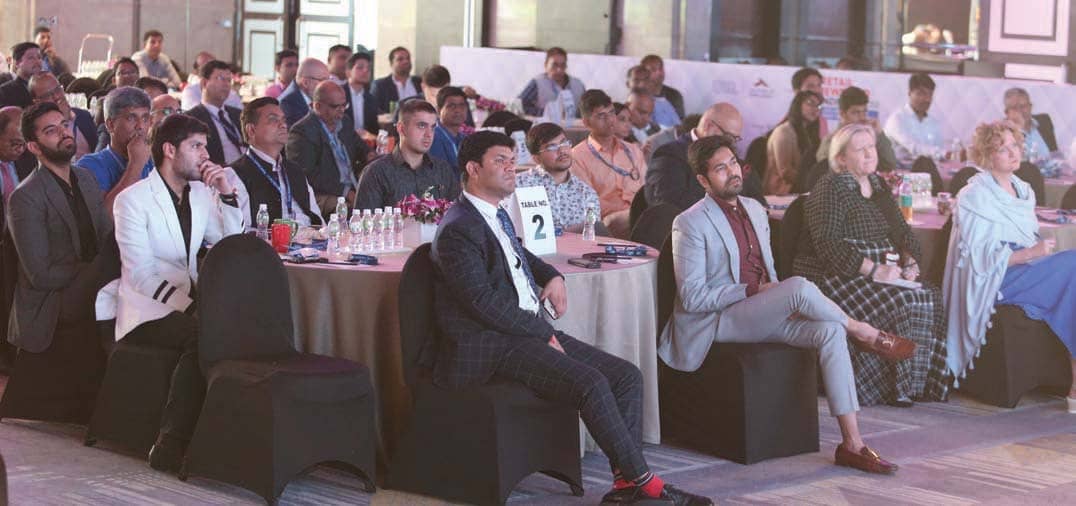 Jain also talked about Forevermark's collection called Tribute, where the company allows customers to make their own stack. The idea is to get customers involved in the category and its design. The company created Tribute Koisks across the store, and when customers insert their hand in it, they can make their own stack, whichever way they like. The price shows up, and when customers press "Enter", the sales staff gets to know exactly what they need and bring it over. While the average time that customers spend in the store goes up from about three to four minutes to 20-25 minutes, they enjoy the experience and it is a good way to get them involved and arrest their attention. As it is, young customers like talking to a machine more than human beings.
Jain concluded by saying that companies have to start using technology in a bigger way. Providing another example of Forevermark, he said the brand has put up gaming modules in its stores, which help it to be a better storyteller and incorporate fun into the process of buying. Giving a suggestion to the gathering, Jain said companies can put their history on a touch screen, and encourage young customers to go through it. It won't take much persuasion as youngsters anyway like to use technology and gadgets. Besides, this is a good way to enable them to consume content.
DESIGN AS AN ELEMENT OF RETAIL STRATEGY
ABHISHEK RASTOGI HEAD OF DESIGN - JEWELLERY DIVISION, TITAN COMPANY LIMITED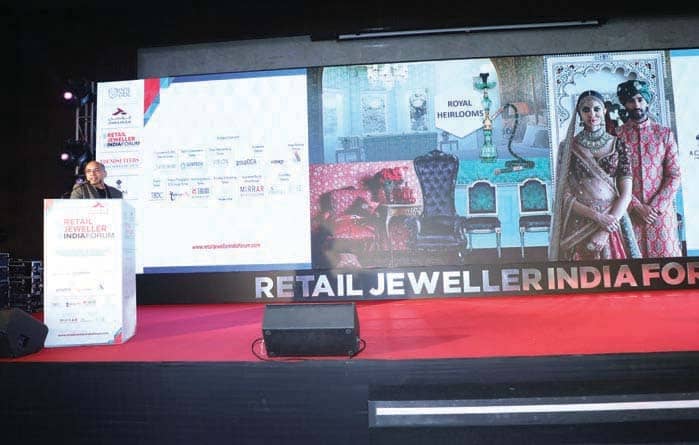 The fourth session of the event was about design, a bit of Bollywood, and lots of styles. The speaker, Abhishek Rastogi, Head of DesignJewellery Division, Titan Company Limited shared the strategy of his company and how Titan is creating business opportunities with more than 3500 products in India every year.
Rastogi started by giving details about his company."At Titan, we create elevating experiences which are about touching people with our products and impacting the world we live in, in a significant manner. We have created several successful brands in the jewellery space, such as Tanishq, Mia, Zoya, Caratlane, and so forth. Today, the annual revenue of the company is$ 2.5 billion."
Titan has been able to create large successful brands over the years because of its strong belief in the five pillars of the value chain, Rastogi explained. The first pillar, he added, is gaining insights about consumers."At Titan, we feel it's important to speak to consumers, listen to their voices, understand their changing needs, and then incorporate these findings in our business."
The second pillar constitutes design and innovating accordingly so as to stay ahead of the curve, and also, at times, surprise the customers with company offerings. The third pillar is having strong product development that takes into account innovations. The fourth is strong brand building and marketing campaigns to support the product strategy. The fifth pillar is enriching customer experience through retail channels.
Describing the strategy of his company, Rastogi said that Titan strategically creates business opportunities, with more than 3500 products in India every year. And all of these products are created to answer the needs of the customer. "We do it because we believe in the power of design," he added.
Rastogi said that design is not limited to a function in the organization -- it spreads across the company, and that's what leads to success. "It also impacts the products we launch, raises the brand's equity, and gives us a sustainable competitor edge," he told the gathering.
He went on to say that good designs are critical to success in business. Design itself is a factor of several elements. For instance, a good design should be ergonomically sound. It should have a feel-good factor, and should sit well on customers. Besides, a large enough segment of the customer base should find it appealing. A good design has to be saleable; it should bring business to the organization.
You can read up to 3 premium stories before you subscribe to Magzter GOLD
Log in, if you are already a subscriber
Get unlimited access to thousands of curated premium stories, newspapers and 5,000+ magazines
READ THE ENTIRE ISSUE
March - April 2020