LOCAL LEGEND
The CEO Magazine India|June 2020
FOR THE PAST FIVE YEARS, MANAGING DIRECTOR DEEPAK GARG HAS IMPLEMENTED SANY HEAVY INDUSTRY INDIA'S GROWTH STRATEGIES. IT'S TAKEN AN APPROACH OF LOCALISATION AND CUSTOMISATION TO THE DOMESTIC MARKET, BUT SANY INDIA IS ONE OF THE BIGGEST MARKET COMPETITORS IN INDIA.
As far as career highlights go, presiding over the fastest-growing company in the construction equipment industry is nothing to sniff at. That's exactly what Deepak Garg has achieved as Managing Director of Sany Heavy Industry India. Over the course of five years of leadership, he's led the subsidiary of China's Sany Group to be an industry leader, through a coherent and focused strategy.
Having joined in 2014, Deepak was charged with the responsibility of evolving Sany's presence in India into a large corporate structure. Though the company had been present in the country since 2002, it was due to rapidly evolve in the years that Deepak led it. In achieving this, his previous five years of managing supply chains across three of Tata Hitachi Construction Machinery's factories would be indispensable. Sany India still represented a big step up, and an ambitious strategy was required. Fortunately, Deepak had settled on a clear path to building up the company's domestic presence.
"The biggest change, I would say, was first of all enhancing Sany's brand image," says Deepak. "I think that was the biggest challenge we had, because although we were quite big globally, in South Asia we had a very small presence. At first, I think a mindset change was required around the brand. When I say brand, that means focusing on the customers first, and then the other stakeholders. That was very important, so we worked very aggressively on promoting Sany's brand in India.
"Next was localisation. I brought in an experienced management team from the domestic industry in the first six months of my tenure. We recruited some of the most renowned talent from the industry to Sany, with very challenging targets over a three- or five-year horizon. Within two years, the results of that meant we were more than 99 per cent local. The other change in terms of localisation was localisation of the R&D. We undertook this because all markets call for some customisation, some localisation of technology, to meet the local requirements."
Deepak also ensured the company's products were localised en masse. Over the past four years, Sany India has localised more than a quarter of its products, which began with the production of the SY200C-9 excavators from the company's facility in Pune Industry Park, among other offerings. In 2014, Sany India acquired the biggest market share for Indian crawler cranes, and today this strategy has inflated the company's revenue to 10 times what it was six years ago.
Comprehensive though these changes were, Deepak led further changes in Sany India's approach to the market. "On the market side, there were three major changes," he says. "Number one was our distribution network, which was revamped completely in two years' time, since 2014. We got into very aggressive network expansion, which resulted in very deep reach for customers, enhancing our service and parts support, which is key to the success of the business.
"What we worked on early was our own team development to support this dealer network. Distribution is one area that we focused on, and today the change that we have is that we are ranked first in some of the key product lines today in the infrastructure segment. That includes products like piling rigs, cranes, and other products where we are already number one.
"In some of the high-volume products like excavators, which is the largest sector of the machinery industry in India, we were ranked number 10 in the business five years ago. Today, we are the fourth largest. That's all happened over the past five years."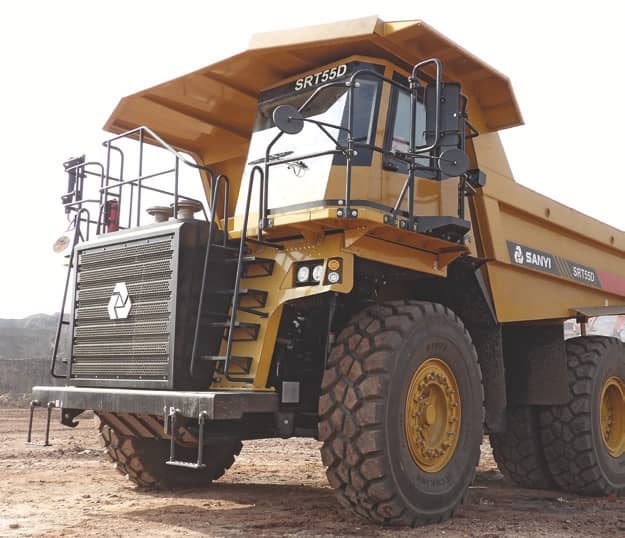 SANY GROUP'S HISTORY
Founded in 1989, Sany Group is a primarily Chinese company, today boasting a presence that stretches across the world. It's the sixthlargest heavy equipment manufacturer in the world, and the first Chinese company in the industry to enter both the FT Global 500 and Forbes Global 2000 rankings.
Sany's global presence is largely focused in China, where it has a dozen industrial parks, though it also has manufacturing facilities in countries (besides India) such as Australia, Brazil, Canada, the US, Indonesia, Germany and Russia. The Group has 25 manufacturing bases, six sales regions and more than 100 offices with 400-plus dealers and 8,000 suppliers worldwide.
The name derives from the English pronunciation of the company's Chinese name, which means "three ones", referring to the three goals that comprise Sany's vision – "To build a firstclass enterprise, to foster first-class employees, and to make first-class contributions to society". This threefold purpose is also referenced by Sany's logo, which is formed by three ones.
In the next five years, Deepak wants the company to go from a top-five market player to top three, and eventually top two. But one of the more intriguing elements of Deepak's vision involves Sany India's place within the wider Sany Group. Strategically, he's working to ensure the Indian subsidiary becomes an overseas hub for a wider collection of regions – including South–East Asia, Australia and Africa. Indeed, the company has a vision of India being a hub for the company in all regions, besides China and the Americas.
You can read up to 3 premium stories before you subscribe to Magzter GOLD
Log in, if you are already a subscriber
Get unlimited access to thousands of curated premium stories and 5,000+ magazines
READ THE ENTIRE ISSUE
June 2020