How Holograms Are Becoming A Viable Tool For CEOs
The CEO Magazine India
|
April 2019
Holograms have long been the stuff of science fiction, but they're fast becoming a viable tool for time-poor ceos to connect with far-flung staff.
It's long been the unsolvable dilemma of the busy jet-setting CEO – how to be in two places at once. Well, technology could finally have the answer: Holograms.
Previously confined to Hollywood fantasy in films like Star Wars, Total Recall and Lost in Space, holograms are now hitting the real-life boardroom. While the tech has been hyped before, recent take-up by several globetrotting CEOs suggests this time around, the hologram revolution could be here to stay.
BEAM ME UP, SCOTTY
Global professional services company Accenture's CEO, Pierre Nanterme, has been one of the biggest advocates of next-gen hologram technology. The Paris-based CEO is well known for jumping into his broadcasting studio and projecting his image in 3D across the Atlantic to appear before hundreds of his US staff.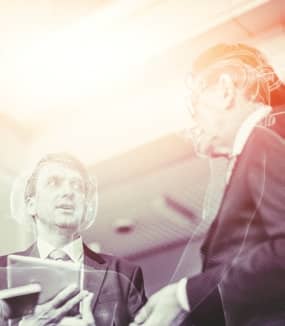 Accenture has even taken the potential of the tech one step further, using it to beam both Nanterme and the firm's HR boss based in New York onto the same Chicago stage, allowing both presenters to be there without leaving home. And Accenture is not the only multinational jumping onto the hologram bandwagon.
Other notable business enthusiasts include former Cisco CEO John Chambers, Adwerx CEO Jed Carlson, and US entrepreneur and futurist Peter Diamandis, who regularly uses a hologram version of himself to deliver keynote speeches to clients worldwide.
In politics, French presidential candidate Jean-Luc Mélenchon is another devotee. In 2017, far-left representative Melenchon turned himself into a hologram to hold seven simultaneous rallies in the lead up to polling day, even appearing to crowds 10,000 kilometres away on the French island of La Réunion.
HOLO LEADERS?
However, just because more heavy-hitters in business and politics are turning holographic doesn't mean they're providing better leadership, says Mark Brand, director of corporate change management specialist Turning Point Partners.
You can read up to 3 premium stories before you subscribe to Magzter GOLD
Log in, if you are already a subscriber
Get unlimited access to thousands of curated premium stories, newspapers and 5,000+ magazines
READ THE ENTIRE ISSUE
April 2019