Fertile Grounds
The CEO Magazine India
|
October/November 2018
Saroj Kumar Poddar Continues to Rise. From Bringing Gillette to India to Now Serving as Chairman of Major Indian Conglomerate, Adventz Group.
Indin conglomerate Adventz Group is highly diversified, with 26 businesses across the agriculture, engineering, real estate and services industries. At the helm is Chairman Saroj Kumar Poddar, who highlights that the major factor differentiating the group from others is how it operates. "All my businesses are completely professionally run," Saroj tells The CEO Magazine. "I believe my job is to make sure we have good people running them."
A LIFETIME OF BUSINESS
Saroj has been involved in the world of business since he was a child. His father, Badri Prasad Poddar, owned a large coalmine before the mining industry was nationalised in 1971. Further, the Poddar family-owned businesses in a broad range of industries, including textile mills, tea plantations and small steel plants. While at university, Saroj also worked in the family's textile business.
As Saroj grew older, he made a name for himself in business. During the 1960s, he saw a gap in the Indian market for high-quality shaving razors. At the time, there were no triple blades or shaving gels in India and the brands that were available were made by Harbans Lal Malhotra & Sons.
In 1970, Saroj reached out to US-based shaving giant Gillette, in search of a joint venture deal. However, the company was reluctant because it believed India was too difficult to enter. Gillette's hesitance was further bolstered by Indian laws that placed several restrictions on foreign businesses wanting to operate in the country. Nonetheless, Saroj was relentless in his pursuit and, after being invited to initial meetings with Gillette in London, he finally secured a meeting with the Gillette CEO in Boston in 1973.
In an article in Marwar India, Saroj recalled that meeting with the chief executive of Gillette, who said, "I can fill a room with people from India who have approached us but we have not seen anybody else with so much commitment, and that's what excites us about working together."
It wasn't until 1977, that Gillette finally relented and agreed to a deal with Saroj. And seven years later – with all proposals approved by Cabinet – Gillette USA partnered with Saroj. Through the deal, Gillette brought stainless steel blades, rather than carbon steel, and introduced aftershave and shaving gel to India. And this catapulted Saroj into business fame.
But Saroj's business pursuits didn't stop there; he was also instrumental in bringing Duracell batteries to India in 1995. Further, he brought Gautier furniture; secured the Indian subsidiary of sewing machine company Singer; and entered a joint venture with German furniture company Hettich, to establish Hettich India.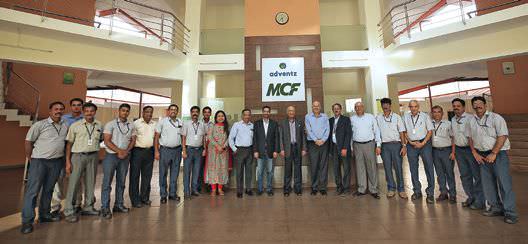 A LARGE INHERITANCE
In 2008, Saroj inherited through his wife Jyotsna, fertiliser company Zuari Agro Chemicals, and railway wagon manufacturer Texmaco from his late father in-law and legendary Indian businessman, KK Birla. KK owned the KK Birla Group, one of the largest conglomerates in India with businesses across fertilisers, sugar, engineering, textiles, shipping, chemicals and media. KK had three daughters, Nandini, Jyotsna and Shobhana; and Jyotsna married Saroj. When the time came for succession, KK divided his businesses among his three daughters.
You can read up to 3 premium stories before you subscribe to Magzter GOLD
Log in, if you are already a subscriber
Get unlimited access to thousands of curated premium stories, newspapers and 5,000+ magazines
READ THE ENTIRE ISSUE
October/November 2018