A Watchful Eye
The CEO Magazine Asia
|
February 2019
The Aier Eye Hospital Group Is Built On Vice Chairman/ceo Li Li's Firm Belief That Everyone Should Have Access To High-quality, Affordable Eye Care – Regardless Of Income Level.
According to the World Health Organization, around 80 per cent of blindness can be prevented or cured – what's lacking in many parts of the world are sufficient resources to prevent and treat this curable blindness. China alone is home to one-fifth (18 per cent) of the world's blind, accounting for a massive five million people – the largest concentration of blind people on the planet. Unable to walk about unaided, many of these people suffer from treatable causes of blindness, like cataract and glaucoma.
AIER Eye Hospital Group's mission is to bring vision to everyone. Established in 2003 by Chairman Chen Bang and Vice Chairman/CEO Li Li, it not only is China's leading hospital network in eye care, but it also became the nation's first publicly listed medical institution in 2009, and is the largest eye care group in the world by number of hospitals and market capitalisation. Comrades in arms, the company's founders shared a bold ambition to improve medical technology and innovative health service in China, to ensure that hospitals are able to meet the changing care needs of their patients.
After starting his career in 1986 at the Changsha Auto Electric Factory, Li established the Changsha Huakang Trade Company in 1989, which now focuses on biotechnology and specialises in extracting active ingredients from natural plants and herbs. After helping the company mature and expand, Li followed his passion for helping people and entered the healthcare industry in 1997, where he co-founded AIER Ophthalmic Medical Technology.
"We built AIER in the belief that everyone, no matter rich or poor, has the right to eye health.
This belief is still ingrained in the business today," explains Li. "From day one, we knew that we wanted to become a leading model in the ophthalmic industry across all areas – from our medical technology and innovation to our talent management, patient care and overall contribution to society."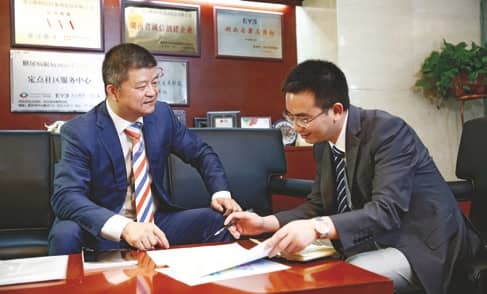 Headquartered in Changsha, the Group has now established more than 258 specialised eye hospitals covering 30 provinces across Mainland China. Its services reach around 70 per cent of the nation's insured population and it receives more than seven million outpatients each year. Of its 26,720 strong workforce, the Group has around 3,981 ophthalmologists worldwide, who helped contribute to more than 713,900 procedures in 2017. AIER now offers various types of eye disease diagnosis and treatment, surgical services and medical optometry; treatment for all eye diseases, especially myopia, cataract, glaucoma, retinal diseases, pediatric ophthalmology, optical and contact lens services.
BRANCHING OUT
You can read up to 3 premium stories before you subscribe to Magzter GOLD
Log in, if you are already a subscriber
Get unlimited access to thousands of curated premium stories, newspapers and 5,000+ magazines
READ THE ENTIRE ISSUE
February 2019