Food delivery has come a long way since the Noid was terrifying Domino's drivers and customers with threats of cold pizza. Last July, Swiss investment bank UBS issued a report predicting that the global food delivery service business will be valued at $365 billion by 2030. This number includes takeout apps (GrubHub, DoorDash, etc.) and meal kits (Blue Apron, HelloFresh), along with grocery delivery services such as Instacart.
When a relatively new trend becomes such a massive worldwide force, there are sure to be repercussions. Grocery stores and restaurants need to rethink their business models to accommodate a new type of customer, while delivery services need to find ways to stand out from an increasingly crowded field.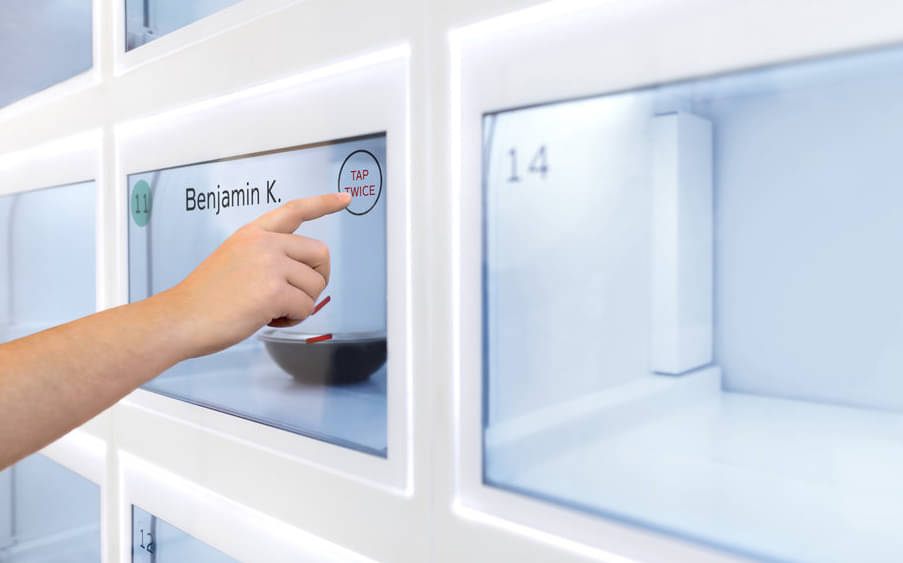 RESTAURANTS ADAPTING
For some restaurants, the surge in delivery business is a double-edged sword. They appreciate the extra business but are forced to find more space for pickups while not interfering with the dining experience of customers in the restaurant. Eatsa, a San Francisco based restaurant that has been an early adopter of automation, has proposed an innovative solution with its Spotlight Pickup System. Essentially a "smart shelf," the Spotlight connects to Uber Eats and GrubHub, displaying the customer's name for easy pickup without waiting in line at a restaurant. The shelf contains sensors alerting staff when a meal has been picked up or when it may have been left on the shelf for too long and needs to be remade to maintain high quality.