THE SKY'S THE LIMIT
The BOSS Magazine
|
June 2020
FOR 84 LUMBER, THE NATION'S LARGEST PRIVATELY HELD BUILDING MATERIALS SUPPLIER, THERE 'S NOTHING BUT SUCCESS AHEAD.
It's the name of the town.
Eighty-Four, Pa., is an unincorporated village about 20 miles south of Pittsburgh, and that's where 84 Lumber got its name. Now here's what really matters: 84 Lumber is the nation's largest privately-owned supplier of building materials, manufactured components, and industry-leading services for single- and multi-family residences and commercial buildings—and one of the best large companies to work for in America.
Just ask Frank Cicero. He was an applied math and computer science major when he signed on with the company 37 years ago. Today he's 84's excited about the company as he was on Day One. We recently spoke to Cicero and his CIO, Paul Yater, about 84's enviable position as a market leader.
84 Lumber is the first and foremost a family company, founded in 1956 by Joe Hardy. An engineer by trade, Joe became attracted to the lumber business, and together with his two younger brothers and a friend, built cash and carry lumberyard geared to the needs of builders in Pennsylvania, Ohio, and West Virginia.
Joe's daughter Maggie Hardy Knox took the reins in 1992 at just 26 years of age, transforming the traditional legacy lumber company into a vertically integrated enterprise at a time when game-changing reorganizations were rare to see in the industry, particularly in family-owned companies.
Knox reworked the operation to serve the needs of the professional market, driving the company to over a billion dollars in sales in 1993, and doubled that figure the next year. She shepherded the business through the hellscape of the 2008 market and the years of pressure that dogged the building industry.
"Maggie changed the whole direction of the company," Cicero recalled. "She steered it in an era when the industry was changing and changed its entire culture. She did that by really listening to customers and associates and taking a fresh look at the company and charted a new course for 84 Lumber.
"She's always had the ability to listen to customers and associates," Cicero recalled.
''And in the very difficult times-the housing burst and recession of 2008 and 2009— she was a fearless leader. Never once did she think about herself; she always thought in terms of our associates and made decisions based on people and family. Because the company it is today."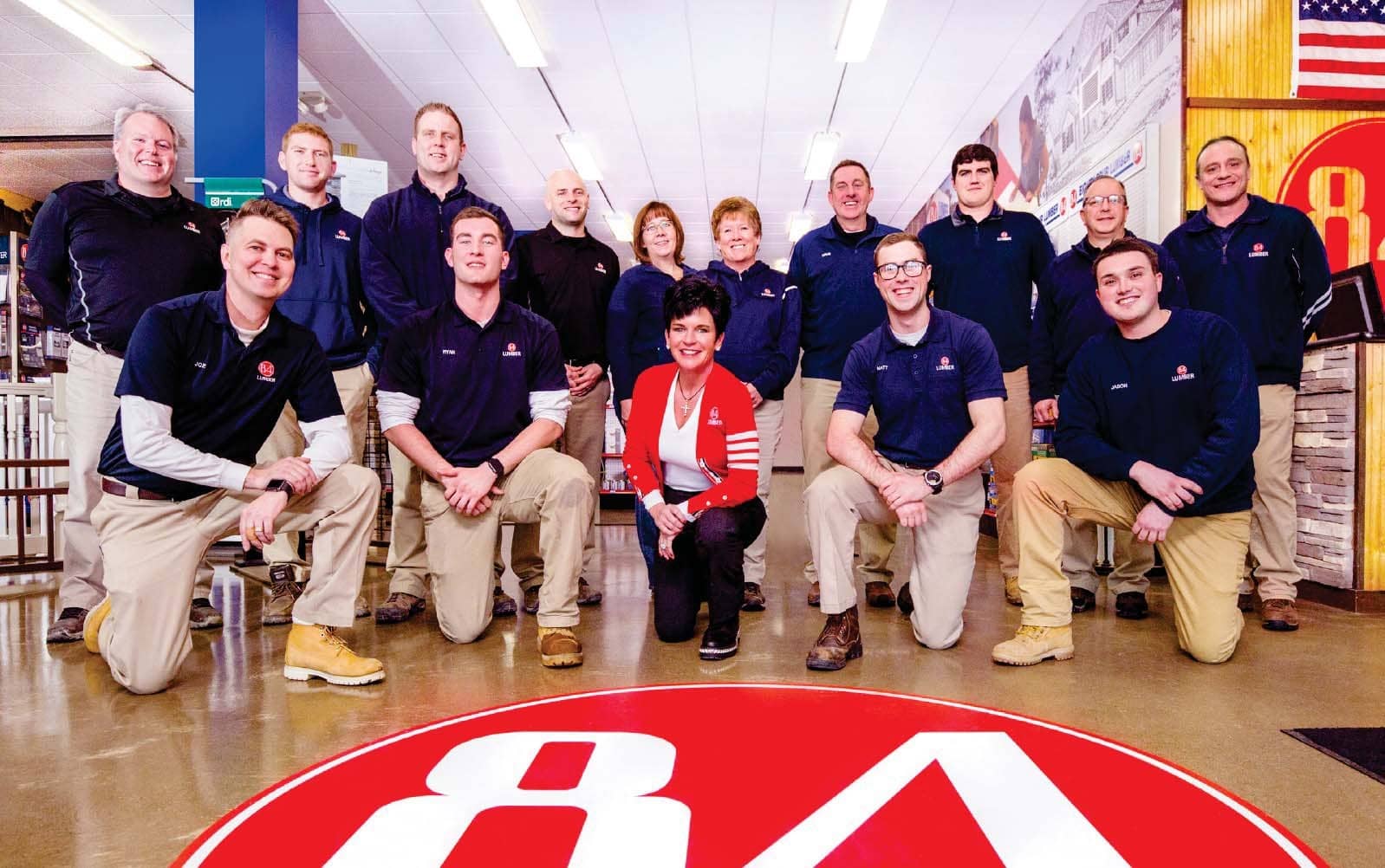 Getting Better All the Time
Today, that means an impressive national footprint. 84 boasts 250 individual customers in 126 of the country's hottest markets. Four divisional vice presidents, 24 area managers, 250 store managers, 1,000 outside salespeople, and 5,600 associates are constantly servicing customers in stores and at the company's team headquarters. 84 also operates nine manufacturing facilities for creating roof trusses, wall panels, doors, moldings and millwork, and engineered lumber products.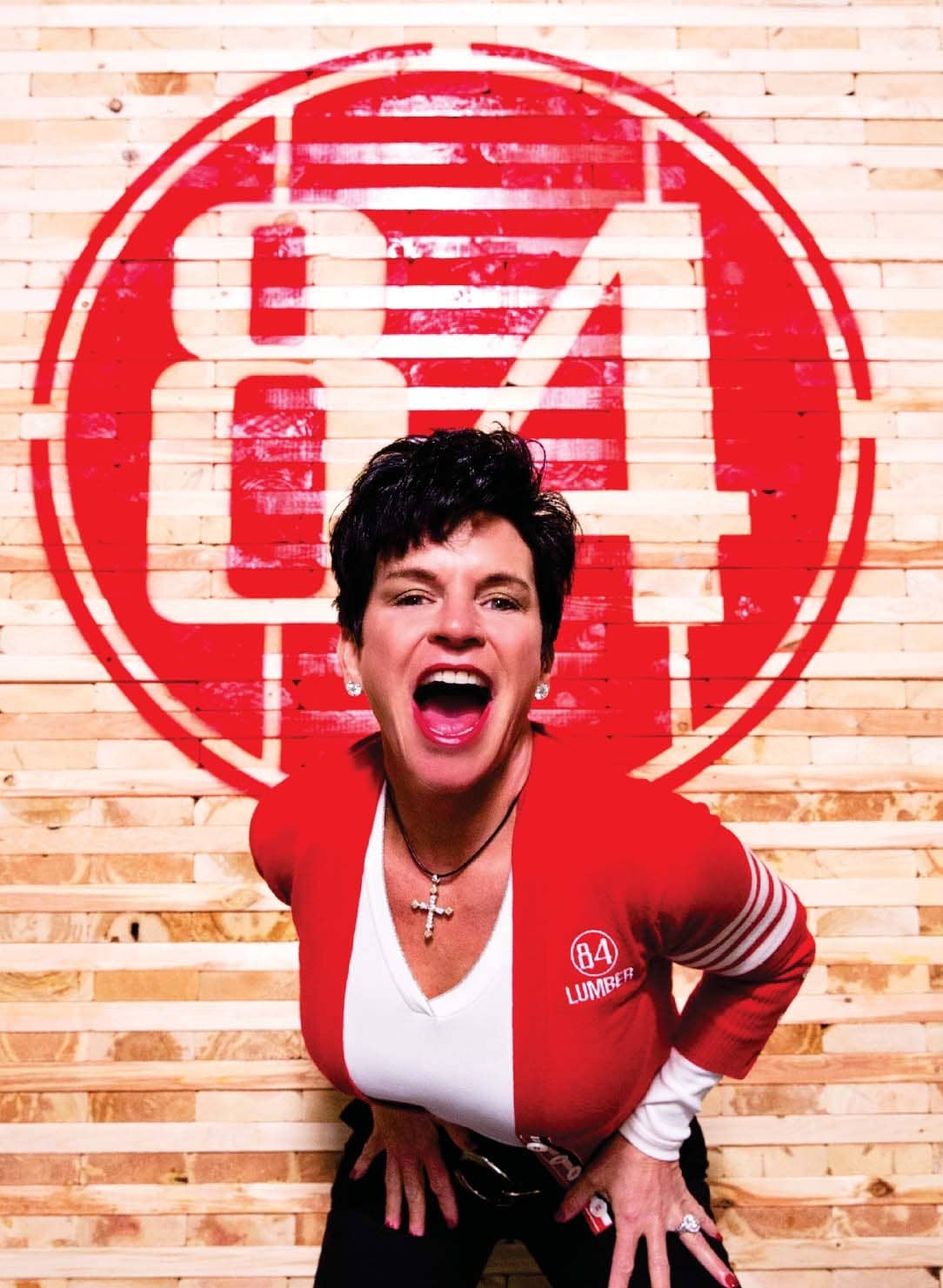 "We've also got an installed sales component of our business," Yater noted. "We provide turnkey services, so if you want to buy the lumber from us for custom framing we can do that scope of work. If you want to buy insulation or siding, we can install it, and the same goes for doors, windows, and trim. We can get you whatever product you need and manage the installation as well."
The company also offers a range of projects and plans ranging from home plans, kitchen and bath redesigns, garages and carports, outdoor living and recreational spaces, and more.
Cicero estimated that the country's top 20 homebuilders represent roughly 17% of their local and regional business. They also handle a tremendous amount of national business, and there's a division that is focused on multifamily building aspects as well.
84's annual revenues have been on the rise for a decade, and over the last several years, have reached $4 billion annually.

Maggie's approach to culture. leader," he said. "Maggie's willingness to listen and be involved and really care about people is what drives this company, and deep in this culture is a continuous improvement attitude.
we could be doing? How can we get better? That mentality runs deep. It's based on the spirit she built, and by that I mean, yes, we are built on our stores, but we're also built on our people, our managers and leaders of our stores and how they drive their business. Maggie is always there to support them and give them what they need to be successful in everything they do. That's how we think, how we act, and who we are."
You can read up to 3 premium stories before you subscribe to Magzter GOLD
Log in, if you are already a subscriber
Get unlimited access to thousands of curated premium stories, newspapers and 5,000+ magazines
READ THE ENTIRE ISSUE
June 2020