'GST' Impact On The Insurance Industry
THE INSURANCE TIMES
|
August 2017
At the stroke of midnight on July 1, 2017, the most anticipated and a highly debated Goods and Services Tax (GST) was launched in India.
The central tax reform witnessed a lot of fanfare and was also boycotted by certain stakeholders, especially within the political circle. However, businesses and end consumers were the most involved. From now on, all types of indirect taxes such as service tax, excise duty, sales tax along with other local and state taxes will merge into one single tax called GST.
With the introduction of GST, taxation procedure is expected to be much simpler and easier to understand. GST is going to be a ground-breaking movement in Indian indirect tax structure. The existing tax mechanism between the state and the centre will go through a complete overhaul with the implementation of GST.
Being a value-added tax, GST aims to do away with the cascading effect on goods and services cost. GST has paved the way for total refurbishment of existing tax architecture in India as it is going to impact incidence, structure and computation of indirect taxes. Currently, 15% service tax is levied on services which comprises of 14% basic service tax, 0.5% Swachh Bharat and 0.5% Krishi Kalyan Cess. With the implementation of GST, consumers have to pay just one single tax.
The GST Council is entitled to ascertain the rate of GST in various services and products. With the country ushering in a new tax regime with the introduction of the Goods and Services Tax (GST), consumers will now have to pay more for banking services, insurance premium payments and credit card bills beginning July 1. Most of the financial services will attract a higher tax of 18 per cent as against the previous 15 per cent under the new indirect tax regime.
The Indian insurance industry will face a temporary brunt as GST implementation will certainly impact insurers as well as individual policyholders. Typically, a policyholder pays a service tax on the risk element of the premium component while the investment element is usually out of the service tax scope.
Like all industries, insurance sector is also swayed by the introduction of GST including insurers and policyholders. Life, health and motor insurance policies are now costlier as taxes have risen by 3 %. The consequence of GST on different types of insurance plans is more complex than a flat 3% hike on some particular types of insurance products. As far as the consumers are concerned, the increasing premium outgo is the most significant impact of GST on insurance.
A middle class family that spends around Rs. 30,000 in car, health and term insurance will have to shell out around Rs. 1000 more every year from now on. Insurance companies in India will assess impacts of GST and in course of time if they find any positive impact that will reflect on the premium without changing the GST rate. Input tax credit is not available in the service tax structure designed for insurance business.
Policyholders can't avail input tax credit as these policies are devised for personal purpose. Even corporate policyholders who avail group health and life insurance for their employees don't get input tax credit. In the newly introduced GST regime also insurance is exempted from the benefits of input tax credit. From the present rate of 15 percent, the GST on banking, insurance and investments such as real estate, mutual funds will see a hike of 3 percent as the GST will now be 18 percent on them.
Apart from the premium hike, application of GST will bring some deeper and far-reaching implications in India's insurance market. The implementation of GST is meant to de-clutter the current multi-layered federal, state and local indirect tax structure. GST is one of the biggest tax reforms since Independence and is expected to reshape India's business landscape by making the country a lucrative destination to do business with and would work towards bringing down barriers between the states.
Why 'GST'?
The Goods & Services Tax is a transformational structural reform which will have multiple benefits - the creation of a national market enhanced ease of doing business; greater productivity & efficiency and improved tax compliance. All stakeholders have worked together for a seamless transition to this new paradigm. This reform will result in benefits for all participants in the Indian economy, including both businesses & consumers. The GST as a "Good and Simple Tax" that will be not only a tax reform but an economic and social reform as well that will unify the nation, "check corruption and end harassment at hands of officers.
The primary beneficiaries of GST will be businesses (manufacturers, retailers, traders and more) for whom a uniform market across India would open up a window of opportunities. A uniform regulation across the country is expected to make compliance easier. It will also lead to cost savings, and the benefits will flow to end customers in the long run as far as reduced pricing is concerned. GST will unify at least 10 types of indirect taxes into one tax, to be collected at federal and state levels.
Under the existing structure, at each point of sale, additional taxes are applied to the after-tax value of goods and services. The main purpose of GST is to eliminate this compounding effect by fixing a final tax rate where goods and services will fall under one of the four tax categories 5 per cent, 12 per cent, 18 per cent and 28 per cent brackets.
Taxability Stucture - Major taxes to be subsumed within GST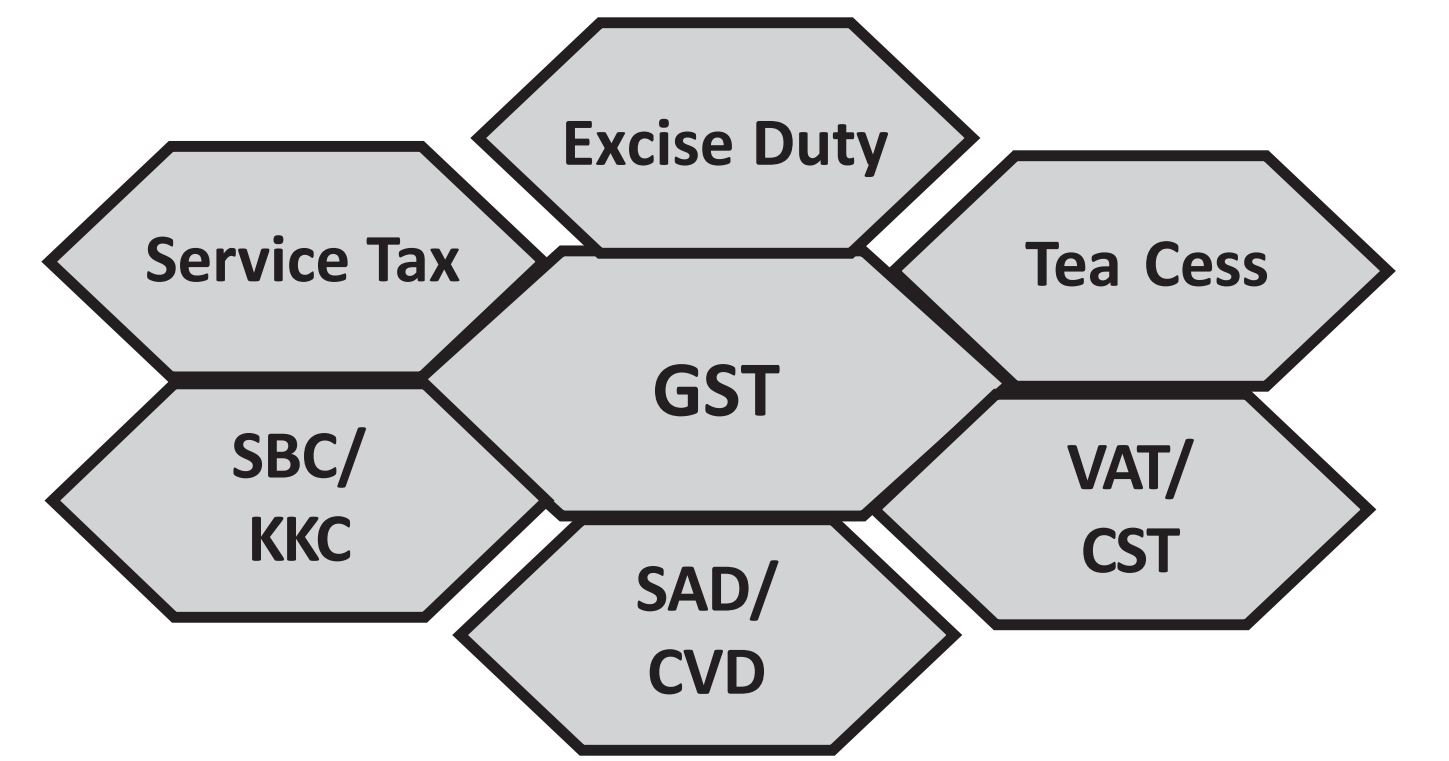 What does GST mean on General Insurance?
In case of insurance premium, the insurance policies where the entire premium paid goes towards the risk cover such as in life insurance, or term insurance plans or general insurance policies for health or vehicle insurance, the GST of 18% will be on the entire premium. Under the GST regime in India, taxability on the gross premium for pure risk policies is contrary to the principle of taxing the "value addition". GST is a tax on value addition and net premium after deduction of claim is the net value addition. It is very difficult to segregate the "savings" component and find a "value" that could be treated as the proper base for tax, particularly for every premium transaction during the life-cycle of an insurance policy. For general insurance products, the cost of purchasing policies will undoubtedly increase due to a 3 per cent rise in service tax from the current 15 per cent (including Krishi Kalyan Cess of 0.5 per cent and Swachh Bharat Cess of 0.5 per cent) to 18 per cent.
You can read up to 3 premium stories before you subscribe to Magzter GOLD
Log in, if you are already a subscriber
Get unlimited access to thousands of curated premium stories, newspapers and 5,000+ magazines
READ THE ENTIRE ISSUE
August 2017