Sernick Bonsmaras: Selecting For Feed Conversion And Growth
When breeding female animals, the focus of your selection process should be on the improvement of reproduction and relative growth. Since nutrition (the environment) has such a huge impact on reproduction and milk production, it is crucial that enough feed is available for the cow.
This is according to Nick Serfontein, chairperson of the Sernick Group near Edenville in the Free State. Nick was crowned Farmer of the Year in 2019 by the Agricultural Writers Association of South Africa.
Establishing genetic progress
Fertility is not a highly heritable trait in a herd (only between 3 and 10%). The environment, on the other hand, accounts for 90% of successful reproduction management. Bulls have a much greater and rapid influence on fertility in a herd than cows.
"Bulls present the most practical way of achieving genetic improvement in your herd," explains Nick. "This is why selecting the correct bulls is so important, as they will determine what your cow herd will look like in future. For us it is very important to select our breeding bulls from among highly fertile mothers.
"In bull selection, the emphasis should be on the efficient utilisation of feed, growth tempo, and optimal bone to muscle ratio. If you consider that the production of beef (excluding fat) requires five times more energy than that of chicken production and three times more than that of pork, you realise just how important selecting for feed efficiency in your herd really is."
Genetic progress is possible if you select correctly, he says. Sernick started testing their bulls in their own Phase C testing station some 25 years ago, and the improvement is there for all to see. Compared to when they first started, their bulls now require 1,2kg less feed to gain a kilogram of meat. Their average daily weight gain also improved by 200g per day. At current beef prices, this makes a difference of R1 300 per animal in the feedlot.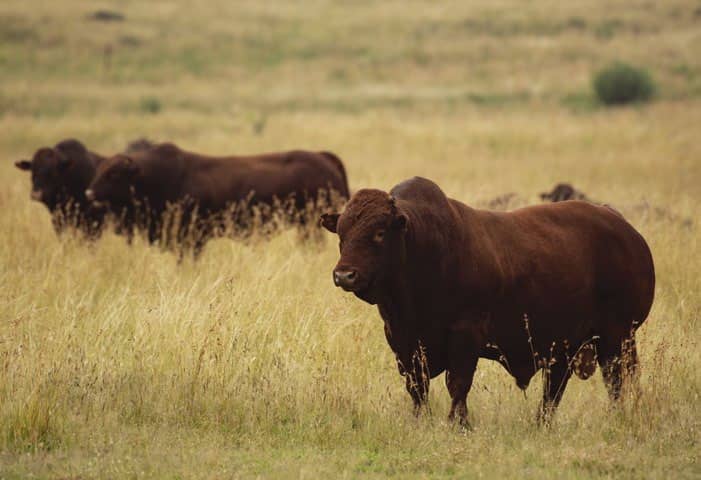 There are too many stud breeders, says Nick, whose focus is only on good-looking, well-muscled animals and not on the needs of the commercial beef producer. They should rather pay more attention to commercial traits such as feed efficiency and growth.
You can read up to 3 premium stories before you subscribe to Magzter GOLD
Log in, if you are already a subscriber
Get unlimited access to thousands of curated premium stories, newspapers and 5,000+ magazines
READ THE ENTIRE ISSUE
August 2020