How To Control Parthenium On Game And Livestock Farms
Stockfarm|May 2020
It has been said that parthenium (Parthenium hysterophorus), a serious weed indigenous to Central and South America, is a scourge that brings famine and desolation to the land. While there may be substance to this illusion, the fact is that parthenium is just a plant that has a few traits enabling it to dominate under certain conditions, particularly if land is not suitably managed.
Jeremy Goodall, Lorraine Strathie and Cobus Botha
However, a notable weakness can be exploited to keep the plant in check. It is important for landowners to know the conditions that cause parthenium to thrive, so that suitable management practices can be used to maintain the plant at low densities that is not problematic. This outcome can be accomplished by maintaining moderate levels of animal and veld husbandry.
Characteristics of the plant
Parthenium is an annual weed that grows extremely rapidly – developing from seed to flowering state in under a month – and can reach up to two metres in height. A wide range of temperature conditions are tolerated, enabling it to grow in areas that receive less than 100mm rainfall per annum. It is a pioneer plant that rapidly dominates disturbed sites and ground denuded of grass, making it highly problematic in overgrazed or highly disturbed land.
A single plant can produce around 15 000 seeds in its short lifespan, which may survive for at least ten years if buried in the soil. The chink in its armour is that parthenium is a poor competitor with other vegetation, and if conditions are set that allow for good grass cover, parthenium will not be able to dominate, making it considerably less problematic.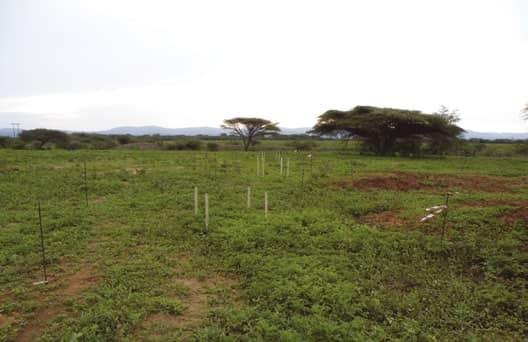 Veld assessments, stocking rates
You can read up to 3 premium stories before you subscribe to Magzter GOLD
Log in, if you are already a subscriber
Get unlimited access to thousands of curated premium stories and 5,000+ magazines
READ THE ENTIRE ISSUE
May 2020